"While we are sad to announce we are closing down our Cherokee location, we are beyond appreciative to the community of Cherokee for letting us help grow the bike scene and are incredibly excited to continue and support its development through our Sylva shop down the road," read a Jan. 12 Facebook post from Motion Makers. "Thanks everyone for the support and we're excited for the future!"
By Jan. 15, Motion Makers was gone from Cherokee. 
The decision — which Bryson City Outdoors co-owner Ben King said he found out about just a couple days before the Facebook post — caught the business off guard, forcing it to make a swift decision. Bryson City Outdoors will not only stay in Cherokee but will expand to offer the bicycle-related services previously provided by Motion Makers, as well as a taproom and lounge area.
"There's no community in Western North Carolina, probably North Carolina, that's investing as much money into infrastructure when it comes to the outdoors, so we see a lot of potential there," King said. "The community members over there are really embracing it. It's great to see so many people out and being active and trying new things. We just want to be a part of that."
Motion Makers had been in Cherokee since 2018, when it opened a store on Big Cove Road in partnership with Franklin-based Outdoor 76. Logistical challenges with the building and with travel between its three stores in Cherokee, Franklin and Clayton, Georgia, led Outdoor 76 to leave less than two years later, and in January 2020 Motion Makers moved to a new location on Tsali Boulevard with a new roommate — Bryson City Outdoors. Motion Makers took the front of the building and Bryson City Outdoors took the back, where it sold all manner of gear and supplies and operated an alcohol-free taproom. They called the establishment Fire Mountain Outpost. 
In April 2022, Motion Makers owner Kent Cranford announced that he'd sold all three stores for the business he founded 36 years earlier to Specialized, a bike company that has a global presence and had been Motion Makers' main supplier. The announcement came about half a year after Cherokee voters approved a referendum question that vastly expanded businesses' ability to serve alcoholic beverages on tribal lands. King said that Bryson City Outdoors immediately began considering serving beer on draft at Fire Mountain Outpost but held back once it found out Motion Makers had been sold, waiting to see what direction the new owners would take. 
"Then all of a sudden, we find out oh, they are leaving, which I think everybody sort of expected a little bit more notice," King said. "But since we've already been thinking about it, we had a couple quick conversations and we're like, alright, let's do it. We'll take the whole space and we'll try our hand at keeping up with bikes in that community."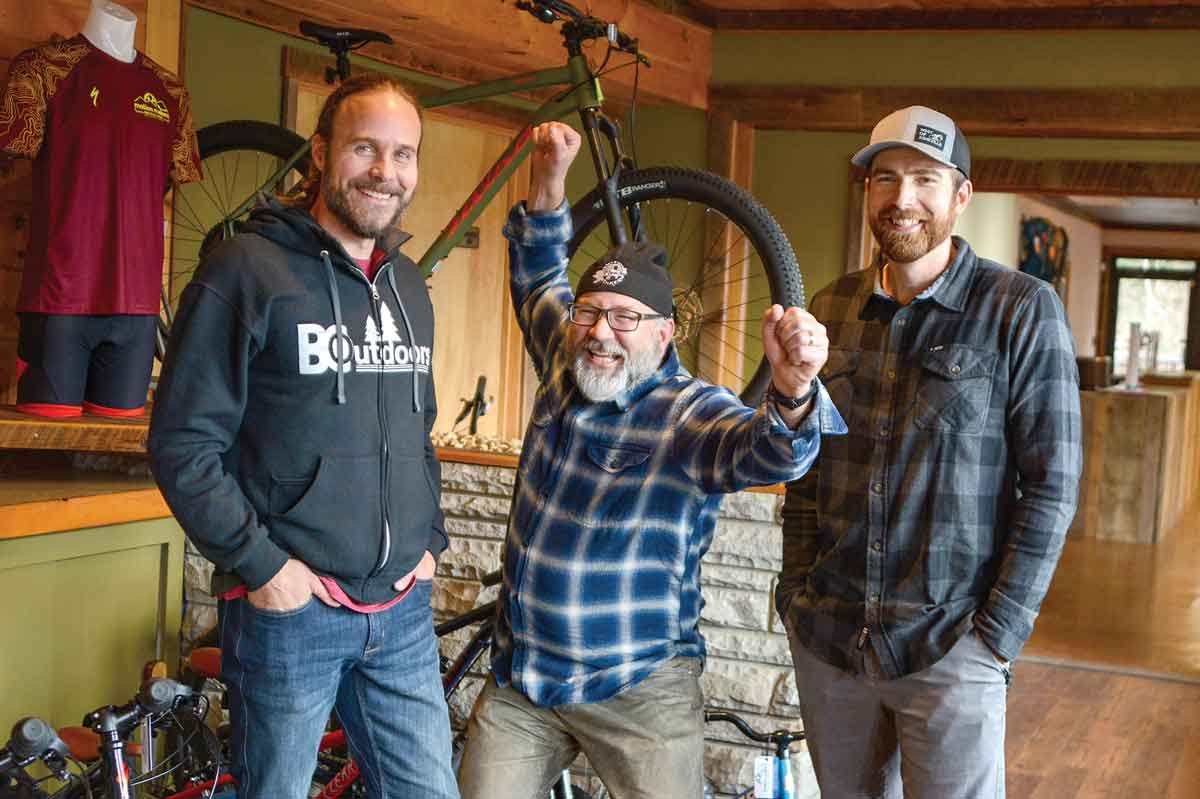 Brett Hackshaw, (from left), Kent Cranford and Ben King anticipate the opening of Fire Mountain Outpost in a January 2020 photo. Holly Kays photo
Now, Bryson City Outdoors occupies the entire building. The store is closed while the business implements myriad changes, with a date for the grand reopening forthcoming. King said he hopes to have the store open sometime in March so it can be up and running with any kinks worked out in time for the Fire Mountain Inferno, which takes place April 22-23 on the Fire Mountain Trail System in Cherokee. The event usually uses the fairgrounds across the street as a staging area, but the fairgrounds are closed for renovations. This year, the parking lot surrounding Bryson City Outdoors and abutting the Oconaluftee River will host it instead. 
"We want to try to be our best selves for presentation when everybody's in town for that," said King. 
That "best self" will include a long list of offerings and additions. Notably, Bryson City will get into the bicycle game for the first time in its history — Tsali Cycles has always filled Bryson City's need for bike-related services. But starting soon, customers at the Cherokee store will be able to buy bikes — including e-bikes and BMX bikes — rent mountain bikes, purchase skateboards and Onewheels and access bike mechanic services. The store will also sell accessories for this equipment. 
The store will also make improvements to further establish itself as a community hub for outdoor adventurers. Pending approval from the Tribal Alcoholic Beverage Control Commission, the store will begin offering beer in its taproom — something that was not a possibility when it first opened in 2020. Food trucks will be on site regularly, and the store will feature patio seating out front and on the river as well as an indoor lounge encouraging people to hang out both before and after their adventure. 
"The bike world is new for us," King said. "I think just that challenge in itself will be a little bit of a learning curve, but we're ready to absorb that. And then also, we have a lot of mentors in the industry that hopefully will give us a good little kickstart to get going."
Bryson City Outdoors' cheerleaders include Fire Mountain Trails and EBCI Secretary of Operations Jeremy Hyatt. The business's expansion is "great for us," Hyatt said. 
"I am really rooting for them, and I really hope it creates a real buzz in Cherokee," he said.
Since Fire Mountain Trails opened in 2017, Cherokee has been working to position itself as an outdoor hub and destination for mountain bikers in particular. Fire Mountain Trails boasts more than 10 miles of trails. Both hikers and mountain bikers can use the area, but many trails cater specifically to mountain bikers and are peppered with tantalizing obstacles and terrain. The trail system hosts a bevy of races and competitions each year. Last May, the tribe opened Fire Mountain Disc Golf Sanctuary, which Hyatt said is doing "extremely well" and receiving high user ratings that are "unheard of" for such a new course. 
Fire Mountain Disc Golf Sanctuary has been open for less than a year but is already gathering rave reviews from disc golfers. Holly Kays photo
Planning is underway for even more biking destinations in Cherokee. Design is about 85% complete for a bike skills park and pump track designed to offer a lower entry point for beginning riders than is available on the current Fire Mountain Trails system. That project is expected to be complete sometime in 2024. Hyatt had wanted it to include an additional 8-10 miles of mountain bike trail, but due to cost escalations that portion of the project was sidelined and will be completed at a later date. Meanwhile, the tribe is working with the Town of Sylva to plan a trail system on 912 acres of ridgetop land that, once built, will be the highest trails east of the Mississippi open to mountain bikers. 
That's all in addition to Cherokee's proximity to the second-busiest entrance to America's busiest national park. In 2022, 12.97 million people visited the Great Smoky Mountains National Park, and 2.53 million of them arrived through the Oconaluftee entrance just a few miles outside Cherokee. While visitation declined 8.4% in the park overall compared to 2021, visitation at the Oconaluftee entrance fell a modest 1.6%. 
"I really think the outdoor industry in this area has a lot of support behind it," King said, "and I only see growth happening for that community."
Specialized did not reply to a request for comment.