He may have been retired for eight years, but Sven Nys is still as passionate as ever about the sport of cyclocross. With a career spanning over 15 years and multiple world titles, Nys now uses his expertise and experience to help the next generation of talent coming through the sport in his role as team manager at Baloise Trek Lions. 
Cyclocross skills can be learned at any age, though. And, as part of a new GCN+ film There Will be Mud, Nys teaches retired Australian pro Mitch Docker some of the cyclocross basics as he prepares for his first foray into cross racing. 
In the film, Docker, despite his decade-plus experience in the road peloton, must learn everything from scratch, including dismounting and remounting, how to shoulder the bike to run with it, and riding off-camber sections. Thanks to Nys, however, he quickly gets the hang of it.   
"For me, it's always interesting to talk a little bit more about cyclocross with riders coming out of a road career, because they have the shape, they have the skills from road riding," Nys explains via video call. "But if you see the difference between both disciplines, and how you need to clip in pedals, jump on and off the bike, running with the bike on your shoulder, all those things that are things that they are not used to."
"It's really nice to see in maybe half an hour or an hour, how fast you can develop, how fast you can learn a few things, and that they also enjoy riding cyclocross bikes and definitely also feel that what they learn over there, they can use also in a road race. That's what I love to talk about, what I love to show. It's my experience from the last 20-25 years."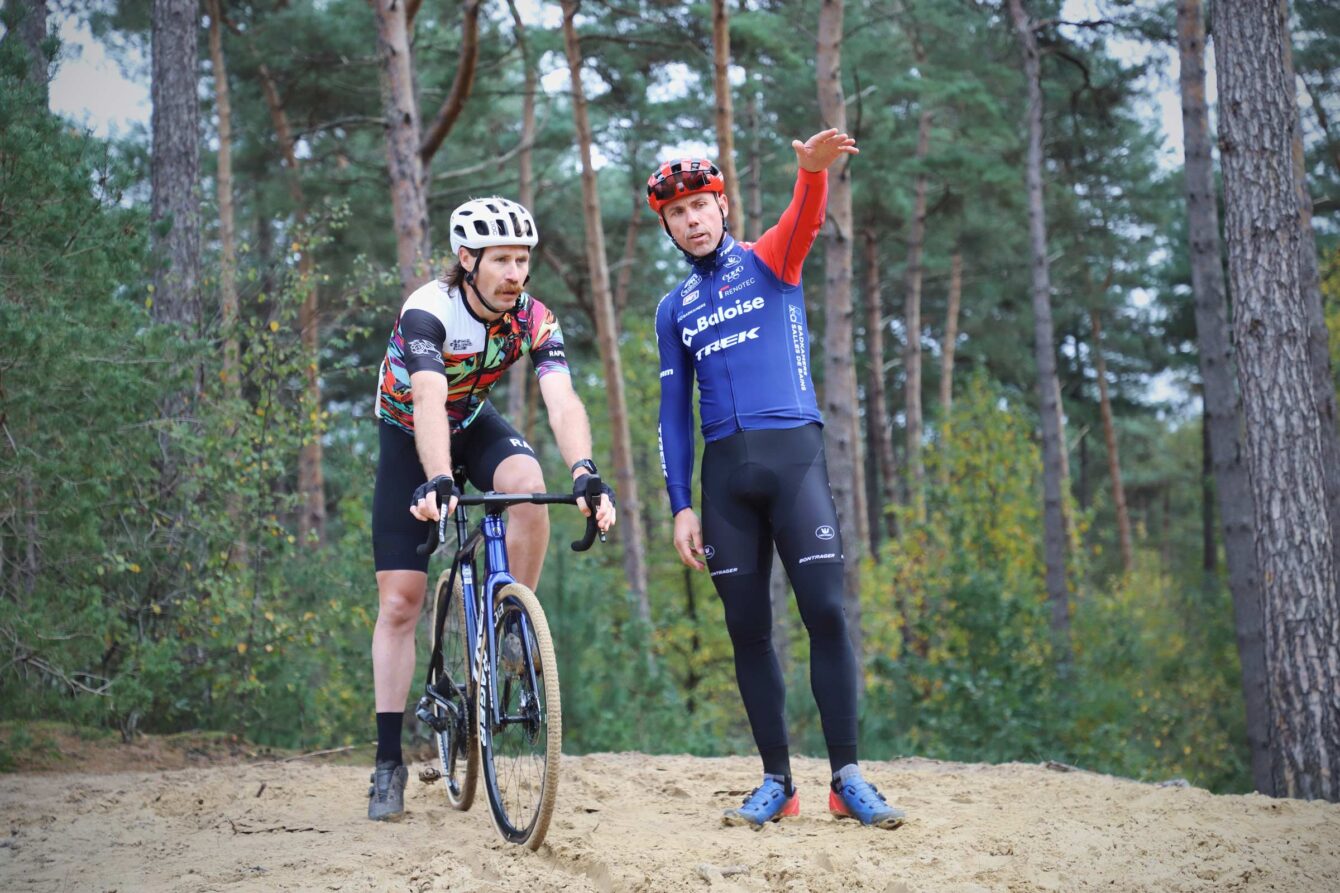 For Nys, regardless of who he is teaching, there is joy in passing on his love for the discipline and his knowledge of the skills it demands. "For sure if I learned him in half an hour a few things, and then riding behind him and see that he's using all those skills directly and try to add directly some new things. And the experience and the bling in his eyes when he directly also makes improvements. That's really nice to see. That's something I see with a lot of kids where I'm teaching them during summer camps. And even with a rider that was a professional for a decade, to add some new things for me, that was really nice to see." 
Anyone who has watched a cyclocross race will know that the pros can make some of the technical elements of cross racing look deceptively easy. But even something as straight-forward seeming as running up stairs or jumping on and off the bike has a knack behind it that all riders must learn. 
"It looks really smooth when you see it on TV but there is a lot of things going on," Nys explains. "Before you jump off the bike, you need to think about what's going to happen after you jump on the bike again. Do I need to shift, do I need to run? Can I jump on the bike directly? Do I need to clip in the pedals really fast? All those things go through your mind before you jump off the bike. And these are things that you're not thinking about when you're looking at a race. But when you've done it yourself, then you will look with other eyes to cyclocross." 
The hardest skills to learn are some of the most simple-looking. "I think the difficulty is riding with low pressure, or high speed in the field and [you] don't have that experience from the past. That's not easy," he says.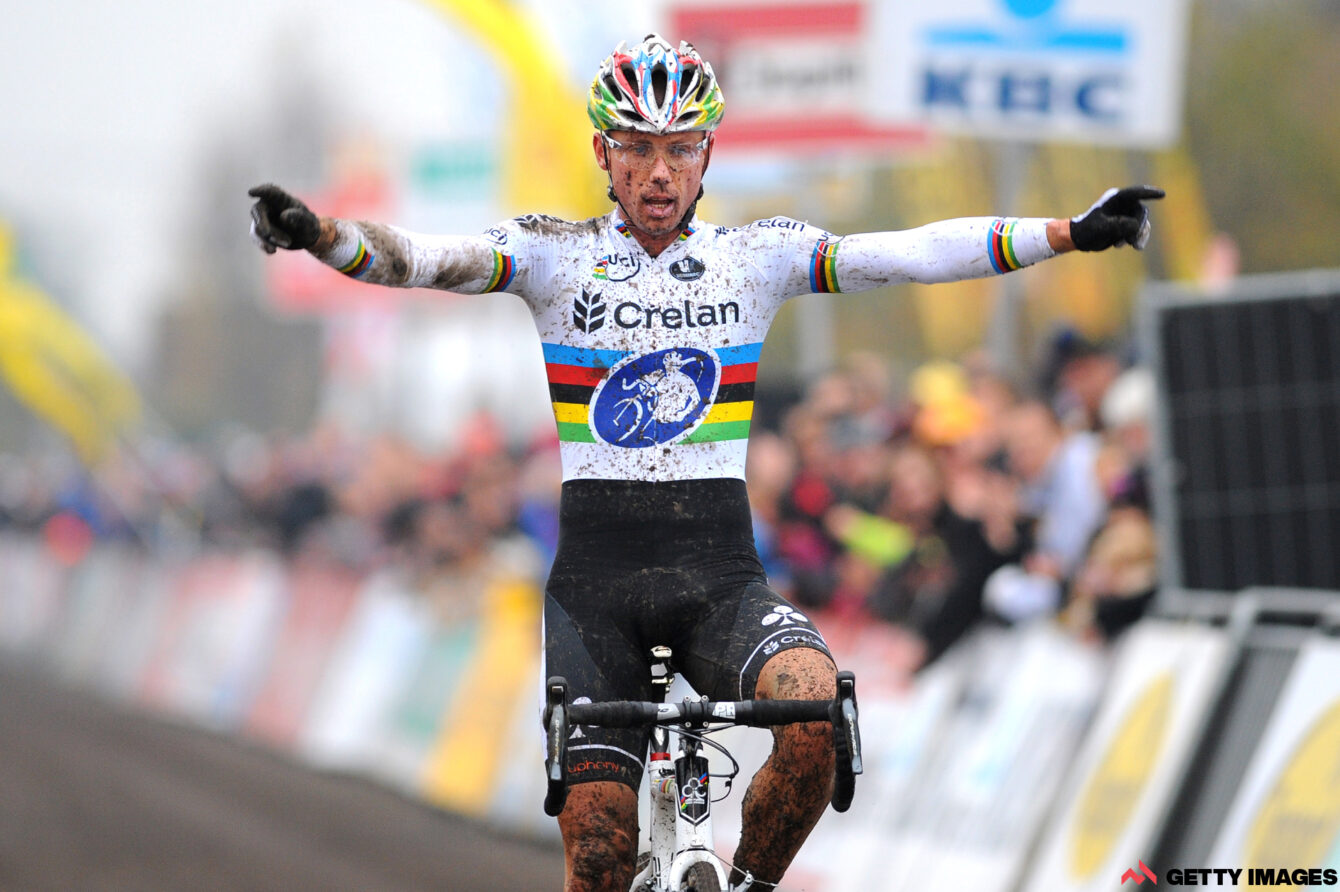 "And then finding the pedals really quick to jump on and off the bike. I'm always surprised that riders they are sitting on the saddle and sitting on the bike, since they were a kid, but jumping on and off the bike. It's sometimes really special to see that they don't have the right skills to do that on a really quick way. So I think that's the most difficult to do all those things together. And then on a really high heart rate."
Nys was a true cross specialist who raced very little on the road. Now, however, he says that in order to be competitive in the cyclocross field, riders must compete in other disciplines too. "Otherwise, it's not possible to be a good cyclocross rider. The volume, the speed, the distance that you can reach in the summer season, that's something you need to build up a good shape and to be prepared for all those intensive races during the winter season," he explains. 
He points to the so-called 'big three' in the men's races of Mathieu van der Poel, Wout van Aert, and Tom Pidcock, but also to a rider from his team, Shirin van Anrooij, who has climbed to the very top of women's cyclocross at just 20 years old whilst also impressing on the road, winning the young rider's jersey at the inaugural Tour de France Femmes last year.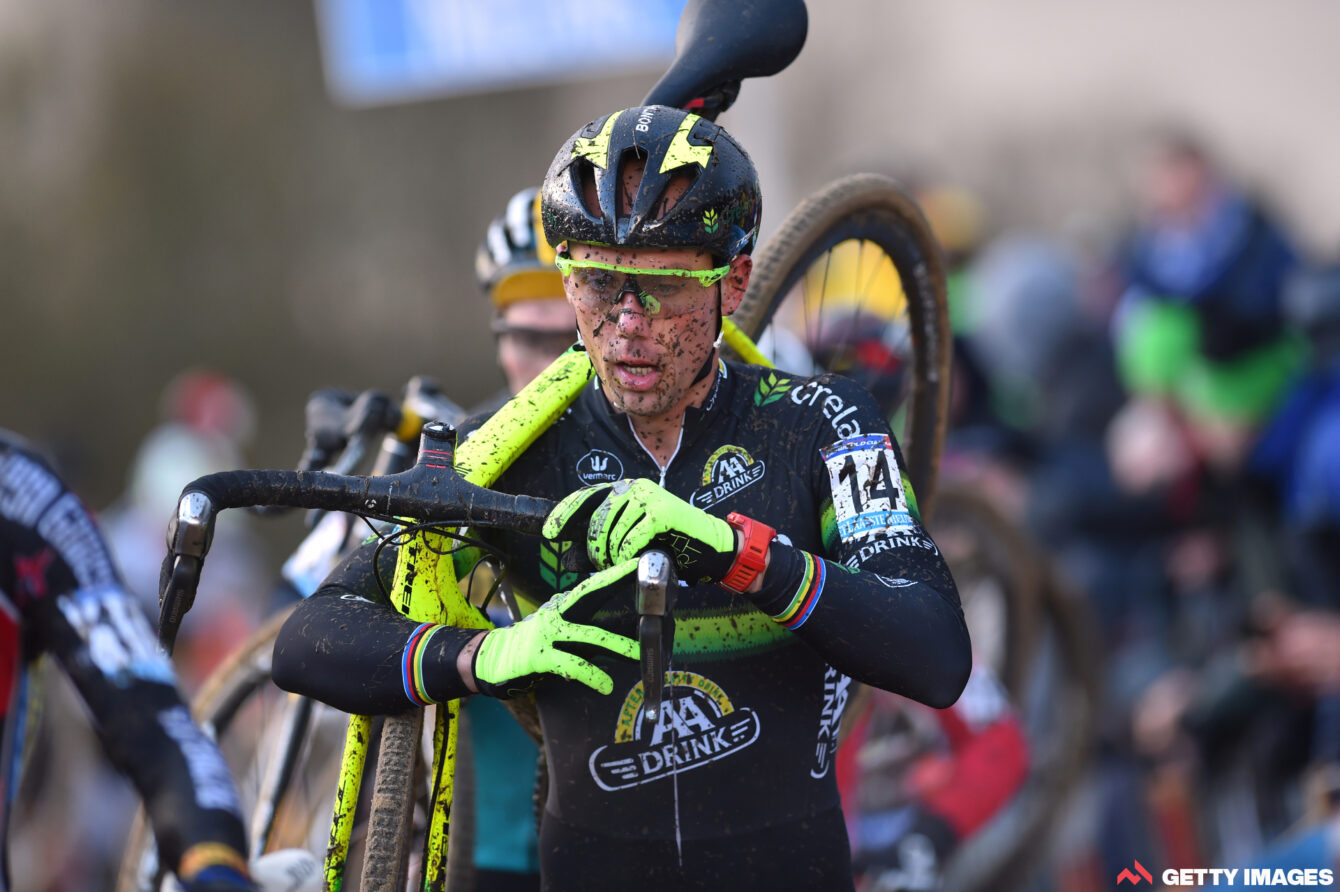 "If you see what happened the last five, maybe 10 years in women's cyclocross and cycling in total, the development is huge. And step by step you see that the level is going that high that they also jump barriers, that they combine also disciplines with cyclocross to road racing. Definitely 10 years ago, you could be a really strong cyclocross rider without racing on the road. But today, that's not possible anymore," he says. 
"Now the level of cyclocross riders in the women's category, these are girls that are having yellow jerseys in the Tour de France, being the best young rider in the Tour de France, being the best climber, going for Olympic gold in mountain bike racing. So the technical skills of the women is a lot higher than 10 years ago. And we use the experience from men's cyclocross, and they learn from them. But there's also more money involved. So, it's better for women now also to come to cyclocross. Teams are interested, they develop WorldTour teams on the road, where they can ride on a really high level. So all those things come together and then you can create better athletes, that's for sure."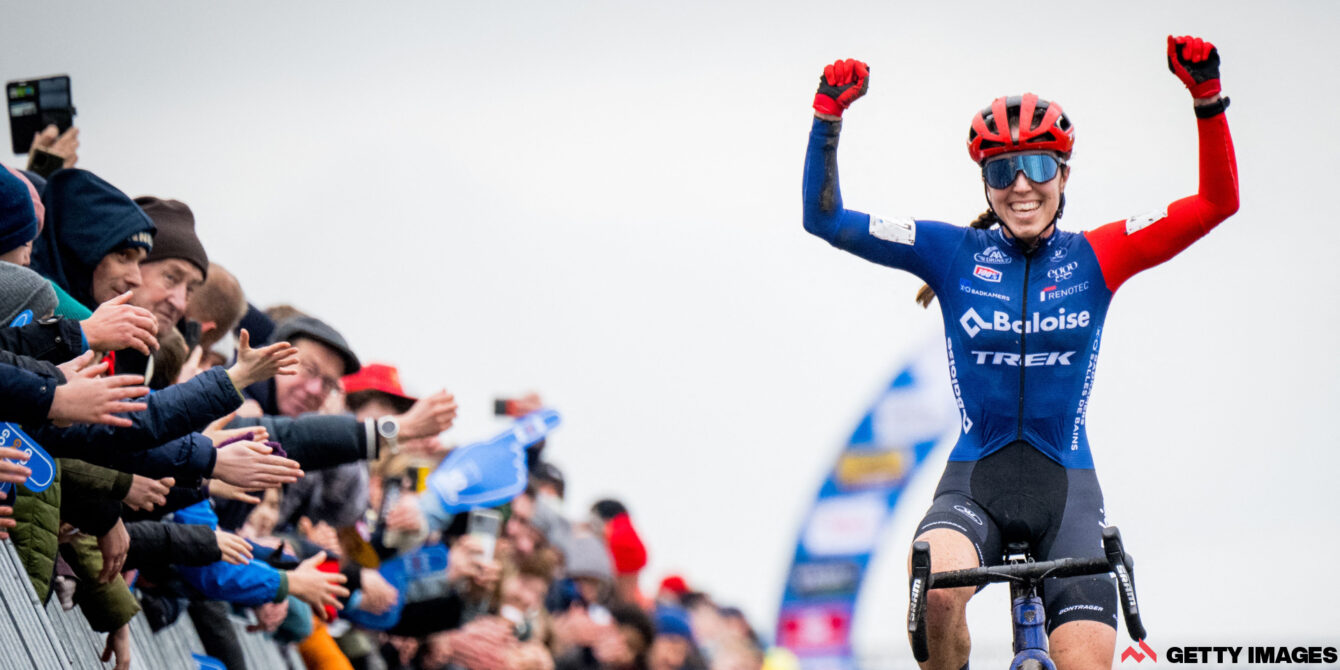 In his many guises within the sport, Nys is, above all, a fan. He is passionate about promoting cyclocross and expanding it internationally and would like to see the discipline included in the Winter Olympics: "because that makes a difference. Because all those federations are going to spend more money in our sport. And that's what we need, because then we are going to grow a lot internationally. And then we don't talk only about Holland and Belgium. But then the whole world is going to be interested in cyclocross." 
He also waxes lyrical about the current crop of riders who make the racing so animated and exciting: "In one hour you can't go 10 seconds from the television screen and go to the fridge and drink something because then you miss a lot of interesting situations. And that's what cyclocross is all about," he says.
Like most, he is eagerly anticipating the world championships this weekend where both the men's and women's races promise showdowns between the top multi-disciplinary stars. 
"It's going to be intense. Not only in the elite men's category, I think we're going to have a battle also in the elite women's category between Puck Pieterse and Fem van Empel so I'm really curious how that weekend is going to explode because…there is going to be a lot of rain next week," he says. 
"It's going to be a hard race. And Wout and Mathieu are really close to each other. That's what we saw in Benidorm last weekend. So it's a home race for Mathieu, in Holland. It's the organisation of his dad so the pressure is going to be really high. But Wout is in really good shape, and it's going to be a battle until the finish, and then hopefully we see a sprint against the strong riders in cycling for the moment with, let's hope, 50 or 60 thousand people around the course and live on TV. That's the best publicity cyclocross can have." 
There Will Be Mud is available exclusively on GCN+, and can be watched via the GCN+ App, all web browsers, and smart TVs. A subscription includes access to more than 150 original and exclusive full-length documentaries, as well as live and on demand racing coverage, analysis, and highlights.