(Ed. note: As we all know, due to the Covid-19 virus, the Dirty Kanza gravel race was postponed this year from it's original  May 30 date to September 12. Regardless of the date change, we still figured it was as good a time as any to pass on the best training/survival tips that we've gleaned over the past few years of competing. In addition to the likes of the RBA staff, we will also have entries from others as well. If you have some of your own that you'd like to pass on, feel free to send them our way: [email protected]. So to kick the series off, here's our first installment from Zap
ALL ABOUT THE HUNDY
"I've ridden the DK100 four times, and luckily, I've never suffered from any mechanical misfortune (that I would need to rely on Troy to help me fix!) Still, despite gaining more experience after each race, with each successive effort I've only endured greater physical misfortune. Back in 2015 I finished just outside the top 20, and last year I rolled in deep in the mid-300s. My main problem has always been twofold—underestimating the level of effort I expend and the amount of nutrition/hydration I take in. 
Three years ago I met up with (previous 200-mile winner) Rebecca Rusch on the start line, and owing to my lonely race experience the year before, I decided to stay with her when the group splintered at the massive mud hole just after the start. We rode together at a steady pace conversing about life in the bike industry and soon began catching and passing slower 200 riders. All along I never stopped to think about how fast we were going until we hit a short, steep climb. One quick acceleration was all it took. Kablamo! She was gone, I was toast!
Unfortunately, I still had about 60 miles of pedaling and fierce headwinds to deal with. I found some relief in a sandwich at the halfway point, but if it wasn't for a Coke and some Red Vines offered up by some local farmers in the middle of nowhere, I might still be out there. I was miserable as I crept into town at a humiliating speed of 8 mph and getting passed by guys riding fat bikes!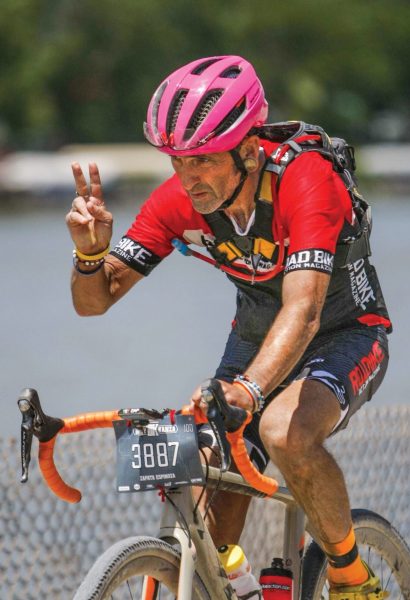 A SAD END IN 2019
Last year I did everything I thought correct in terms of pre-race prep. We all knew it would be warm, but I had plenty of water. My mistake was fixating on conserving it versus drinking it. At the halfway point I was in the top 100 and felt strong. Just to play it safe, I drank a Coke and had some potato chips to accompany my GU. It was all good, or so I thought. Less than three miles later I came unglued. I was dizzy, weak and cramping so badly from dehydration that I had to lie on the side of the road for over an hour. 
Back in town I was still debilitated by severe cramping and soon found myself lying against a street sign completely unable to stand or walk. Not a pretty picture! Thankfully an EMT saw me writing in pain from cramps and gave me some Theraworx anti-cramp crème.  Wow, that made a difference. Eventually, I was able to get back to our motorhome, clean-up, and then head back out for a truly life rewarding carne asada/margarita combo at  Casa Ramos.
Still,  the next day at the airport my hobbling gait resembled that of Dustin Hoffman in Midnight Cowboy. Yeah, the heat is real and it can hurt! I thought back to the first year I raced DK when a heavy rain deluged the course and created a five mile hike-a-bike section that was absolutely miserable. But  as aggravating as that slog  was, the physical pain brought on by severe dehydration was worse.
The Learnings:
Pace yourself and avoid riding with former race winners.
As the old saying goes, drink before you get thirsty, and when people you're riding with remind you to drink, do it.
 Despite it's pretty in pink color, using a Bontrager WaveCel helmet is not the best choice since the WaveCel protection inhibits both much needed ventilation and any water being poured over your head actually getting through to your head.
Be sure to bring some Theraworx to alleviate the dehydration induced cramps.