In this instalment from our staff mini-series of Bikes of the Bunch, our Senior Editor Iain Treloar shares one of his preferred personal rides. This mini-series provides insight into the product preferences of our staff, and the types of bikes they gravitate towards – but here, it's mostly about the feeling rather than the facts.  
---
I spend a lot of time thinking about truth, and what it means to be honest with yourself and those around you. About why it matters, and at what cost. It's a filter I see many of my life decisions through lately, and because bikes are important to me in a way I can't concisely articulate, you'd better believe that when I think about my bikes I'm thinking about what truth they tell.
So, let me tell you about my Ritchey Road Logic by first telling you about some other bikes.
My first road bike was a huge and decaying Repco SuperLite that was rescued from a relative's house in exchange for a broken canoe. I was in my teens and that bike was already older than I was, but I wanted to race, and my parents were grounded in a "see if you like it and then you can save up for your own bike" kind of a way, so that was what I ended up with.
I smeared Silvo on rags to clean the oxidisation off the cranks and the hubs, skinned my knuckles on the spokes, and from between the sprockets I prised out animal hair from dead pets that was embalmed in tarry oil. With the blunt blade of an old Swiss army knife, I scraped the logos off from under the clearcoat, and carefully put on red vinyl decals that I bought at a local market – stickers that didn't say 'Repco' – because I was embarrassed of my low-status bike and how it didn't match the vision I had of myself as a rider.
I think I've carried some trace of that feeling inside of me over the last 20 years or so – or the echo of it, at least.
I've written about a few of my bikes over the years at CyclingTips, including my trusty, crusty Cannondale 'cross bike and my family's cargo trike. The CAADX still shreds in its End Times Zwift duties, and the trike isn't getting as much use as it was now we've got nowhere to go.
Those are good bikes. Honest bikes.
But the first bike I told the story of here was a Moots that I loved the idea of but couldn't ever quite meet halfway.
At the time, I wrote that a bike is never just a bike – it's a reflection of where you are, where you've been, and where you want to go. I still believe that to be the case, for whatever it's worth.
I'd landed on that bike after a journey through six road bikes made from four different frame materials over the space of about two years. Looking back, the churn wasn't ever really about the bikes. I was trying to fill a hole that I didn't yet realise existed, and I chose the bikes that told me the lies that I wanted to hear at the time.
The Moots was the bike that told me I was still a serious road cyclist that hadn't just spent too much on a high-end frameset. It was a gentle deception that I didn't fully grasp in the moment, but I could catch the glimpse of it out the corner of my eye if I turned my head quick enough.
There were external factors at play, too. People always talk about the birth of your first child as the moment where your life splits into before and after, and those people are right. In the years since Iris was born, I've gravitated toward the solitude of gravel and away from the risks of the road, and at the same time, I've tried to think about what my decisions say about me and say to her. What my truth is.
Those weren't the sole reasons why I eventually sold the Moots in 2018, but a bike probably shouldn't make you feel guilty or ashamed, and in the end – through no fault of its own – that bike did. I still think about it sometimes, but I don't miss it all that much because it wasn't a bike; it was an illusion, a dream.
Which brings us to my Ritchey Road Logic, which was what came along when I woke up.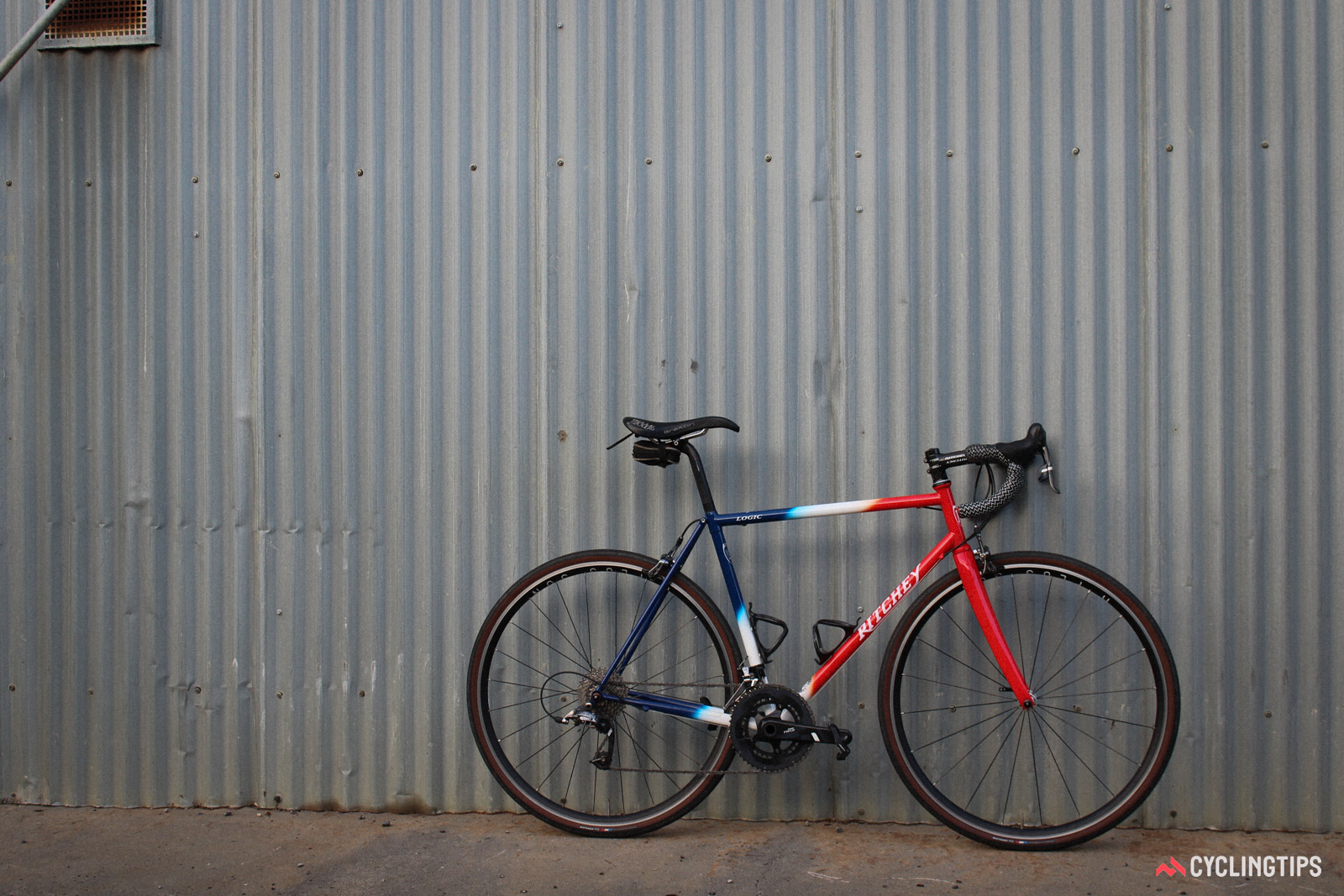 Ritchey's a brand that has resonated with me for a number of years, so much so that I had a grey Road Logic for a while in 2016. That bike wasn't quite right for me back then – or perhaps I wasn't right for the bike – but I remembered it fondly enough that when I was looking for a cheaper replacement for the Moots, the brand was back on my shortlist.
In 2018, the steel-framed Road Logic had a redesign, giving it a slightly longer wheelbase, a slightly taller stack and slightly more tyre clearance, solving most of my niggles with its predecessor. To celebrate the milestone, Ritchey released a special numbered 'Heritage Edition' of the frameset in the company's iconic red/white/blue fade. I liked it better than the other colour that was on offer at the time, so made a few enquiries.
The most immediate obstacle to overcome was Ritchey's Australian distributor's curious reluctance to bring any Ritchey frames into the country. Luckily, the good people at Ritchey USA helped me connect to the New Zealand distributor, who were much more obliging and shipped one across the Tasman. To the best of my knowledge, it's the only Heritage Edition Road Logic in Australia.
I had an inkling that I'd like the new Road Logic, and I wasn't disappointed, from the moment I opened the box. Unwrapping the foam from the down tube, I caught a glimpse of the frame number and realised that chance and fate can sometimes look like the same thing. That number – 76 of 100 – was my favourite as a kid, for whatever arbitrary reasons kids have for a favourite number.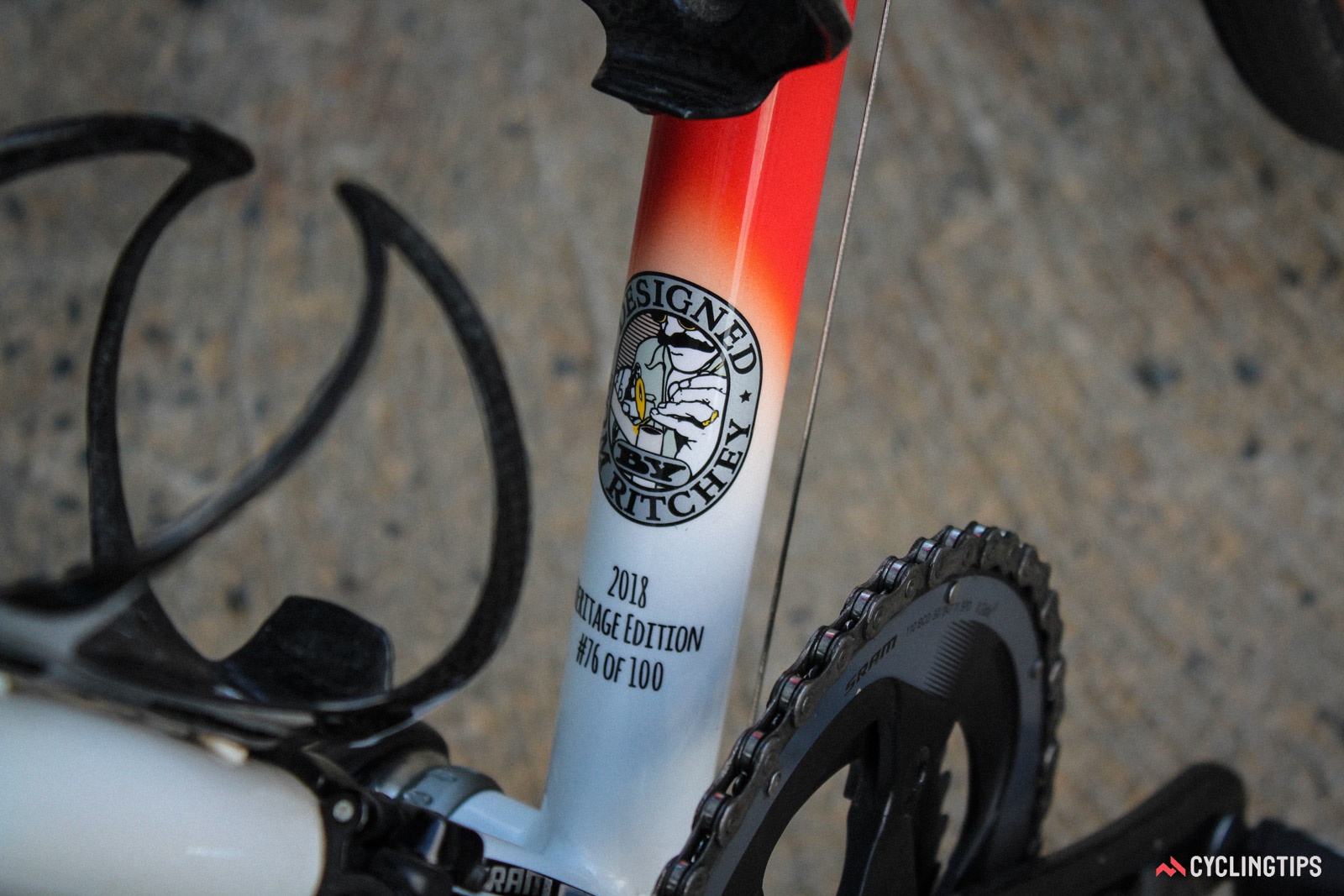 I built it up mostly with parts that I had kept after selling the Moots frameset, including the same groupset and wheels, and bought some second-hand Ritchey-branded bars, stem and seatpost to finish it off. All up, my investment was about a third what the Moots was worth, which seems a bit of a bargain considering I like it about three times as much.
The first ride was the day before my birthday about two years ago, and I put in 6,000 km in the first year before shelving it for 12 months to work on a bike review. I've just started riding it again, and it's like coming home – predictable, balanced, comfortable and familiar.
The build is utilitarian, honed by lessons learnt from the past. Nothing's super flashy, but it all works. The Ritchey parts were chosen for ease of use and travel, meaning I went for a simpler hex bolt-equipped stem compared to the fancier T20-equipped wraparound stems in Ritchey's range. A similar rationale informed the choice of seatpost, which is a single-bolt Superlogic design that's much less fussy than the two-bolt designs I've used from Ritchey in the past. The bar is an alloy EvoCurve in a 40 cm width, a size narrower than I use on my gravel-leaning bikes but in the same familiar shape.
The bike's part list follows suit with a bunch of stuff I've chosen because of its function. That statement may raise some eyebrows when I say it applies to the groupset too, but Strava tells me I've put more than 33,000 km into SRAM Force 22 groupsets over the years and they've never broken in a way that I haven't caused myself. There's something grounding about SRAM's feel, too – a reassuringly manual click in the gear changes.
I can detect a little lack of power in these brakes when I'm switching back from hydraulic discs, but they can clear a 32 mm tyre here without having to resort to long-reach calipers, which is a happy bonus on a rim brake road bike. The only deviations from the Force groupset are a Wipperman stainless steel chain which seems to last forever, and an Ultegra cassette. Both of those were chosen because they're easier to clean than the SRAM equivalents. It shifts fine, and while I don't know how many watts I'm giving up I also don't particularly care.
Looking elsewhere, the parts are similarly utilitarian and acquired over a number of years, with an inadvertent bias to smaller US-based brands. As has been remarked elsewhere, Arundel's Mandible cages are perfect. Paul's internal cam skewers have great clamping force and are exceptionally beautiful; they were a Christmas present from my wife and I was genuinely gutted when they first got scratched in a crash, so much so that I carefully coloured in the silver scrapes with an orange Sharpie.
The SpurCycle bell is a delight; it was a 30th birthday present from my old training buddy Stefan, whom I don't ride with as much as I'd like these days. And a special shout-out to the SMP Drakon saddle, which doesn't make me go completely numb, and in that single important metric alone makes for a refreshing change from most saddles I've used.
The wheelset was built by a friend of mine, Ben, with DT Swiss Aerolite spokes, H Plus Son Archetype alloy rims and White Industries T11 hubs. The hubs make me happy because they're pretty and durable, with a titanium cassette body that has held up for many kilometres across several bikes.
At the moment, the wheels are wearing Bontrager R3 Hard Case Lite TLR tyres in a 32 mm, which are in for test. It's early days, but they are plush and plump, and I love that this bike has the clearance for bigger tyres that can blur the lines between road and adventure.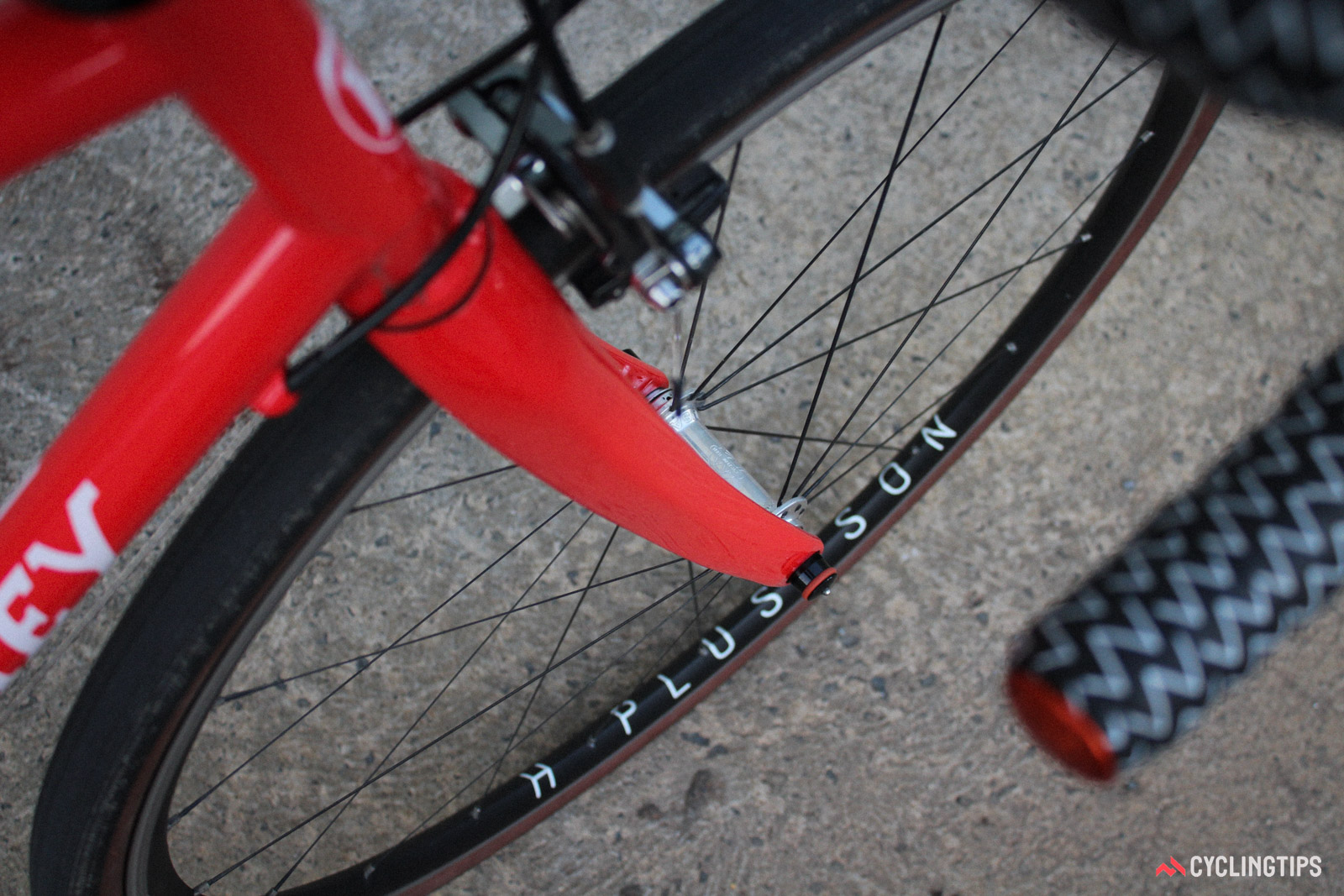 Seven or eight bikes ago, I bought a custom titanium bike with Songs: Ohia lyrics running down the back of the seat tube from the album Axxess & Ace. In that album's centrepiece, over a plaintively strummed acoustic guitar and shuffling snare, the late Jason Molina belts out the refrain 'Love leaves its abusers' in a keening tenor, over and over.
I needed that reminder then, but I think I've internalised it now. My Road Logic is more like the Songs: Ohia album Didn't It Rain – a quieter, more haunted thing that sits with the mistakes of the past and comes to terms with them, for better or worse. I suppose the music and the machine have the same blue-collar vibe, but that's not the only reason this bike speaks to me of honest toil, steel and sinew, blue factory flames and dirt under the fingernails.
The Ritchey Road Logic is exactly what it is – a completely honest bike that doesn't try to be anything that it's not. With each pedal stroke, it reminds me to strive to achieve the same impossible goal.
The specs
Frameset: Ritchey Road Logic 2018, 55 cm
Headset: Ritchey WCS drop-in
Wheelset: White Industries T11 hubs, DT Swiss Aerolite spokes, steel nipples, H Plus Son Archetype rims, 20/24H
Shifters: SRAM Force 22
Crankset: SRAM Force 22, 172.5 mm, 50/34
Bottom bracket: SRAM GXP
Rear derailleur: SRAM Force 22, mid-cage
Cassette: Shimano Ultegra 6800, 11-32
Chain: Wipperman Connex 11sX
Tyres: Bontrager R3 Hard-Case Lite TLR Road Tyre 32 mm
Handlebar: Ritchey WCS EvoCurve, 40 cm
Stem: Ritchey WCS Carbon 4-Axis Matrix, 100 mm
Seatpost: Ritchey Superlogic 1-bolt
Cages: Arundel Mandible
Bar tape: Bontrager Gel Cork Graphic with Fizik bar gel
Saddle: Selle SMP Drakon
Pedals: Look Keo 2 Max
Skewers: Paul Components 5 mm quick release.
Accessories: Wahoo Elmnt Roam computer, K-Edge Garmin mount with a flipped mounting plate, Arundel Uno saddle bag, Spurcycle bell
Frame weight: 1,700 g frame and 325 g fork (uncut), apparently.
Bike weight: 8.8 kg as pictured with all the things, which A) doesn't matter in the slightest and B) seems just fine for a steel bike with fat tyres and not a single part chosen with an eye on the scales [also, refer to A)].
Photo gallery