Step aside Wout van Aert, Tom Pidcock and Co. – Peter Sagan did it first.
Sagan announced the imminent end of his WorldTour career Thursday, a 14-year rollercoaster ride that paved the way for cycling's brash modern era.
Those multi-faceted stars of today, with their far-stretching palmarès and packet of personal sponsors? They're following a half-decade behind Sagan's wheel.
"Today on my birthday I decided to give you, not news, but rather my thoughts my program," Sagan said when he broke the news on his 33rd birthday Thursday.
"The moment has come to tell everybody because everybody deserves to know. This is my final year on road bikes as a professional. Next year I will definitely stay with TotalEnergies and I'd like to focus more on qualifying for Olympic mountain bike."
Also read:
With a wardrobe full of green and rainbow jerseys, two cobbled monument trophies, and a storeroom full of sponsor swag, Sagan already did what riders like Van Aert, Pidcock, and Mathieu van der Poel dream of doing now.
Hailing from the then-unknown cycling nation of Slovakia, Sagan booted down the door of the West European and South American-dominated WorldTour from as early as his rookie year.
Just a few years later, at the age of just 25, he'd collected his first world title, four Tour de France green jerseys, and hauls of stage wins at the California and Swiss tours. That's arguably more than Van Aert, a rider who followed hot in his wheel tracks, has achieved now at the age of 28.
And those accomplishments are before the rest of a massive, multi-angle palmarès that will likely remain unmatched for some time.
But how Sagan built his trophy cabinet was perhaps more important. He showed pro cycling that one mold doesn't fit all in an era before the multidisciplinary stars that followed.
In his pomp, Sagan could beat sprinters, outclimb puncheurs, and conquer the cruelest of cobbles.
At the time, he was doing what then wasn't deemed possible. Teenage versions of Van Aert, Van der Poel et al were no doubt taking notes.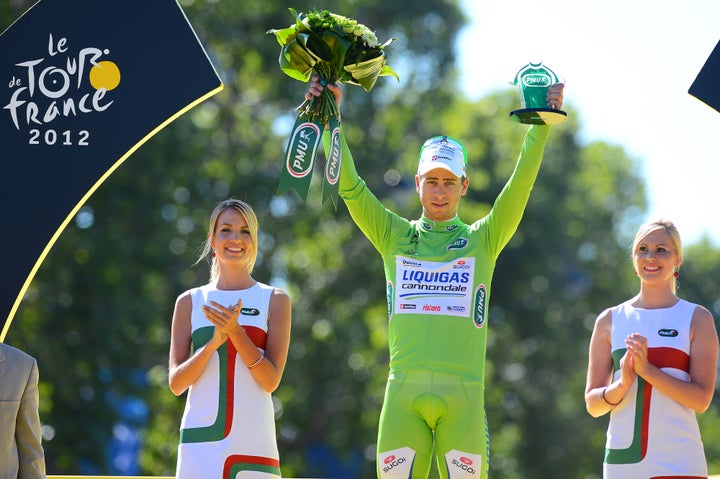 When Sagan hangs up his road wheels next winter, he won't be done altogether.
A return to his quest to top the Olympic MTB podium in a race that will put him up against defending champion and multi-format successor Pidcock sees Sagan finishing his career in the same fun-focused fashion he followed since 2009.
"It's not about the medal or something. It's more about what I want to do," Sagan said.
"There's not pressure anymore about whether I win or lose. It's just something I always wanted, to finish my career on mountain bike and next year is Olympic year. But I wanted to do it for me, and not for anybody else."
Yet while Sagan was one of the rockstars of cycling's past decade with his wild finish line celebrations, wacky media presence, and at-times controversial antics, he was also a sponsor's dream.
He forged multi-million dollar, multi-year relationships with bike and apparel behemoths Specialized, Sportful, and 100% Sunglasses.
His carefully curated catalog of advertising appearances, social media savvy, and forays into gravel and E-Biking brought brands to life and lent them some unique Sagan swagger.
He wasn't the first to amass a rich portfolio of personal partners, but the way he did it broke new ground in a time when the TikTok generation was still in kindergarten.
It's no surprise then that Specialized, Sportful, and 100% plan to keep a piece of Sagan when he's done in Paris.
Sagan's final WorldTour season will see him return to all his "greatest hits," with a program that includes Paris-Roubaix, a race he won in bombastic fashion in 2018, and the Tour de France, where he won 12 stages and scored a record seven green jerseys.
That riders like Van Aert and Van der Poel will likely overshadow a twilight-era Sagan in his swansong season is perhaps sad, but feels the truest passing of the torch possible.
However, just like Sagan ripped up and rewrote the script throughout his 14-year pro career, don't write him off for one last big win.
"I want to finish all the WorldTour races this year at a high level. I'm not just going to enjoy the year," he said. "I want to be at my top level."