Rider interview: In 2022 Evenepoel, Van Aert, Vingegaard and Pogačar were all top performers, but the man who surprised most people with his wins in Gent-Wevelgem and the Giro d'Italia was Biniam Girmay. Alastair Hamilton managed to have a few words with 'Bini' at the Intermarché-Circus-Wanty media day in Spain.

Biniam Girmay – Always happy
Another year and another Intermarché-Circus-Wanty media day in Albir on the Spanish Costa Blanca. The media day has changed since my first one in 2016, then I was the only English speaking journalist and everything was in French and Flemish. Eight years later and English was the main language of the team presentation to full hall of journalists, photographers and TV crews. The main-man had to be Gent-Wevelgem, Giro d'Italia stage and Trofeo Alcúdia winner, Biniam Girmay. There were a lot of questions for the Eritrean rider.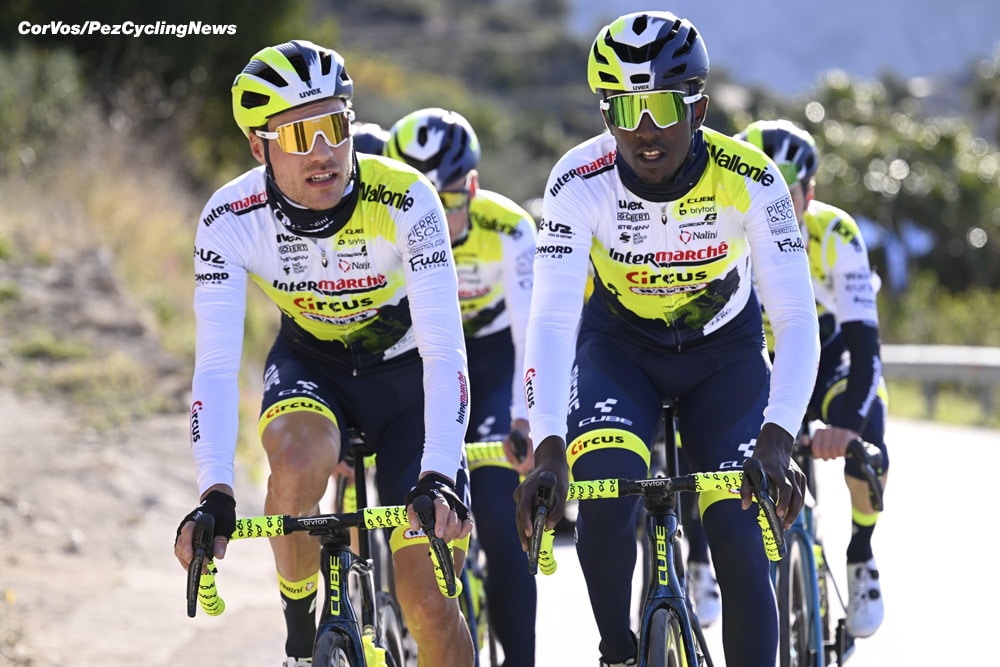 Winter training in Spain
PEZ: How was your winter and your preparation for 2023?
Biniam Girmay: I'm quite happy. I spent enough time at home and preparing in altitude. Now I'm back in the second training camp. I'm super happy.
PEZ: But you didn't go to the first team training camp?
Yeah. I stayed at home, to have a training camp at home and spend more time with family.
PEZ: How has your life changed in the last year?
Of course it's changed a lot. Especially in Europe, and also in my country. In the beginning was a bit difficult, but I managed it well. And, yeah, it's part of the job also. So I'm quite okay now.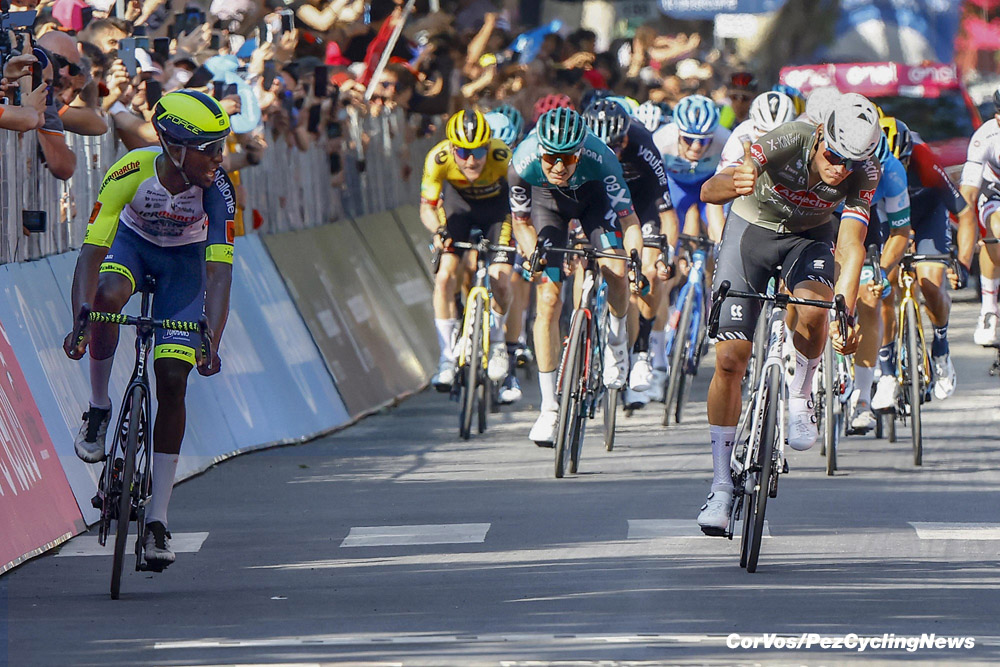 Beating Van der Poel in the Giro
PEZ: What was the difficult part? The press, or the pressure?
For me, mostly of course, it's the media and the press and also, you know, after the race before the race, but the pressure is the same as a year ago.
PEZ: You always give the impression that talking to the press is easy for you, you talk well and you are full of confidence.
For me as a person, nothing has changed in my mind. How it's going now is still the same as before. So I think this is how I grew up.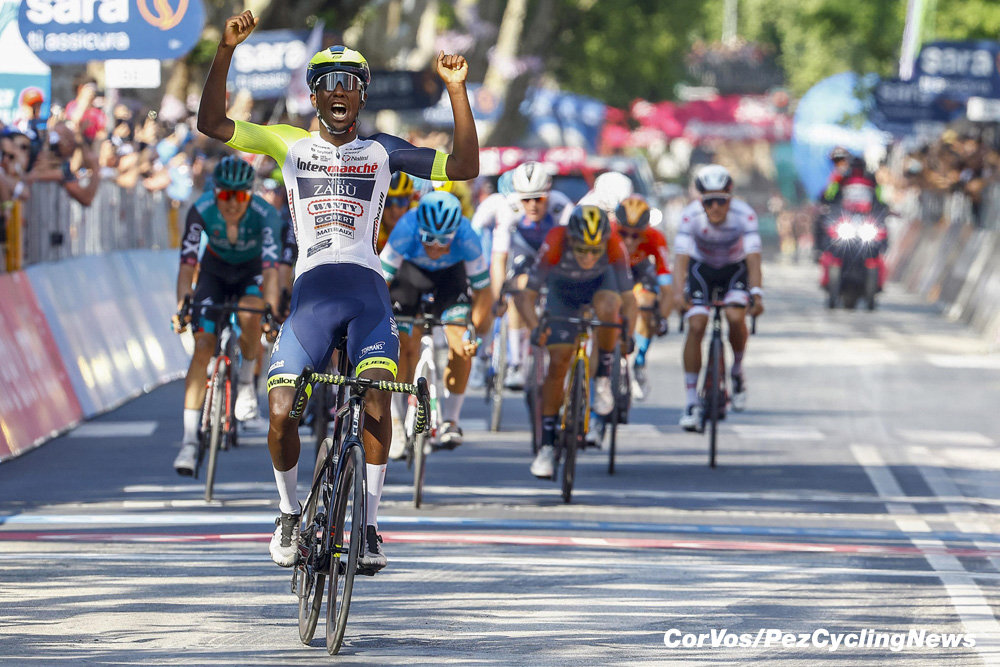 A historic win
PEZ: What has changed is your position in the peloton. Now you're a winner of Gent-Wevelgem and a stage of the Giro d'Italia, so riders will know who you are and will watch you.
It's nice to have more respect in the peloton. This already changed when I moved to a WorldTour team, but now it's changed everything. As a rider to be in the peloton and to have more respect in the team and this makes you more confident in yourself and because I now know I can have some good results and that also gives you more confidence in the peloton and also more respect. I remember when I was in a small team, it was totally different when I moved up to WorldTour, now it is more respectful, let's say.
PEZ: Is it easier than it was?
It's not easy. But to see as myself it's more comfortable now.
PEZ: What are the differences?
To compare it to before: I was young, nobody knows you, so you are maybe always behind (at the back) in the peloton, but now you're coming to the front and they know you can do better, so you are at least in a position to do whatever you want. That's gives you more confidence.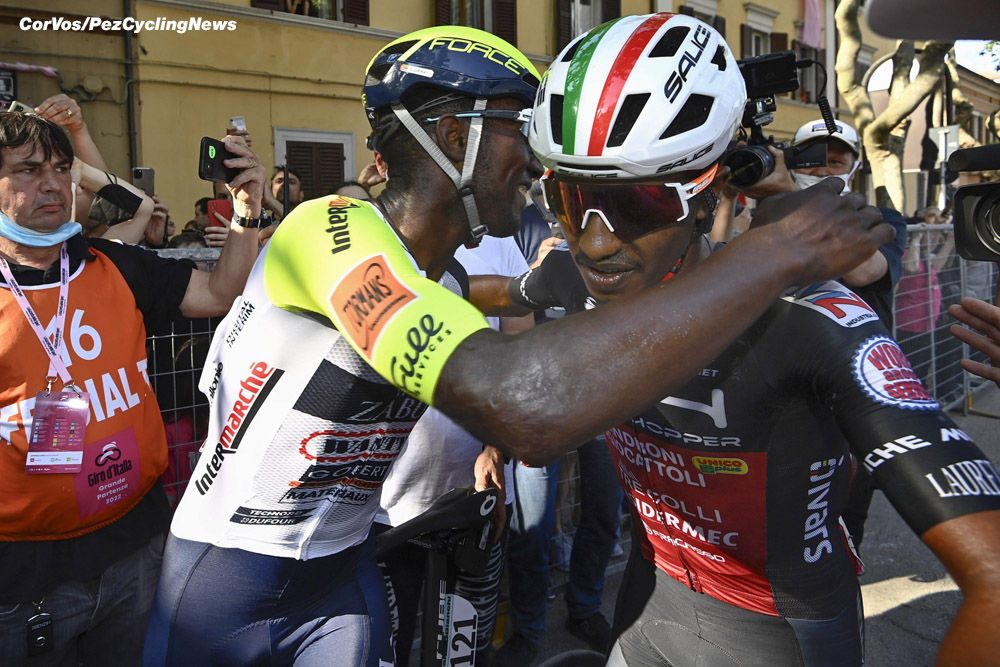 Congratulations from countryman Natnael Tesfatsion
PEZ: People, and yourself, now expect more from you. Is that easy to handle?
We know last year we were good, so for me it is the same like last year. I hope I can do better in the spring season and also in the Tour, but for me it is without any pressure, because I know together with the team we can do better. We have strong potential, as we already said in the team presentation. We have good quality riders. We are also working for the future and we also need to try to do as much for everybody to make good results.
PEZ: Perhaps the team is not as strong as last year what do you think?
For sure, on paper it doesn't look as strong, because we miss some good riders, but we still have a good team. Of course it's not easy to be in the top five like last year, but we still are able to be in the top 10 positions. So we still have a good team.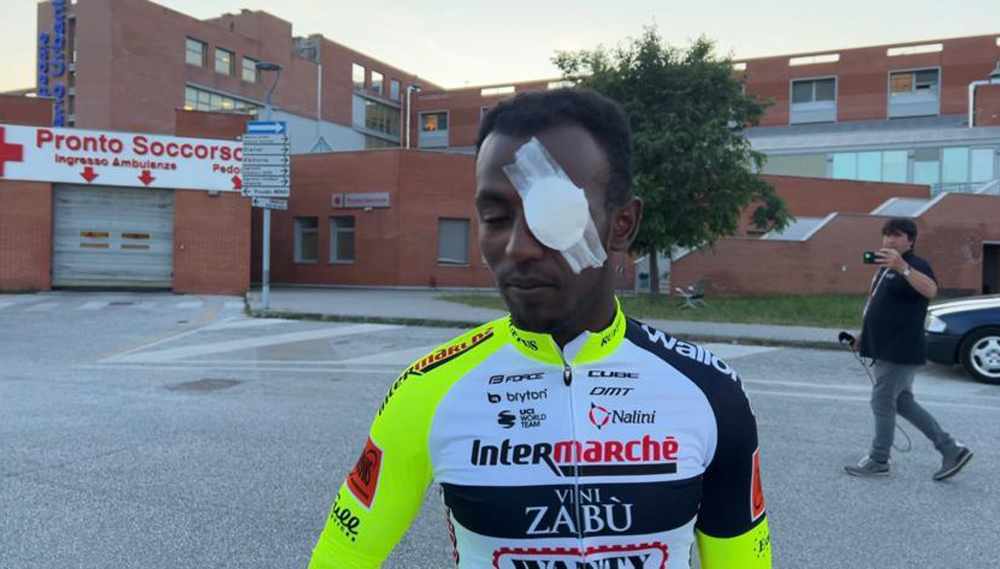 And then the podium disappointment
PEZ: The team has brought in Mike Teunissen to reinforce the Classic team around you. That must be a good thing?
Yeah, exactly. If you see the classic team, I think we have a strong team. And if you see the climbers, we also have a strong enough team. So let's hope everybody's okay and keep to continue to fight like as we are now, because I'm super happy with with the team spirit. Everybody working super hard. Everybody has motivation and yeah, I think you have a strong team in both sides.
PEZ: You're always a nice guy. So are you an easy person to get along with?
I think so.
PEZ: But sometimes a leader he has to be… the leader and it has to be his way.
Yes, but not outside of the bike…on the bike. I mean, in our team everybody is happy to help each other, so you don't need to be an aggressive leader, everybody is super happy to help the team and to help me and I just need to be kind with everybody. I'm like this, my behaviour is like this. I can't change it.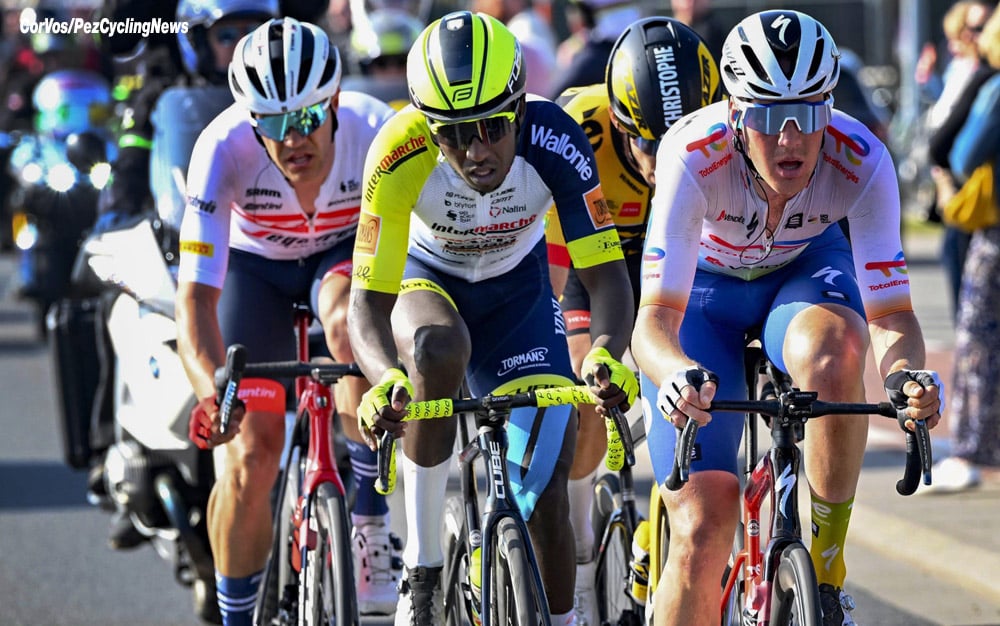 The winning Wevelgem break
Sarah Inghelsbrecht, team press: If I can share my point of view? I feel like he has changed, he is a leader. He is still chill and relaxed and friendly and always smiling and good in the group, he is still the same Bini as last year, but when he needs something he'll tell you, but in a kind way.
Biniam: It's all about respect, because if the team believe in you to be a leader, you have to be a leader, but in the right moment, not always. So when I need anything I ask, but now everything is going well. But to be as a leader, I think that's quite okay.
PEZ: Is that also the reason why you choose to stay with this team for a long time? I think you have a contract until 2026?
I feel super happy here, and everybody knows we're really close with each other like a family thing. So that's the most important thing for me because I want to have as long a career as I can, so I have to choose the best team for me, not only in the race, but also out of the race. If you just go only for the race, you don't feel like you are at home, so I feel like it's my second family.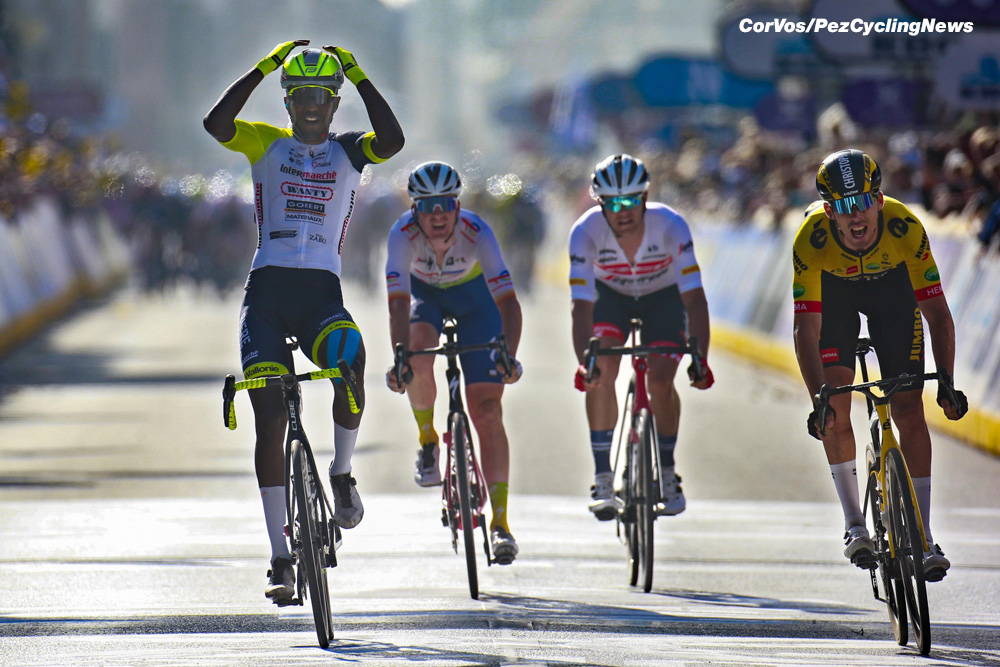 Winning in Wevelgem
PEZ: Did you do any special training over the winter?
I still have some things to improve as a cyclist, myself I've been working on that. Also I have a really strong coach, nutrition and sport direction and everything, so they really help me to reach my goal. And they are also always support me. You know if I do the wrong thing, they tell me the good and that should do this. Also with the new training it is something special. Also I have a lot of things to improve by my self. Like, climbing and sprinting better and also the time trial I can do better.
PEZ: Was there one specific thing that you focused on more?
If you look at the Classics, you have to be a sprinter and also you have to climb well, but I'm working on my sprint.
Sarah Inghelsbrecht:It still has to come maybe, what you will improve, as last year the Classics was a discovery. You all know he went to Gent-Wevelgem without any preparation, this year this will change, he will prepare and will do recons and will stay longer in Flanders, this is an important aspect. Last year he didn't have a sprint train and now he has a sprint train and a team around him.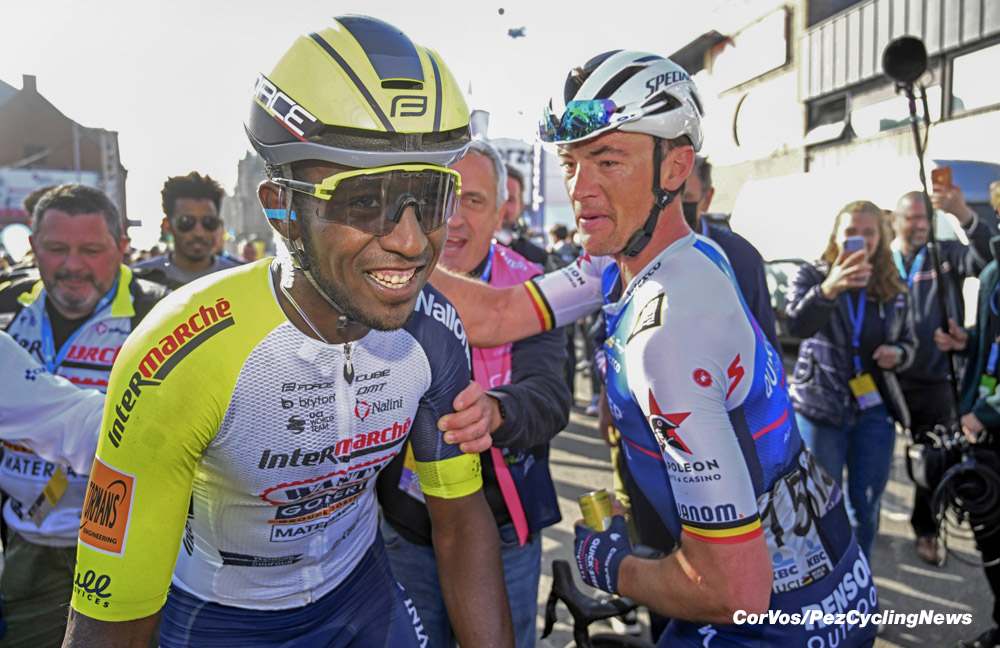 Congratulations from Yves Lampaert after Gent-Wevelgem
PEZ: Where will you start your season and how will it build up to the Tour de France?
It's not only for the Tour de France that I need to be in top shape, because we also have the Flemish Classics that are really important. We have three Monuments there and Milan-Sanremo now. My programme is well organised, like last year we didn't have Gent-Wevelgem in my program, now my programme is fixed and I know when I can go home and when I stay here. My first race will be in Mallorca Maya and then I have Valencia and then after that I'm going home for two or three weeks for a training camp. Then I'm back for Laigueglia and also Torino, it's also a big race and then after that it's Sanremo and then also the Classics. So I'm looking forward to be in good shape in the Classics, that means I still have time to go home for an altitude camp before the Tour.
PEZ: Which race above all would you like to win?
For me, I would like to win one Flemish Classic and then one stage in the Tour.
PEZ: Which Flemish Classic?
Flanders of course. It is the big dream. Then the Tour de France for us, for Biniam, for Africa is the big race.
PEZ: What things have changed back at home, towards you?
The changes are like here, there is a lot of media always and a lot of people come for with you, but they are also respectful, so if you say you have had enough they listen to you. For me it's also quite good when I go back home because I have enough space with my friends because everybody's there, my family, my friends, my wife my baby.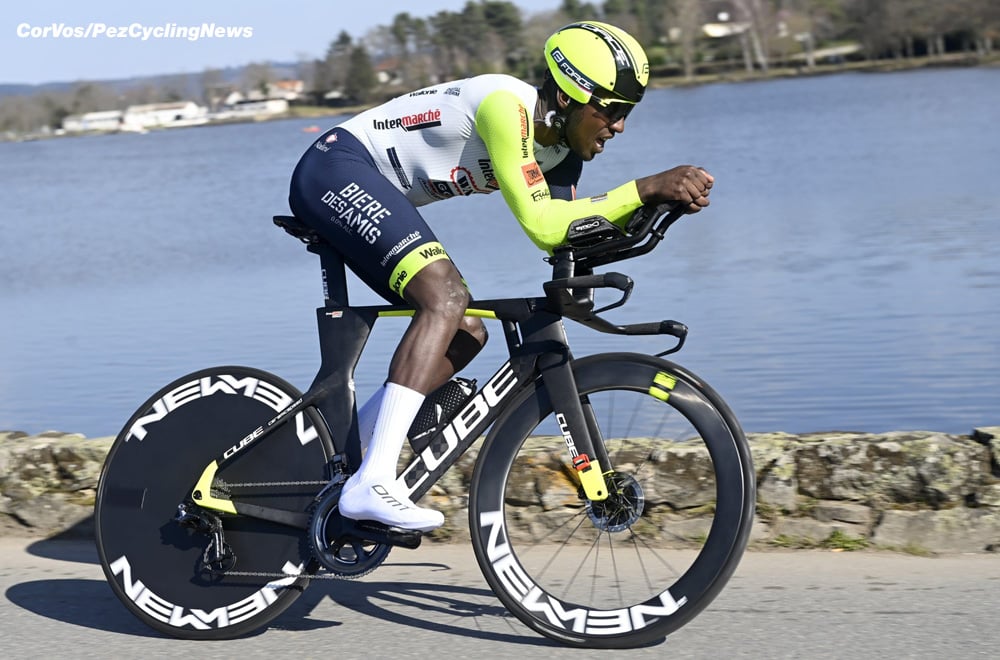 Girmay needs to improve his time trial
PEZ: Has cycling become more popular there?
More popular, but now it's more crazy. But it is really nice to see the kids, there is a lot of young riders, that also give me a lot of motivation.
PEZ: Would you like another Eritrean rider with you in the team?
I'm really happy with the team, they are already thinking long term for the devo team. So we have also one young Eritrean rider, he has already signed with the team, so that means my team really invest in Eritrean riders and in African riders. So that's given me more motivation for leading the team. So I think this is the only team believes in Eritrean riders to give the opportunity to come to join this team and also for the future we work together to bring more riders.
PEZ: It is said that the potential in Eritrea is very big because there are a lot of good riders, they have the physiology to become bike riders and also the nutrition is perfect there.
I think it's not only Eritrea, also the other African talent because I mean, to be honest, there is a lot of strong riders, they just need the experience become more stronger.
PEZ: Do you sometimes have the feeling that you're living a dream?
Exactly, it's like my dream has come really fast and I'm still living in my dream. Absolutely
PEZ: Were you surprised about last season?
I'd say No. I work really hard and I was also dreaming to win a Classic race, but it came really fast. It's a bit surprised because I never trained there (Wevelgem) and I never did a recon there. But that gives you more confidence for the future to work, to lift yourself and your team.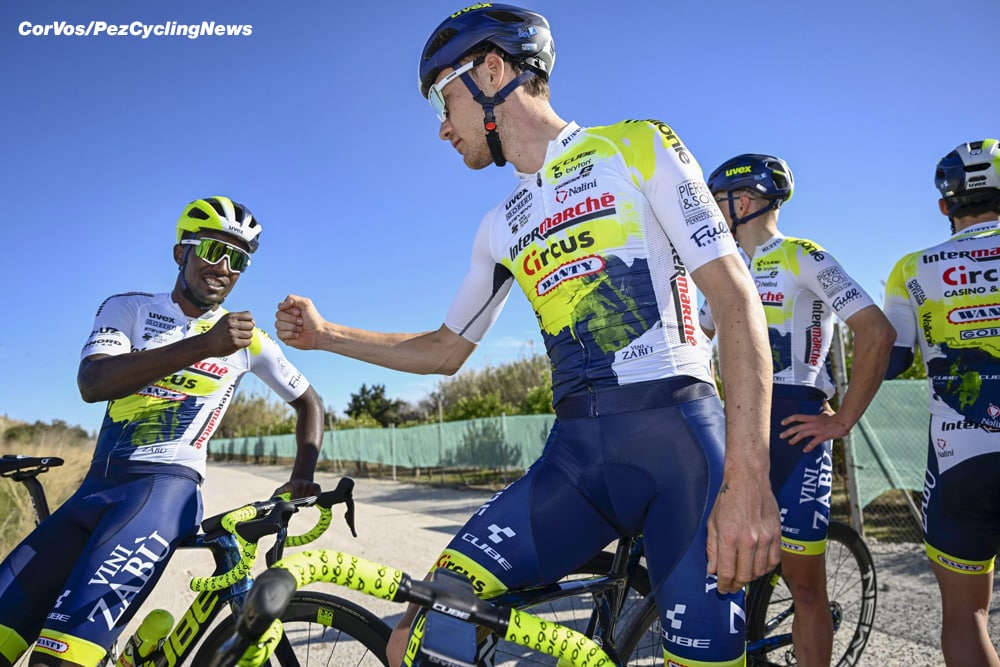 With teammate Loic Liegen
PEZ: Do you watch the cyclo-cross and the battles between Van Aert, Van der Poel and Pidcock, the guys you are fighting in the Classics?
Yeah, I follow the full season of cyclocross, I especially at home. I watch from start to finish and also the woman's race. It's quite nice to see the cyclocross and how they are fighting against each other and the way they race, you know, they are really always in the front fighting for the victory. They just give me the feeling that I miss being a cyclocross rider. In the winter it will be cold, but one day I will try it.
PEZ: What is you reason to ride Roubaix?
We always have it on the TV in Eritrea. Sanremo, Flanders and Roubaix, the three Grand Tours. We knew about these races in Europe. So you want to participate in one of the big Monuments, so that means the Queen Monument is Roubaix. I tried once when I was U23 and that was okay. So this year I decided with the team to participate to see how I would go. I really want to do that. When I rode it with the U23's, it was Pidcock who won in 2019 and it was not so bad. I finished the race. I'm quite impressed by the cobbles and it's something special for me to ride the cobbled Classics.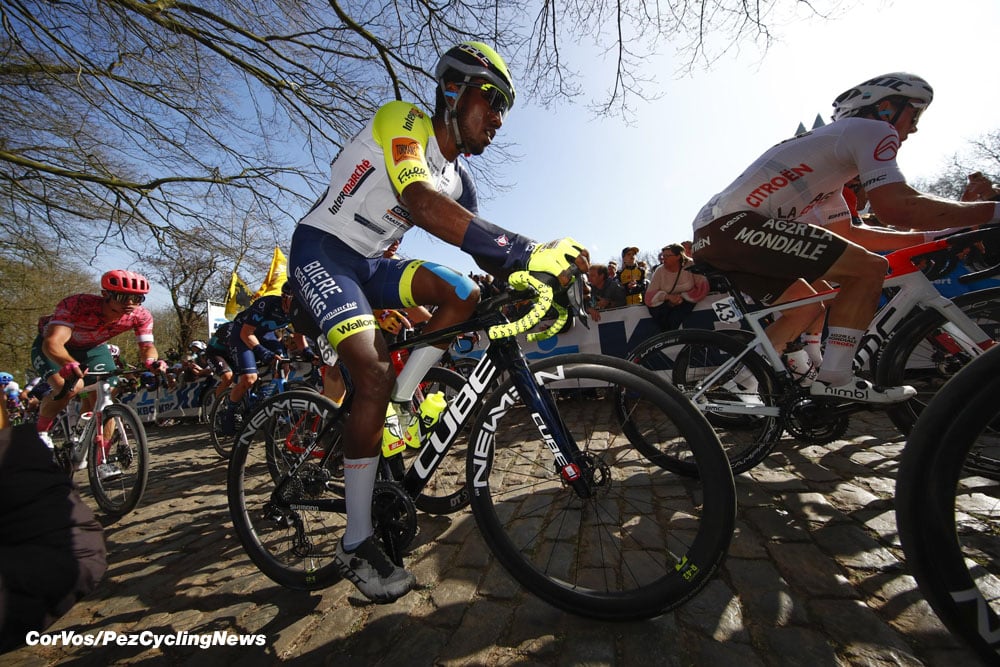 Loving Belgium and the cobbles
PEZ: Have you any plans to ride Liège?
For the future we can decide.
PEZ: Do you think you need to gain some weight to ride the cobbles?
No, I think I'm quite okay.
PEZ: Do you gain weight in the winter?
No, I always have constant weight, so I wont gaining more than two kilo and then I wont lose more than two kilos. We don't have too much cheese. I'm always watching what I have to eat and don't want to gain kilos.
PEZ: What did you do during your 'holiday' at home?
It was nice, you know it's totally different culture, I just need to spend time with my family and my friends, I don't go anywhere far from home.
PEZ: Were you disappointed with the World championships?
I'm not disappointed about the World championships, but I was disappointed with the Giro because I would have liked to have finished it. But World Championships, you know we still had a good result and I learnt something.
PEZ: You have now been with your new teammate, Mike Teunissen, for over a week, how has that been going?
I'm super happy to work with Mike because he's a super nice guy, super friendly and we also shared a lot of experience with me and he already explained to me a lot about the Classics and that is what I need from an experienced rider and he is also super motivated. We have been training ten days together and everything is good. And yeah, we are looking forward to race together. He will be a valuable rider during the Classics.

Getting the kilometres in
PEZ: What is you first memory of the Tour de France?
I remember watched the Tour when I was six or seven years old. My family are big fans of any sprinter, but what I remember most was the season of Sagan. It was nice how he won and when he got in the breakaways and yeah, I remember most about Sagan. Sagan was my favourite rider when I was young. It's nice to see myself race against Sagan and the other big riders because when you're young you grow up watching them and then you race with them, that's something special, living the dream.
PEZ: Are you looking forward to racing in Belgium soon?
Yeah, for me as a person to race in Belgium is always special, really special. The fans are really crazy. So you know, I feel more… fighting spirit in the Belgian Classics, you know, it's really something special. Also, you know the hardest races in Europe, are in Belgium. I really feel special racing in Belgium. Most of the people I know live in Belgium and as a cyclist also, I spent a lot of time in Belgium. All my team is there in Belgium and you never know maybe in the future I will also be…. But the weather's better in Italy.
# Good luck and thanks to Bini and the Intermarché-Circus-Wanty team for their time. #