Don't miss a moment from Paris-Roubaix and Unbound Gravel, to the Giro d'Italia, Tour de France, Vuelta a España, and everything in between when you join Outside+.
According to the Portland Bureau of Transportation, Portland, Oregon has the highest percentage of bike commuters for a large American city.
What Portland does not have — as an urban area of 650,000 residents — is a notable network of gravel roads.
Or, that's what Andrew Osborn thought before diving deep into a mapping project that now lives on the internet as Gravelland.
Osborn, who's lived in Portland since 1978, is one of the city's many bike commuters, but he's also part of the groundswell of gravel cyclists in the United States. He's watched the discipline grow both as a participant and an observer — Osborn worked at bike shops and wrote for our sibling publication Bicycle Retailer and Industry News (BRAIN) over the past two decades.
Now, Osborn is on a kick to discover all of the rideable dirt in Portland, and he thinks he's come up with a concept that other city-dwellers can recreate.
How it started
"It was one of those epiphanies," Osborn said. "I was riding around, hitting different gravel sections and things like that. Then, I started looking for maps of where else to go, what else to ride and realized there weren't any. The city of Portland had a clunky old PDF, but I thought 'this is dumb, somebody should do something about this.'
"I started riding around and mapping and decided I didn't want to put together a clunky website that only nerds would be interested in, but something accessible to everyone." 
Osborn started recording all of the dirt he found in the city on his bike computer and then used a mapping software to overlay the sections on a map. Eventually, he hired help to create the Gravelland website, but he first put in hundreds of hours trying to find all of Portland's dirt paths, trails, and roads.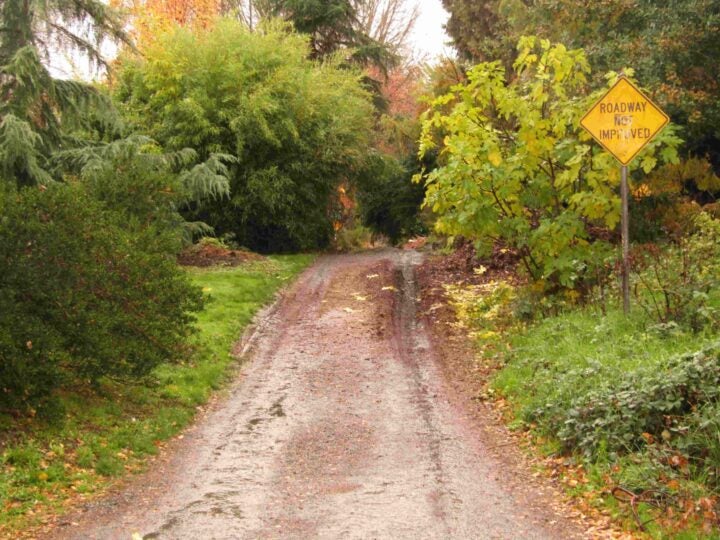 Now, Gravelland currently has 372 sections mapped, and Osborn has ridden all but about 15. He's put together 12 routes, but don't think of them as stereotypical long-haul gravel routes.
Osborn calls them 'park routes,' and says they're meant to be suggestions more than anything.
"Go for a casual ride that starts and ends at a park," he said. "Do it twice, do it three times, make it what you want to be. If you only have a few hours or a dentist appt at 3, you don't have to say 'oh I can't ride today,' you can."
Osborn knows that, from the industry side, gravel has taken on a scale of 'epic' proportions. But that's not the crowd he's creating Gravelland for, nor is it tenable for people who live in cities.
Rather, "I really felt like it was an opportunity for me to build a site that would invite everybody," he said. "I feel like with gravel particularly, it's at challenging spot. The growth has been fantastic, but I think it's challenging because we've got the upper echelon, but in order to sustain it as a sport I think it needs an undergirding — unless you want all your riders to come from Europe or Colorado.
"The bike industry in general," he said, "is really really good at offering people help who don't need it, who are self-motivated and are gonna go put in the hours. It's not really great at embracing and really fully embracing people who are casual and easy going about it."
How it's going
With Gravelland, Osborn hopes to offer a resource to the casual urban rider and also the gravel-curious.
In fact, he thinks the website could serve as a catalyst for Portland-area businesses or cycling groups to embrace the growing gravel trend locally, rather than perpetuating the myth that gravel riding only exists outside city limits.
"'Do you actually have to buy a gravel bike, stick it on a car, and leave the city to figure out if you're really into this?' Imagine being a bike shop that can offer people opportunities to try this out," Osborn said. "I think this is really the kids soccer league opportunity of gravel. Where people can just go try it, and and if they really like it, great."
Osborn said he hasn't run across an organized gravel community that rides solely within city limits. He knows that people ride 90 minutes or so out of the city to hit gravel and then ride back. Although he doesn't have a car, he also knows that people drive to ride — "a lot of throwing bikes on cars because the allure of the coast or central Oregon is too great," he said.
"So, one thing that could come out of this, it could be a way for a venue to 'organize' or understand the level of community and what our needs are."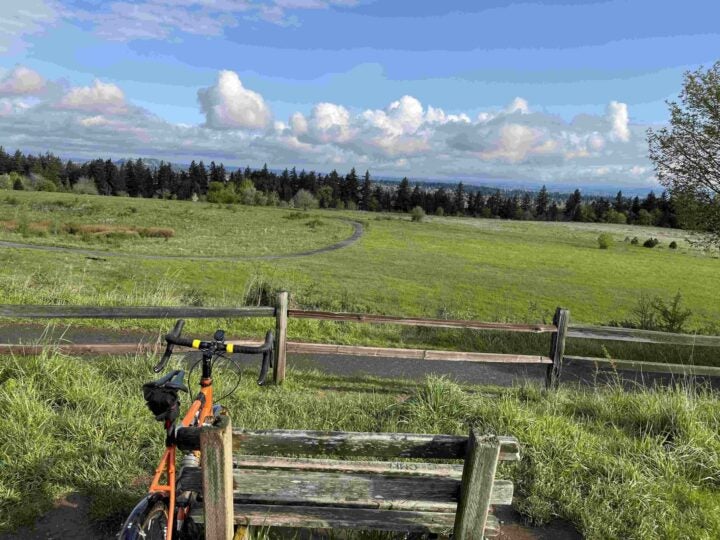 To the degree that Osborn hopes to foster a community of Portland gravel riders, he also hopes that those people can take some ownership over the dirt they ride. He envisions clean-up projects and volunteer days and also group rides.
He also welcomes input and feedback for the Gravelland maps from others who are poking around Portland's gravel paths and roads. He plans to keep adding routes to Gravelland — "I want to make it to where someone can find a park route near wherever they live in the city" — and knows that there is gravel he hasn't found yet.
Off-the-bike, Osborn hopes that Gravelland will serve as inspiration for anyone else in an urban or gravel unlikely area that might want a similar resource. The project started as a curiosity and developed into something that he believes is replicable.
He's also happy to help.
"I realize the opportunity any city or town might have to replicate this," Osborn said. "Rather than go through all the steps, I could consult, link people with developers. Someone could see it and go do it, or shoot me an email from the website and go from there."
"My purpose is to provide the city I've lived in for 50 years and the industry I've loved with a gift. It's a give-back. I want to make this something that feels like a community."