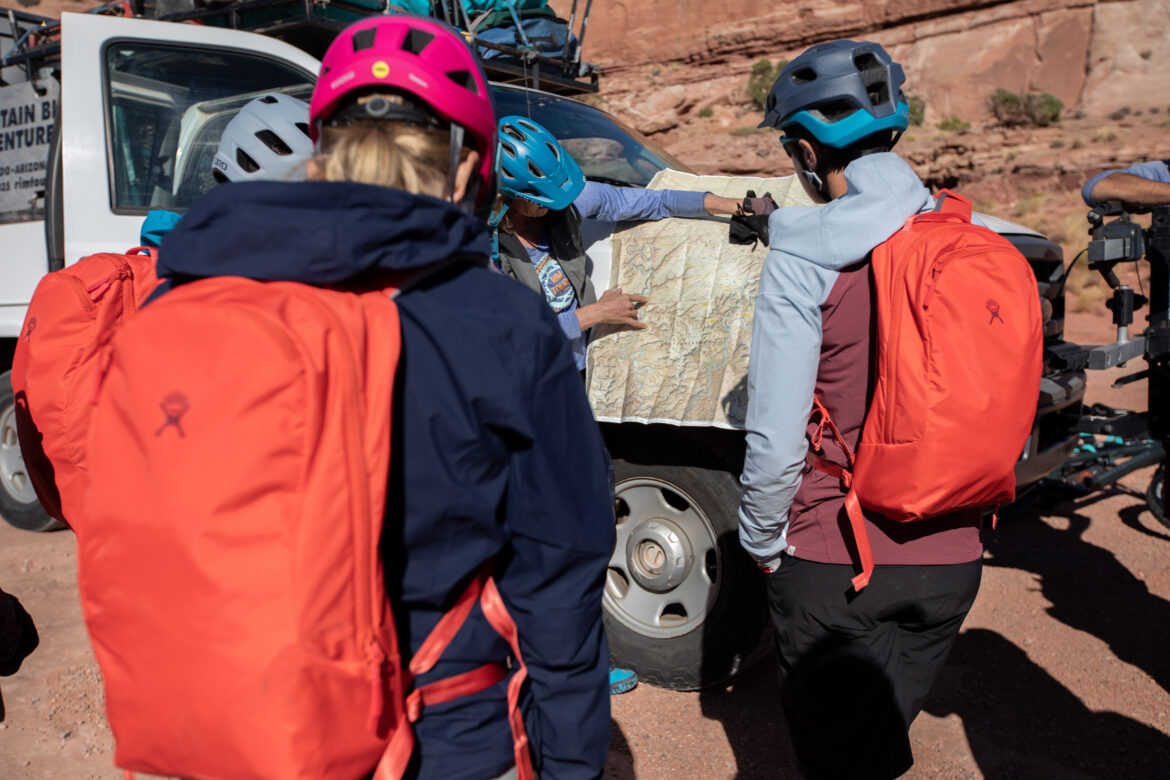 Have you ever been on a ride in a foreign country, or even a foreign state that was supposed to be glorious and effervescent but instead was a mutilated, halting exercise in frustration? One where you couldn't find the trailhead, went the wrong way on the trail once there, missed the Swoopy Loop that all the locals know is the way to make that ride work? I have. I should've got myself a guide. 
While the advent of trail and route-finding apps help immensely on this front, it is still a PITA (pain in the ass) to pull out your phone at every intersection to make sure you are on track, and this of course is after a grueling hours-long back and forth with your pals to decide where to go in the first place. And if that back-and-forth was with a significant other, an apology was likely part of that equation. 
"I'm sorry I was such a butt snail." 
"Nah, it was me babe."
"Well, yeah. That's true…"
Whilst in Scotland last summer I was delighted to find myself in Pitlochry in the Scottish Highlands, a lovely town with great bike shops and mountain biking. One of the rides described on the Perthshire Highlands website was "A very attractive route for fit and experienced mountain bikers with demanding climbs, great views and stonking downhills." 
Note: "Stonking" is a British expression for something remarkable, exciting, or great. 
Sounded great to me so I got myself to the local bike shop to rent a full suspension rig and get stonking. They only had e-bikes "for hire" (as they say across the pond), but that was fine with me—I swing both ways. I asked where I could ride and was a bit dumbfounded by the response "anywhere, as long as you do it responsibly." It didn't compute so I asked again. 
"Uh, I mean, how do I know if I can ride the e-bike on a particular trail?"
"You can. Just don't be a jerk."
I was like a toddler without parental guardrails. A bit lost, somehow anxious with this great freedom, this great responsibility. I worked through my American angst, coaxed a suggested route from him and set off into the wilds with a folded, photocopied map and my rain gear. This was a solo adventure as the friend I'd come to visit was a non-stonker. 
The singletrack trail adjacent to a babbling brook was precisely what my soul sought. Medium technical, narrow, birds, butterflies and rainbows. The extra boost from the battery made me feel vaguely magical, or at least like I imagine it might feel to be a dude with a corresponding level of fitness and skill. This trailside love story between me, an e-bike and a Scottish stonker was short-lived. 
You know those cool fence/gate things that let people through but not cars, vehicles,or motorcycles? They are called chicanes, and they are good at what they do. Some are tighter than others. Some can be ridden through, some you need to walk your bike, and some are so narrow you need to huff your bike onto its back wheel and thread neatly through. 
I am terribly embarrassed to admit, dear reader, that the "thread neatly through" bit proved problematic. E-bikes are heavy. I could not get the front wheel off the ground in order to facilitate said threading. I huffed and I puffed. No dice. Yes, I know there's a way to use the power to deftly assist in this operation, but again, while I am no tiny helpless damsel, I am a 50-something woman with stereotypically poor upper body strength (though I could probably beat a Tour de France rider in an arm wrestle. Have you seen those vestigial chicken arms??). Thwarted from my original route plan, I was back to the Trailforks shuffle, stopping every kilometer to orient, decide, forget, repeat. 
Once I did actually find a set of trails to my liking—the stonkers—flowy forest routes with fun drops, some gnarly roots and steep sections for good measure, I remembered that I:
A) didn't know where I was, B) was alone, C) didn't know the Scottish 911 equivalent, and D) nobody but the bike shop would miss me (and it wouldn't be me they'd miss…). 
This put a damper on my huck-joy and I seriously regret not hiring a guide or signing up for a day tour with folks who know where to go, how to get there, which direction to ride, how to gather the most possible fun on two wheels. 
And certainly not every locale is going to have guides or tours on offer, but with a bit of pre-planning and a few emails or phone calls (Ack! So retro!) to the local bike shops, odds are you'll be able to gather some great intel. Even if no professional guide or tour service is available, you might just get invited on the shop ride, or turned on to a local group more than happy to show you their trails. 
Stateside, there are an increasing number of services for cyclists of all types—fully supported gnarly week-long adventures on the Colorado Trail for $1,500, or pared down services that provide only food drops for a much more palatable price. Best of Moab day tours can be had for $300, 6-days in the Maze (Canyonlands) for $1,500 and literally everything in between can be found in popular mountain bike destinations. 
So next time you are in a mountain bike mecca but find your enthusiasm for the ride waning because you just don't know how to start, consider a guide. It may well be the best couple hundred bucks you spend.