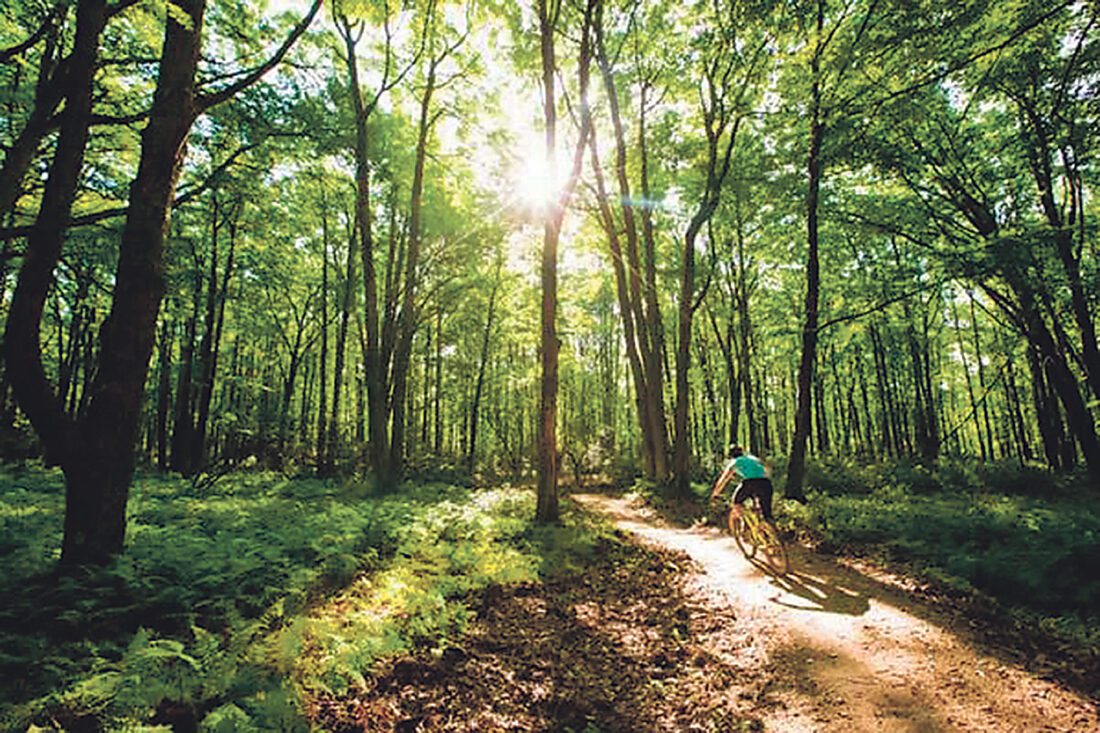 The Allegheny National Forest is seeking comment on a proposal that would open the Trails at Jakes Rocks up for e-bikes.
The Warren County Chamber of Business and Industry was one of several entities that requested the review, according to Jim Decker, WCCBI's president/CEO.
"The TAJR system continues to attract riders from an increasing distance and we feel strongly that we must ensure that we are diligent in staying in alignment with improved technologies as they emerge so as to remain a desired destination for the mountain biking community," Decker said.
According to a statement from the ANF, e-bikes are "not currently allowed" on the system, which features 35 miles of trails with a total of 46.2 planned.
"Forest Service policy was recently updated to establish a process for considering e-bike use requests," ANF Public Affairs Officer Christopher Leeser said. "In response to this policy change, the Warren County Chamber of Business and Industry, Warren Cycle Shop, Northern Allegheny Mountain Bike Association, Loud Performance Products, and the Western New York Mountain Bike Association asked us to reconsider e-bike prohibitions on the Allegheny National Forest."
Decker said the focus would be Class 1 e-bikes only which "provide pedal assistance only, with no throttle mechanism to propel the bike absent the rider pedaling."
"The technology associated with E-Bikes has improved dramatically over the past several years which has allowed for the expansion of Class 1 E-Bikes into both rigid frame and full suspension mountain bike geometries that are needed to navigate systems such as TAJR," he explained. "The pedal assistance available via the E-Bike technology allows riders to expand their ride distances and duration primarily through reducing the fatigue from climbing the hills prevalent throughout the TAJR 35 mile trail system."
"The Forest Service will utilize a fact-based analysis process to review current e-bike research and make an informed decision that best serves the users of the Jake Rocks trail system," Rich Hatfield, Bradford District Ranger, said. "I welcome and encourage public involvement as we consider adding e-bikes to the Jakes Rocks Trail System."
According to a scoping document prepared by the ANF, federal officials acknowledge that they "strive to provide a diverse range of high quality, sustianable recreation opportunities consistent with public demand."
That document explains the various classes of e-bikes: Class 1 provides "assistance only when the rider pedals" and assistance stops at 20 mph; Class 2 have motors that can be used without pedaling and assistance stops at 20 mph; Class 3 have a motor and provide assistance up to 28 mph
"This emerging technology makes mountain biking more accessible and enjoyable to users with different levels of experience, skill, and physical ability. As a result, public demand for trails that accommodate e-bikes is increasing. Unfortunately, this demand remains unmet on the Allegheny National Forest.
Procedurally, the scoping process will move into an environmental assessment process.
"I think it is going to be kind of an interesting topic," Hatfield said. "We'll see how things go. It will take a few months to get this done."
Comments can be made in many media with information on that process available at fs.usda.gov/project/?project=63373.
"Opponents of E-bike usage on non-motorized trails often cite unfounded concerns of excessive speed creating hazards for other users of trail systems from riders of E-Bikes careening out of control through a trail system," Decker said. "There is no documentation that supports this argument.
"The technology is driving the weight and the price of the bikes down so these bikes will not be going away."