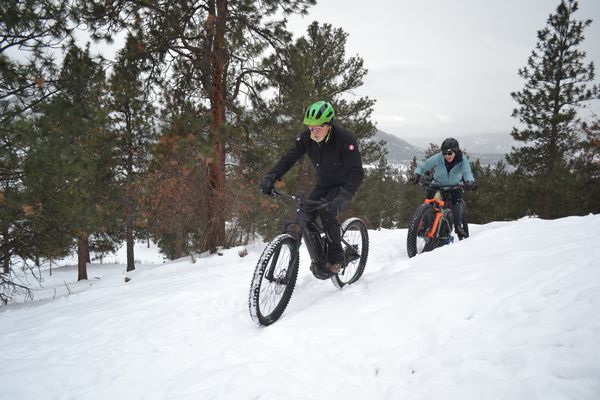 A day after a 10-centimetre dump of snow in British Columbia's Okanagan Valley, Carl Peterson fired up his snowblower and headed down his driveway in Summerland. He kept going and going, leaving his house behind as he crossed a nearby meadow and swung into a forest of lodgepole pines.
He continued guiding his rubber-tracked Honda snowblower for three kilometres up Cartwright Mountain, spitting snow out all the way, then headed back down the now cleared trail. It took four hours and his frigid mission still had another kilometre or so to go, but he would tackle that the next day.
Joyride, the multi-use mountain trail the 70-year-old triathlete started building in 2018 and which he named after his wife Joy, was ready to go for anyone who wanted to hike or snowshoe it, or especially – if they were hardy enough – to bike it.
With the windchill it felt like -30 C, a rare, numbing temperature for Summerland, a town of just under 12,000, located midway down the Okanagan Valley. In winter, it is usually one of the balmier parts of Canada. But this day, Environment Canada had issued a frostbite warning. Mr. Peterson was undeterred.
Since last January, after every decent snowfall, Mr. Peterson has been hauling out his snowblower and clearing a 61-centimetre-wide path up, down and around Cartwright Mountain.
"I built this trail to mimic the Maui race course," he said. With an average climbing grade of 7 per cent – 12 in some stretches – its pitch approximates the Xterra mountain-biking trail in Hawaii. "Joyride is my training trail. But it just happens to be a lot of fun too."
Last December, Mr. Peterson was the 2021 World Champion for his 70 to 74 age group in the gruelling Xterra Triathlon. The Hawaii race is the pinnacle event in a series of triathlon races around the world.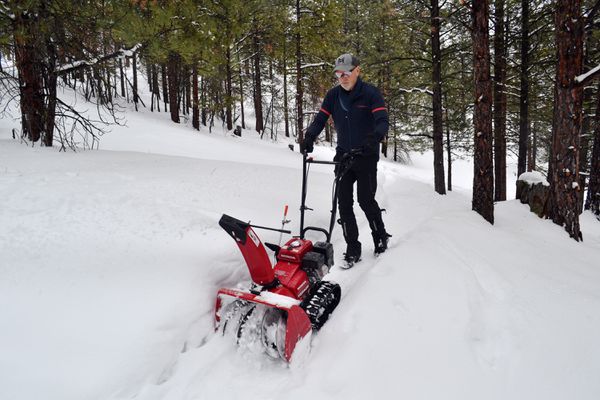 The app Trailforks ranks Joyride – a challenging, twisty blue trail for mountain-bikers even in summer, let alone winter – as "hard." It gets a five-star average rating from users.
In winter, Mr. Peterson, along with his friends and a growing retinue of strangers, pedal up his cleared trail on fat bikes, a kind of off-road bike with big knobby tires kept at a low pressure, and designed to ride over snow and sand.
Fat biking got its start in Alaska around 2001 and peaked in popularity around 2015. But the sport is seeing renewed interest since COVID. Groomed and ungroomed winter biking trails have been established around B.C. in places such as Whistler, Isobel Lake near Kamloops and the SilverStar Mountain Resort near Vernon.
Winter fat-bike trails are getting more riders in Alberta, snowy U.S. states and northern European countries such as Finland. Many of these trails are built, maintained and funded by mountain-biking associations, local communities or parks, or even downhill ski resorts hoping to attract a winter cycling clientele.
In Rossland, B.C., where Rory Belter is director of the Rossland Mountain Biking Society, the usual tool of choice for groomed winter-biking trails is the Snowdog. A Russian-invented machine that costs about $5,000 and was originally used to clear paths on lakes for ice fishing, a Snowdog looks like a vandalized snowmobile; there's no skis and no seat. Propelled on a single wide rubber track, it tows a driver who stands on a skid plate or tub that compacts snow down enough for fat biking.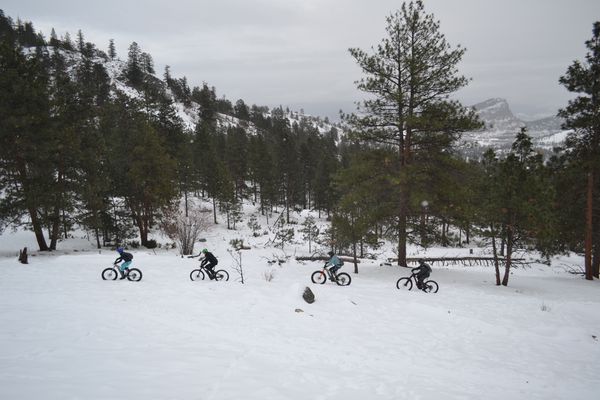 A bike mechanic by trade, Mr. Belter says his association grooms about 19 kilometres of trail for winter biking. The Snowdog and its annual operation are funded through association memberships, grants and sponsors.
Mr. Peterson elected not to buy a Snowdog, concerned the machine's design would make it tippy on Joyride's more tight-cornered switchbacks and side slopes. Before he got his snowblower, he hand-shovelled parts of the trail, but "it would take a few days just to do a kilometre, for God's sake."
The idea of ditching the shovel and buying a snowblower came from another bike-addicted rider. Nearby Mount Conkle, at 936-metres high, is home to another snow-blown trail. For the past four years, Shaun Gibson, a 67-year-old stone mason, has been using his snowblower to carve out a 10-kilometre (return) trail on a route called Full Frontal.
On the same Wednesday Mr. Peterson was clearing Joyride, Mr. Gibson's identical snowblower had a coughing fit on Conkle in the extreme cold. A road-bike racer in the early 1980s, Mr. Gibson, who pedals his Conkle route four times a week on a non-electric Trek Farley 6 fat bike, barely managed to get his machine downhill to his truck.
"I don't think there's any place else where there are two nearby mountains where two people have taken upon themselves to snowblow trails on them," Mr. Peterson said.
Linnette Gratton, a former mountain-biking coach and Penticton resident, rides her electric fat bike regularly on both Joyride and Conkle in winter, even at night. She and her husband regularly join the Petersons for long wintery rides on the two mountains, stopping by fire pits to sip thermoses of soup.
It was Mr. Peterson who taught Ms. Gratton's husband how to make DIY studs for the fat bike he bought last year, by threading in round-headed sheet metal screws from inside a tire, through the knobbies, then cutting off the screw tips. "They looked like Mad Max tires," she laughed. It's cheaper than buying studded fat bike tires that can cost between $200 to $300 each.
Ms. Gratton said that before Mr. Peterson and Mr. Gibson came along with their snowblowers, the winter riders she pedalled with would snowshoe trails near Penticton and Summerland one day to tramp them down, then ride them in the ensuing days, hoping another snowfall wouldn't smother their cycling fun.
Calling Mr. Peterson and Mr. Gibson "rock stars," she said they opened up easy access to winter mountain biking in the Central Okanagan for a wider skill level and fitness range of cyclists, not to mention hikers and snowshoers.
"I do whatever I can to promote mountain biking," said Mr. Peterson. "I just think it's a great sport. It's good for kids. Like I said, I'm 70 and I'm still racing mountain bikes."
Recently some hikers who use Joyride knocked on his door, dropping off $75 in gift cards for gas and some bottles of wine and cider.
"That was really nice," he said.