Jonathan Ramnanansingh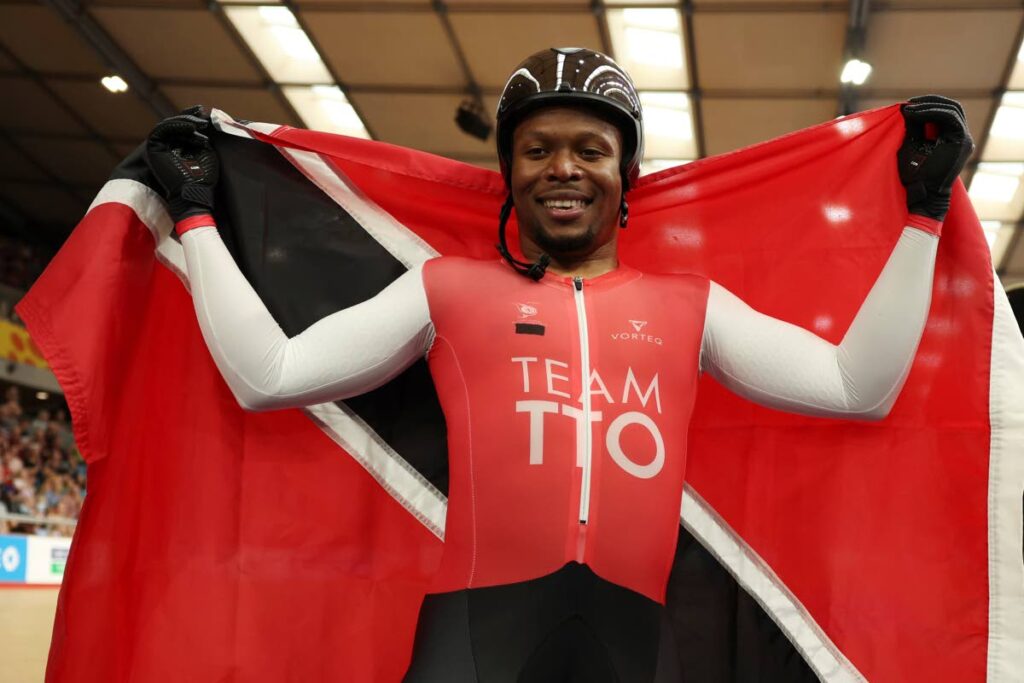 THE sport of cycling in TT continues to thrive post-pandemic.
Over the past year, TT's cyclists have had to pump their pedals harder to remove rustiness caused by a lengthy two-year pause in training and competition, owing to covid19 restrictions.
But with smart planning by the TT Cycling Federation (TTCF) and its member clubs, local cycling events hit the ground pedalling a-pace after national sporting organisations were granted permission to resume domestic sport in mid-January.
The past 12 months were hailed a "success" by TTCF president Rowena Williams, who was elated to have the event-starved local cycling community back out in full force.
Headlining this year's competitive performances for TT, however, was Switzerland-based flying 200m world record holder (9.1 seconds), Nicholas Paul, who had his best season yet as an elite cyclist, despite prematurely bowing out in October because of a collar bone injury.
Ironically, Paul's season started with a setback as he crashed out of the men's sprint semi-final at the UCI Track Nations Cup in Scotland, in April. There, he suffered a fractured collarbone in his first event for the year.
After his ten-week recovery, Paul went on to win medals in every meet he competed in for 2022. He rebounded by winning the sprint and keirin gold on his return meet at the UCI Nations Cup in Cali, Colombia, in July.
There was no stopping the speedster as he went on to become the first TT cyclist to capture a complete set of Commonwealth Games medals, gold (keirin), silver (sprint) and bronze (1km time trial) in England, in August.
Days later, he pedalled to triple gold in each event at the Elite Pan American Track Cycling Championships in Peru.
The next two months, Paul planned to use to train at his World Cycling Centre base in Aigle, Switzerland, ahead of the World Track Cycling Championships, scheduled for France, in October.
In September, Paul was one of two members of the cycling fraternity honoured with a national award on Republic Day. The other was former national cyclist Michael Phillips. Paul received Humming Bird Gold.
In 2018, he received Humming Bird Silver, alongside retired two-time Olympian Njisane Phillip, Kwesi Browne, European-based women's pro road cyclist Teniel Campbell and swimmer Dylan Carter.
However, in early October, during a routine training session, Paul damaged his collarbone once more and was ruled out of competition for the remainder of the season. His omission saw him miss out on World Champs and UCI Champions League.
At that time, he was ranked second on the UCI Rankings in both sprint and keirin.
For his immense contribution to TT cycling, Paul captured TTCF's most outstanding cyclist accolade at its awards on December 17. He, alongside 2020 Olympic debutants Browne and Campbell also received a special award from the fraternity for their performances in Tokyo.
CAMPBELL INJURED
Campbell also had a fair season but was also hit with spurts of injury on the rugged European and Caribbean road circuit.
Bruised ribs, Achilles bursitis, whiplash, shattered teeth, teeth extractions and a large gash on her knee, rounded off Campbell's combination of injuries, at three different meets, this year.
The last came at the Caribbean Road Cycling Championships, in October, which ruled her out for the rest of the season. Before her crash, she won gold in the women's time trial.
However, Campbell made her Olympic debut in 2021, and, at the 2022 Pan American Track Cycling Championships in Peru, she won multiple medals including a gold medal in the points race.
At the Commonwealth Games, she was sixth in the women's road race in a field of over 50 cyclists. In the time trial, she ended seventh in a field which included over 30 athletes.
Campbell was also adjudged sportswoman of the year by the TT Olympic Committee on Thursday.
BROWNE DOMINATES AT HOME
Additionally, Browne had a good year on the local circuit as he bagged double gold in the sprint and keirin events at the National Cycling Championships. He also won sprint gold at the inaugural Caribbean Track Cycling Championships in November.
He also partnered with Zion Pulido and Ryan D'Abreau to claim team sprint gold while Maurice Burnette, Tariq Woods, Enrique de Comarmond and Liam Trepte topped the field in the elite men's team pursuit.
NJISANE RETIRES
Meanwhile, TT's two-time Olympian Phillip also announced his retirement from competitive cycling, after two illustrious decades, in February.
Phillip, 31, is one of TT's most decorated sprinters and is arguably a key figure who helped return TT cycling back to the forefront owing to his dominant performances at a wide range of regional and international tournaments.
Among his plethora of cycling accolades, Phillip hailed his fourth-place men's sprint performance at the 2012 Olympic Games in London as his best. There, he also placed an impressive seventh in the Keirn.
Earlier this year, Phillip registered his cycling club – JLD Cycling Academy – and has two female cyclists training under him.
NEW STATUS FOR NCC
For the local federation, its pinnacle achievement for the past year, came in November, when the National Cycling Centre in Balmain, Couva, attained UCI continental development satellite centre status.
This means that the venue will now assist in the development of athletes, mechanics and coaches through regional programmes and educational activities.
It also allows certified international coaches to run programmes with cyclists to help them get to world-class standards. Cyclists will benefit from modern training schedules and tactics to help them reach a world-class standard.
For 2023, the satellite centre will be used to bolster TT's juvenile, junior and elite cyclists, and bring them up to speed with international standards while also educating its coaches and mechanics.