Don't miss a moment from Paris-Roubaix and Unbound Gravel, to the Giro d'Italia, Tour de France, Vuelta a España, and everything in between when you join Outside+.
Wout van Aert quite literally ran away to victory Friday in the season's second clash of the "Big Three" in the sandy course at the Exact Cross Mol stop in Belgium.
Shirin van Anrooij won the women's race in the pair of evening races ahead of the holidays and a slate of big races coming up going into the New Year.
With Mathieu van der Poel and Tom Pidcock facing off against Van Aert just for the second time this season, there was plenty of hype coming into the race.
It quickly devolved into a tug-of-war between Van der Poel and Van Aert, who carved up a 30-second gap to the chasing Pidcock and two others with three laps to go.
"I didn't expect to win here", Van Aert said. "Maybe that makes this victory all the more sweet. The first part was mostly about probing and identifying good and bad lines. The second part went a lot better, and I created a gap.
"I can only be satisfied with today. It's a good start to a hectic period," he said. "As a young child, I rode championships here. It's a beautiful course in my home region. I have a lot of great memories here. That makes this win even more brilliant."
Van Aert forced the race in lap seven of nine when he squeezed past Van der Poel midway through the lap, and then powered up a short climbing sand sector.
Van Aert carried speed over the hump, but Van der Poel was forced off his bike. That small fissure soon exploded into the race-deciding gap when Van Aert ran away from Van der Poel in a long running sector.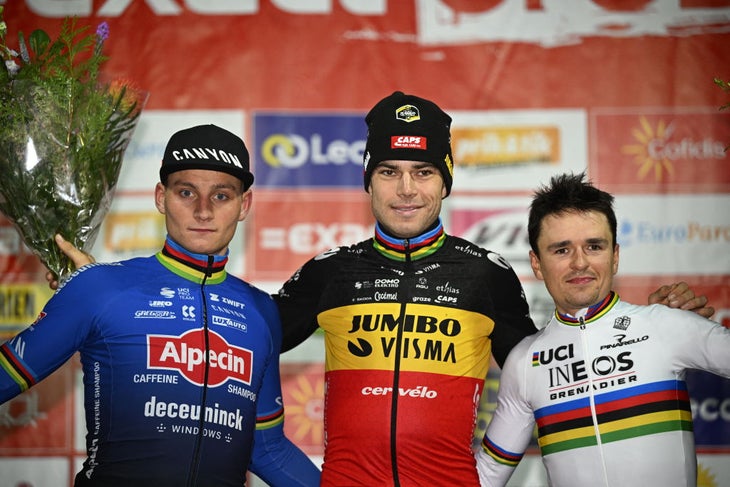 Van der Poel was not happy with his performance.
"I didn't feel good today, so I can't be satisfied with the result," said Van der Poel, twice a winner this season. "I hope to offer Van Aert more resistance in the coming races, otherwise I will just be chasing him these next weeks. It's a bit hard to swallow, but we have to keep going."
Van Aert carried a 12-second lead into the penultimate gap and doubled that going into the final lap. It was an impressive victory for Van Aert, who's won back-to-back races after debuting in second at Antwerp.
Pidcock attacked late to secure three, with the "Big Three" rounding out the podium.
With worlds only weeks away in early February, it's becoming obvious that Van Aert is going to be the rider to beat.
Results powered by FirstCycling.com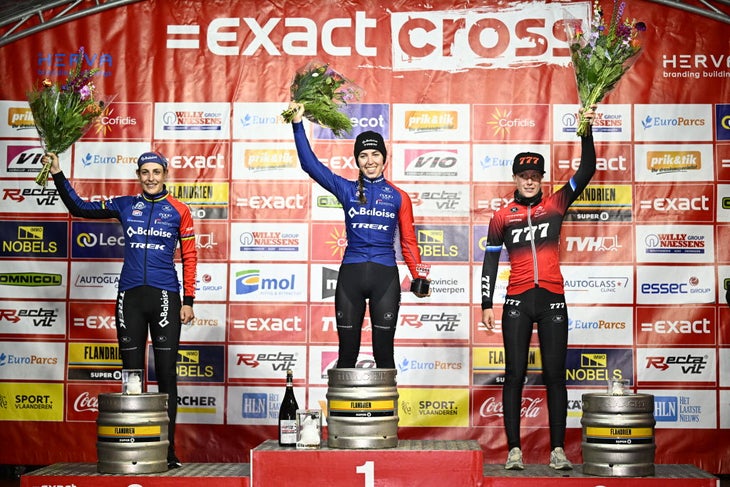 In the women's race, Van Anrooij calmly picked her way to her second big win on the 2022-23 season.
She gapped Lucinda Brand, and never looked back. Annemarie Worst rounded out the podium with third.
"I didn't expect to go solo so soon," she said. "The course was very tough and with all that rain. Fortunately, it was not so technical and fun to do. I could drive my own lines everywhere and relied on my own strength."
Zoe Bäckstedt was fourth while Clara Honsinger rode home for eighth in her first race since winning the U.S. national cyclocross title.
Bäckstedt was hot out of the start, but couldn't hold the pace as the leaders patiently reeled her in.
Brand, Worst and then Van Anrooij all passed the 18-year-old British rider. Brand had a small wobble, allowing Worst and Van Anrooij to pull clear.
Van Anrooij settled into the lead by lap 2, and never looked back. Brand recovered to chase, and scored what will be an encouraging second following her return to racing from injury.
Results powered by FirstCycling.com