The steering characteristics of a road bike are the result of a complex interplay between a variety of critical dimensions, including — but not limited to — head tube angle, fork rake, fork length, trail, wheel flop, wheel diameter, tire width, and even stem length. For all practical intents and purposes, the key determinants in that equation are fixed in place, so whatever you start out with whenever you bought your bike is what you're forever stuck with.
Or are you?
In theory, It's possible in some cases to make handling adjustments by switching to a fork with a different rake, but aftermarket forks with compatible measurements aren't nearly as easy to find as they used to be. Even if you're able to find one with the crown-to-axle and rake dimensions you want, you're still almost guaranteed to end up with something that looks cobbled together aesthetically.
However, what if you could change the head tube angle? Angle-adjustable headsets are commonplace in the mountain bike world, allowing for as much as two full degrees of head tube angle change. There are even reach-adjustable options for some frames, but this sort of tunability hasn't made its way to the road bike world.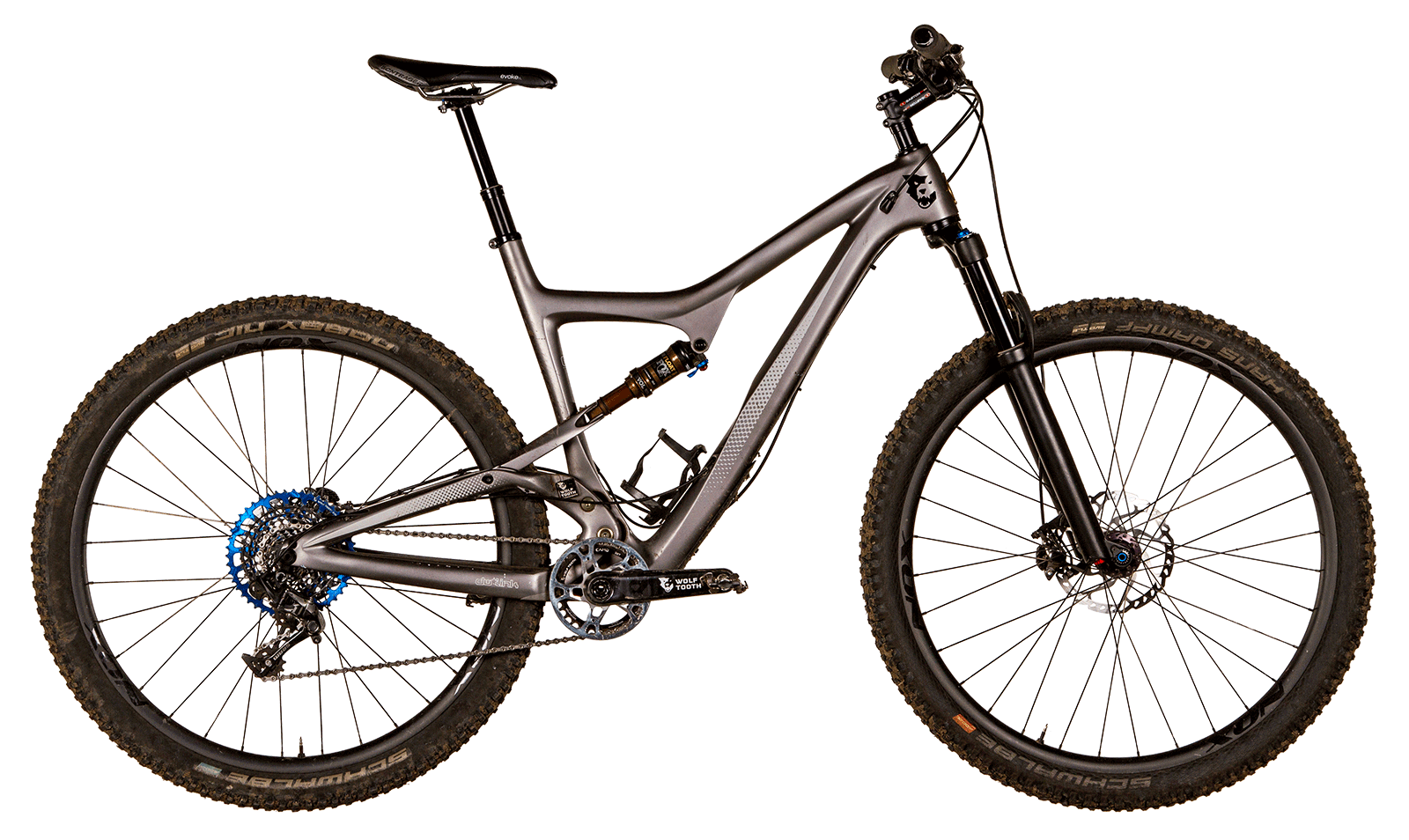 Well, it has now. Sort of.
Meet the GeoShift
Wolf Tooth has today announced its new GeoShift range of angle-adjustable headsets, offered in three different fitments for various head tube diameters, all offering +/- 1° of head tube angle change. Although primarily intended for mountain bikes, one of the sizes — the ZS44/EC44 (zero-stack upper, external cup lower, 44 mm-diameter head tube) — would work for a fair number of road bikes out there, especially bikes from smaller builders that use machined oversized head tubes from Paragon Machine Works. The middle size would also work on a fair number of carbon road and gravel frames.
Regardless of how the cups fit in the head tube, all of the GeoShift headsets are built using the same concept as other angle-adjustable headsets, where the bearing positions are shifted within the 6061 aluminum upper and lower cups in order to re-orient the steerer so it's no longer perfectly concentric within the head tube. Cane Creek — the originator of the angle-adjustable headset — houses the bearings in separate spherical gimbals, which conveniently self-align regardless of head tube length, but are somewhat prone to creaking. Wolf Tooth instead machines the angle offset directly into each bearing seat. This requires specific cups for different head tube lengths, but the upside is that it essentially eliminates the possibility of creaking.
Either way, why would you want something like this, you ask?
Well, say you have a road bike that you generally like, but the handling is perhaps a bit more agile than you'd prefer these days. If that bike has a 73-degree head tube angle and a fork with a 47 mm rake, the resultant trail figure (with a 28 mm-wide tire) is a fairly quick 56 mm. But if you were to drop one of these -1° headsets in, the trail dimension would increase to a tamer 62 mm for markedly more stable handling with no additional changes. You'd also get less toe overlap as a nice bonus, and since you'd be retaining your existing fork, the finished product would look nearly identical.
Conversely, of course, you could also choose to install the GeoShift in the other orientation to steepen the head tube by 1° and speed up the handling.
Either way, putting this change into place would require nothing more than a headset swap, and the retail cost is quite reasonable at US$105 (pricing for other regions is to be confirmed).
There are several caveats to all of this, of course.
Wolf Tooth's smallest (and arguably most road-friendly) GeoShift headset will only work on head tubes with a 44-mm inner diameter equipped with a zero-stack upper cup and external-type lower cup, ruling out most newer carbon fiber and aluminum frames with fully integrated headsets (or even just internal upper and lower cups). The middle size uses the same upper assembly, but the external-bearing lower cup is built around the larger 49 mm head tube diameter, which can be found in some carbon gravel bikes (such as the Waheela C from Wolf Tooth's sister brand, Otso) and is less common in the road space. Since all of the GeoShift headsets are primarily meant for mountain bikes, though,t he stock configurations are designed around a 1 1/8-to-1 1/2-in tapered steerer, so you'd likely have to tack on another few bucks for the adapter crown race if you have the 1 1/8-to-1 1/4-in size more often used in road and gravel, although Wolf Tooth makes that as well.
Depending on your particular setup, slackening the head tube angle might also shorten your reach enough that you'd need to alter your stem and headset spacer arrangement. And of course, altering the head tube angle won't do anything in terms of things like tire clearance.
Not the first
I should mention at this point that this isn't the very first time a company has offered an angle-adjustable headset that will work in a road bike. UK brand Works Components is somewhat of a specialist in the category (I recently bought a -1.5° one for my personal mountain bike, in fact), and offers several interesting road-compatible headset models, all with 1° of adjustment.
https://www.instagram.com/p/CIeqmdklI7C/
One works for traditional external-cup head tubes with 1 1/8-in straight steerers. Another is compatible with 44 mm head tubes, but is designed for 1 1/8-to-1 1/2-in steerers and both cups are external. And then there's another 44 mm option with a zero-stack lower cup, but this one again is only meant for use with 1 1/8-in straight steerer tubes.
In other words, Wolf Tooth certainly didn't come up with the idea. However, the 44 mm GeoShift configuration is not only novel, but the size is also bit more common, at least among more modern small-batch builders, many of whom are using off-the-shelf 44 mm steel or titanium head tubes from Paragon Machine Works.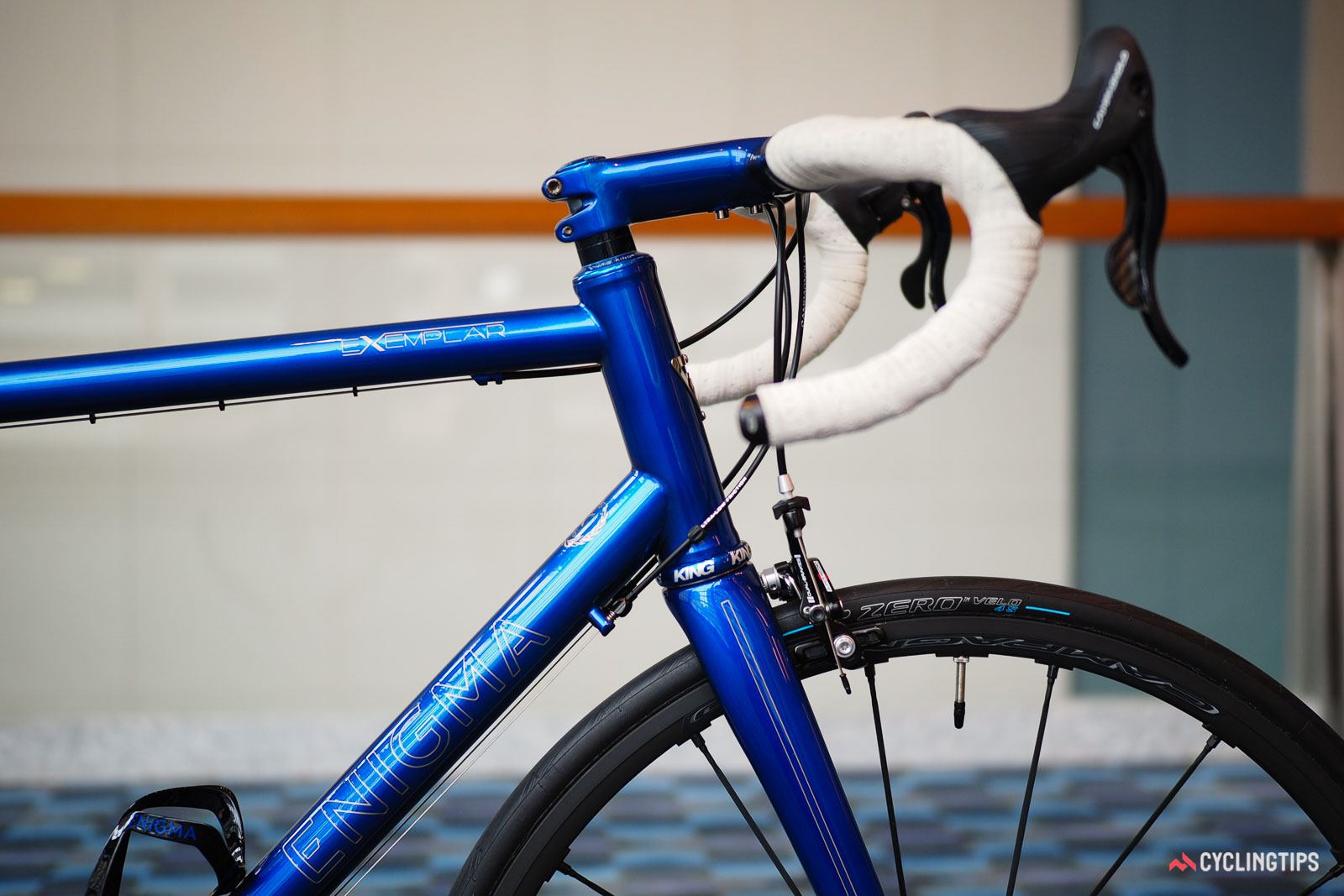 44 mm head tubes aren't exactly commonplace on mass-produced bikes these days, but they're quite common among smaller builders. Photo: James Huang./caption]
It's good to have options
Variable geometry isn't something that's at all common in the road world, but as I mentioned earlier, it's very much standard fare in the mountain bike scene, and for good reasons. Simply put, not everyone likes the handling of a frame as is. I don't expect there to be as much interest in changing things around on drop-bar bikes, mind you, but it's always good to have more cards to play.
Color me intrigued.
More information can be found at www.wolftoothcomponents.com.