The 2020 Road World Championships very nearly didn't happen. But after the event was cancelled in Switzerland due to coronavirus restrictions, Imola, Italy picked up the pieces at short notice. This Sunday the elite men will duke it out for the honour of wearing the rainbow bands for the next year.
Without further ado, here's what you should know about the elite men's road race at the 2020 Road World Championships. Follow the link for a preview of the women's Worlds road race.
---
The course
The men will race on the same 28.8 km circuit used by the women. Starting and finishing on the Imola Formula 1 circuit, the course comprises a large loop to the south of town, heading in a clockwise direction.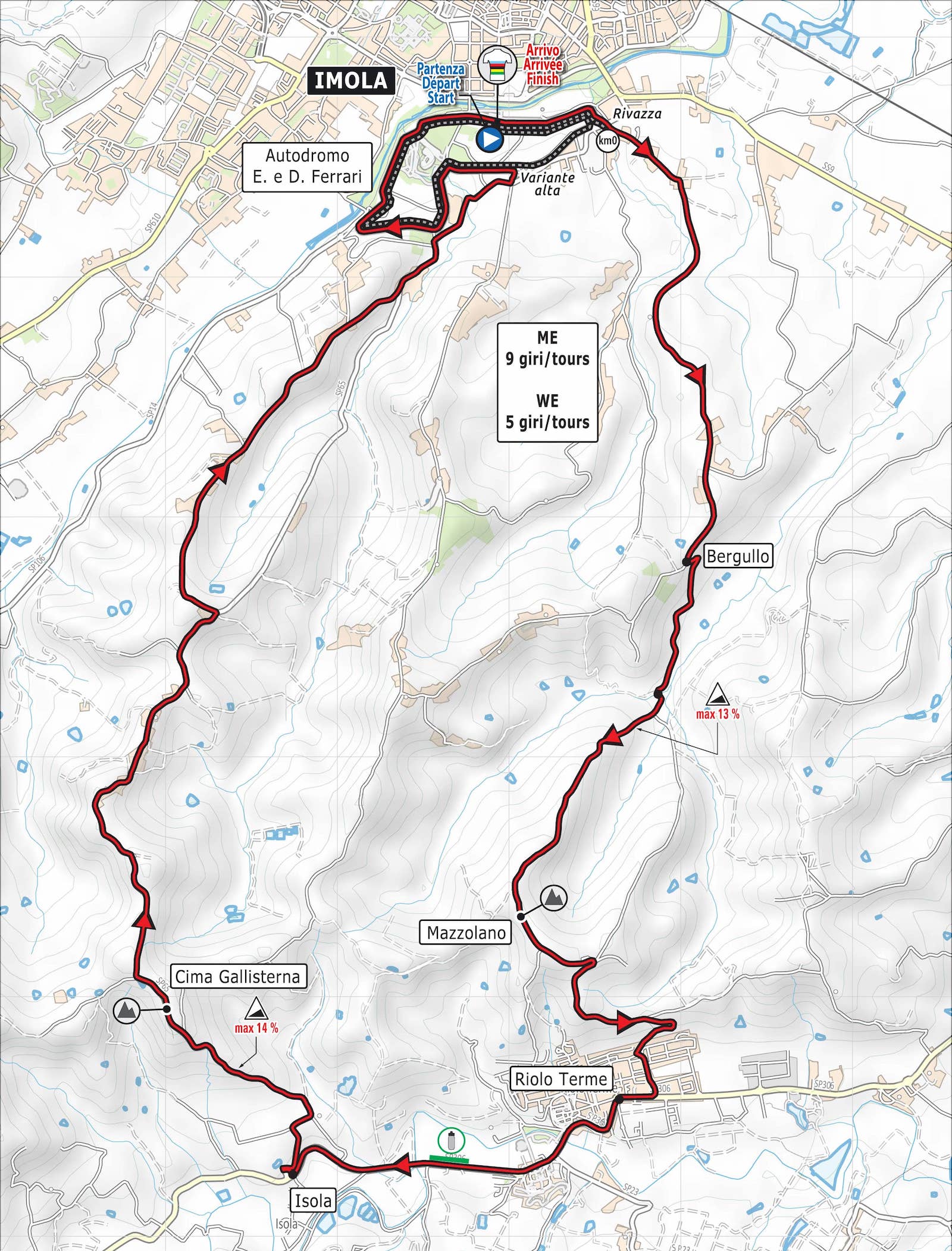 It's a lumpy course defined by two main climbs. The first of those, the Mazzolano, is 2.8 km long at an average of 5.9% but maxes out at 13%. The first kilometre averages 9.6%. The second climb, the Cima Gallisterna, is 2.7 km long at 6.4% but has a steepest section that reaches 14%. A 1.3 km stretch in the middle of the climb averages 10.9%.
So the climbs aren't long, but they are steep.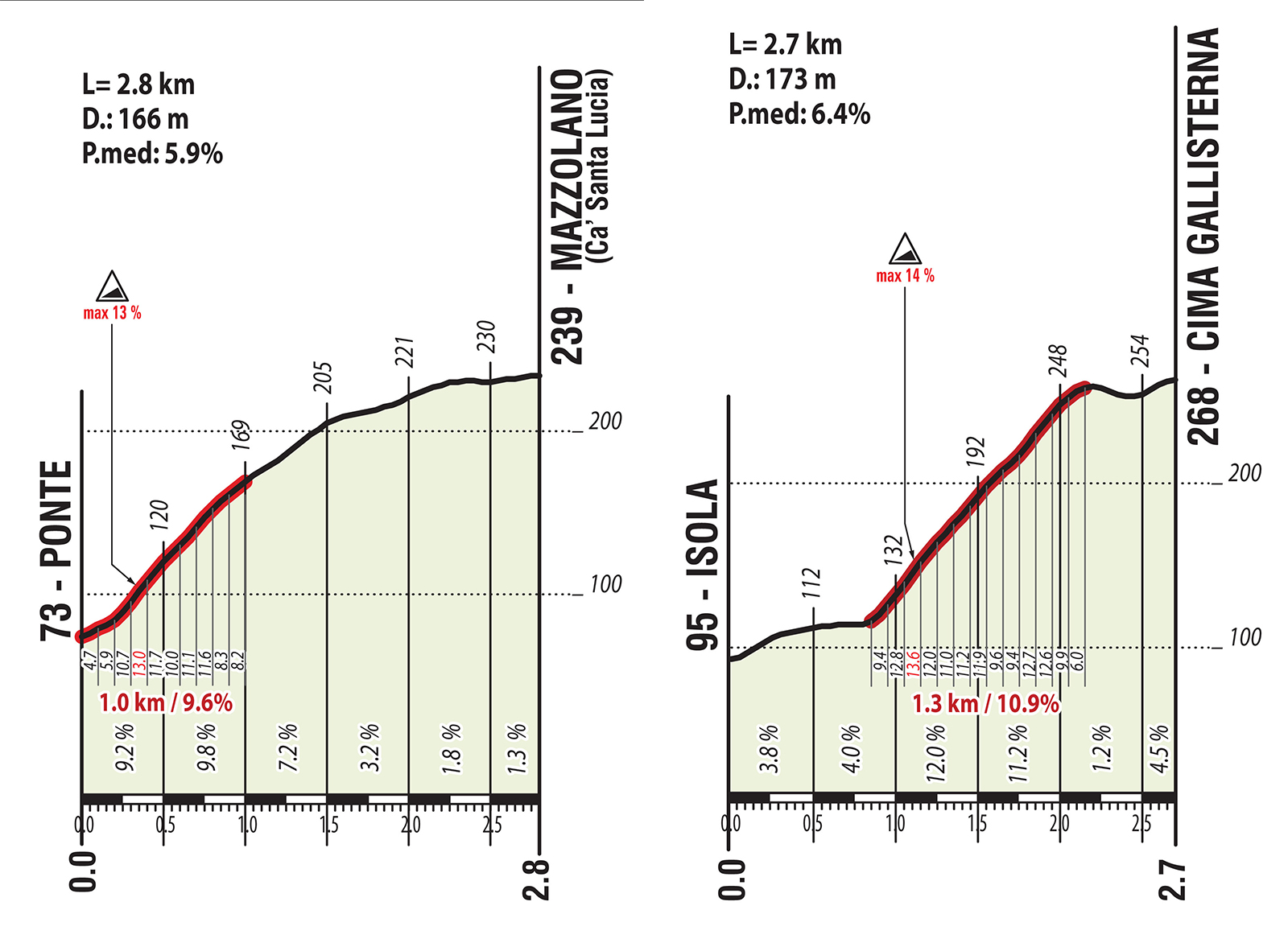 In all, the men will cover nine laps of the circuit for a total of 258.2 km and a punishing 5,000 metres of elevation gain. The course might not have any long climbs, but it certainly will be hard.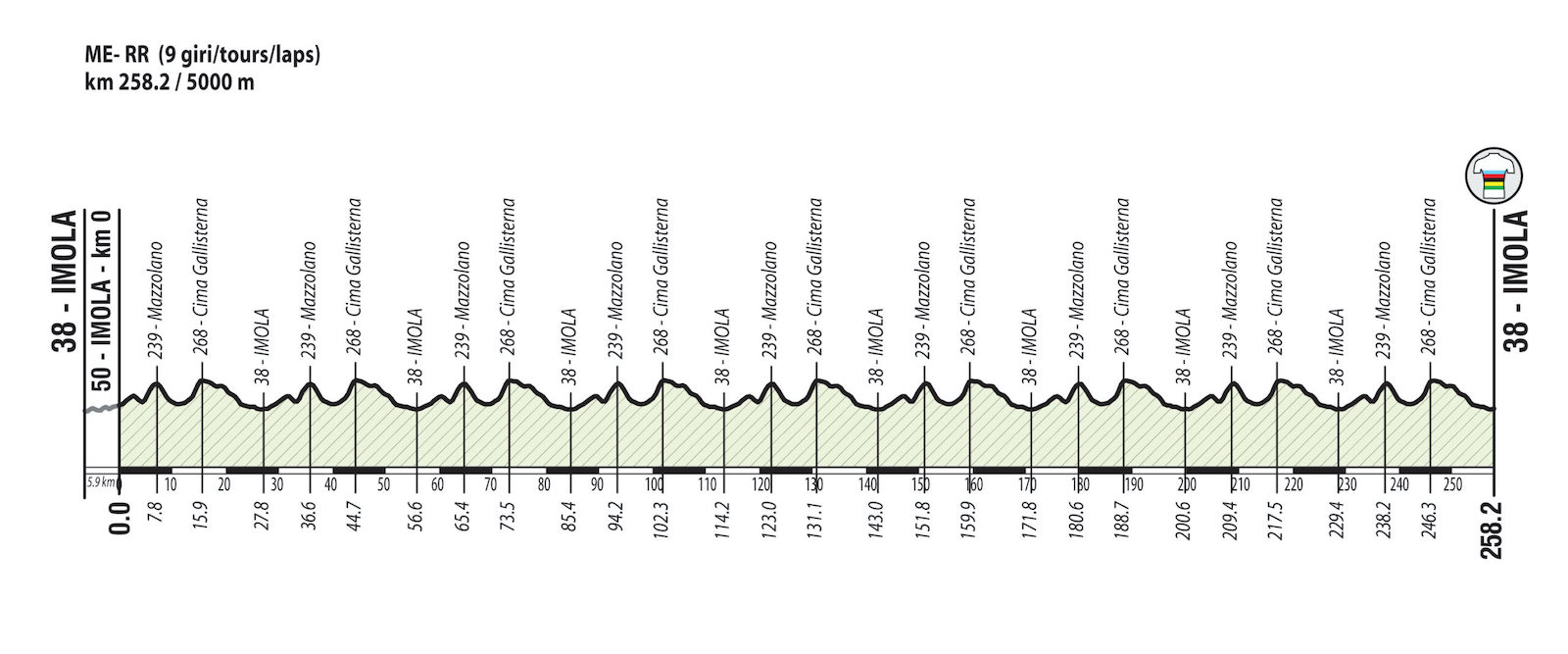 What might happen
With lots of shorter climbs and lots of climbing in total, this race looks quite a bit like Liege-Bastogne-Liege. And like the Belgian Monument, Sunday's race will likely be a race of attrition.
With the volume of climbing on tap, we'll see the group of potential winners thin down as the laps go by. We'll see plenty of attacks in the closing laps, particularly in the final time around the circuit.
It's worth noting the position of the final two climbs relative to the finish. The last ascent of the Mazzolano peaks 20 km from the finish while the Cima Gallisterna tops out 11.9 km from the end. From the top of that final climb it's largely downhill and flat to the finish on the Imola racing circuit.
The steep section of the final climb looks like the perfect place to launch an attack. It would be no surprise to see the winning move go there, whether it's a solo rider or a small group that breaks free.
Indeed, a late move like this seems the most likely way the race will be decided. The volume of climbing means it won't be a massive group that gets to the line, but depending on how it's raced, a small handful might be left to sprint for the win.
A quick note on teams
If this will be your first time watching a Worlds road race, note that the team composition is different to just about every other race on the calendar. Riders will be racing in their national colours, rather than for their trade teams.
This means that riders who are teammates most of the season are suddenly riding against one another, while season-long rivals are brought together to race with one another. This can sometimes lead to strange dynamics out on the road.
Trade team loyalties aren't always put aside easily, particularly given trade teams serve to benefit from having a world champion in their midst. Likewise, it's not uncommon for there to be a lack of unity among compatriots who race against each other so often, and who are expected to work together for one or two days a year.
For fans, picking out riders at Worlds is made a little trickier by the fact they're not in regular team kit. Here's a tip for making it a little easier: consider the combination of national colours plus team helmet. For example, an Aussie kit with Trek-Segafredo helmet is Richie Porte. A USA kit with Jumbo-Visma helmet? That'll be Sep Kuss. A Team GB kit with EF Pro Cycling kit? Hugh Carthy. It's not a fool-proof method (Spain plus Movistar helmet could be one of three riders), but it can certainly help.
The favourites
So who can win the race? I'd be watching out for riders that can put in an explosive attack and who are strong enough to ride away solo. Or those that can get away, then have the finishing speed to win from a small group.
Here's who I've got as the five-star favourites:
Wout van Aert (Belgium): Van Aert can win this race regardless of how it's decided. Solo attack? Yep, he did that Strade Bianche earlier this year. Sprint from a small group after getting away late? Yep, did that at Milan-San Remo. Sprint from a bigger group? Yep – two stage wins at the Tour.
Van Aert is the most complete bike rider on the planet at the moment. Earlier this year we might have said the course is too hard for him, but after his exploits in the mountains at the Tour de France, well, it's clear the guy can climb. He's the #1 favourite and deservedly so.
It's also worth pointing out the team he's got around him. Tiesj Benoot, Oliver Naesen, Pieter Serry, Jasper Stuyven, Greg Van Avermaet, Loïc Vliegen and Tim Wellens. That's a hell of a line-up — the strongest on the startlist. If Van Aert doesn't have it on Sunday, Belgium's still got a great chance, most likely with Van Avermaet (from a small group) or Benoot (solo).
Julian Alaphilippe (France): Were it not for Van Aert, Alaphilippe would probably be the big favourite for Sunday. That final climb looks like the perfect Alaphilippe launchpad. It's about the same distance from the finish as the climb he attacked on to win stage 2 of the recent Tour de France. Same with his stage win into Epernay at last year's Tour.
His best chance is probably to get away solo, but if it's a small group — like it was on stage 2 of the Tour — that's probably fine too. Just as long as Van Aert isn't there. The Belgian showed at Milan-San Remo that he's got Alaphilippe's measure in a head-to-head sprint.
Jakob Fuglsang (Denmark): Could Denmark take back-to-back rainbow jerseys? It's certainly possible. Unlike Van Aert and Alaphilippe, Fuglsang didn't race the Tour but we won't know until Sunday whether freshness trumps form.
To win, Fuglsang will likely need to get away on his own, which he's certainly capable of doing. He did it at Il Lombardia last month and he did it at Liege-Bastogne-Liege last year. He excels at these long, hard, hilly one-day races and it would be a surprise to see him anywhere but the front group when it matters.
Other contenders
Beyond Van Aert, Alaphilippe and Fuglsang, there's a bevy of riders that are capable of winning rainbows if things fall their way. Here's a selection:
Marc Hirschi (Switzerland): The 22-year-old was truly brilliant at his debut Tour de France. He won a stage, got close on two others, and displayed great strength and tactical nous.
He shouldn't struggle with the volume of climbing — he won the U23 Worlds road race in 2018 on the super-hilly Innsbruck circuit. To win on Sunday Hirschi will need to do more of what he did at the Tour — attack at the right moment, descend well, and ride his heart out to try and hold off the chase. Hopefully he's recovered well from the Tour and the tumble he took late in the race.
Tadej Pogacar and Primoz Roglic (Slovenia): First and second from the Tour de France, racing on the same team? Yes please. This will be exciting to watch. To be honest, neither rider has shown much in one-day races so far, but given their form, we really shouldn't write either of them off.
Neither should struggle with the volume of climbing (unless they're fatigued from the Tour) — the question will likely be whether they can match it with the best when the attacks start to fly in the closing laps, and whether they pick the right move to get in.
Both showed at the Tour that they are willing to attack when they feel it's beneficial, and both can clearly ride solo very fast. Both have a powerful sprint from a small group too. I'd give Pogacar a slightly better chance of victory than Roglic, but realistically, this course doesn't suit either of them terribly well. Still, it will be great for the race if one or both are in the mix towards the end.
Michal Kwiatkowski (Poland): Kwiatkowski is riding well at the moment, as he showed by winning a stage of the Tour de France, but Worlds is a different beast entirely. He's won it before of course — in Ponferrada, Spain in 2014 — but 'Kwiato' isn't the one-day rider he was back then.
Still, he's someone that needs to be respected, and he certainly needs to be chased down if he gets away on his own late.
Max Schachmann (Germany): Schachmann has had a good year. Overall victory at Paris-Nice, third at Strade Bianche, seventh at Lombardia (with a broken collarbone), three top-10s at the Tour — all impressive results.
Look for Schachmann to be in late moves. He's probably unlikely to win the thing, but a top-five would not be a shock.
Alexey Lutsenko (Kazakhstan): Lutsenko won a hilly stage of the recent Tour after attacking from the day's breakaway, so he comes into Worlds with good form. I'd expect him to still be in the mix in the last lap, but whether he has the strength to do more than that remains to be seen. To win he'll likely need to get away on his own.
Michael Woods (Canada): Woods said earlier this week that he's got a shot at finishing on the podium on Sunday and that seems like a fair assessment. He'll be leaning hard on his prowess on the steep climbs to get into the right moves late, but if he can, he could well repeat his third place from two years ago (if not improve on it).
Michael Matthews (Australia): 'Bling' missed out on selection for the Tour de France for reasons that aren't entirely clear, which means he should be fresh for Worlds this week. He wasn't brilliant at Tirreno-Adriatico, but he did win the Bretagne Classic in late August and he was third at Milan-San Remo before that. He'll be Australia's guy from a reduced bunch if it comes to that. But given that's probably unlikely to happen, it will be interesting to see if he can mix it with the likes of Van Aert and Alaphilippe when they attack late.
Others to watch
As we saw with Mads Pedersen's win last year, Worlds can be quite the open race. Realistically there are a couple dozen riders that could win if the right opportunity came their way. Here are some of the outsiders we'll be keeping an eye on.
Vincenzo Nibali (Italy): The Italian hasn't done a whole lot this year and in all likelihood he'll probably struggle to match it with the best in the finale. But Nibali's shown many times that he's a dangerous rider to write off. A late solo move is how'd he win. Has the Shark of Messina still got it?
Alejandro Valverde (Spain): Speaking of riders beyond their very best, let's not forget about Alejandro Valverde. He hasn't won a race yet this year (the last year he was racing and didn't win a race was his neo-pro season, 2002) and he certainly hasn't looked at his explosive best this year.
But, like with Nibali, we really shouldn't write Valverde off completely. He'll probably find it tough to mix it with the likes of Van Aert and Alaphilippe but Valverde knows how to win big bike races. Just keep an eye on him late. In fact, keep an eye on the entire Spanish team. Luis Leon Sanchez, Mikel Landa, Enric Mas, Jesus Herrada, Pello Bilbao — it's a strong line-up with lots of cards to play.
George Bennett (New Zealand): Bennett showed at Gran Piemonte (first) and Il Lombardia (second) that he can be very competitive in hilly one-dayers. To win, he'll need to get away solo which seems a little unlikely, but a high finish isn't beyond him. The biggest question might be how he's recovered from the rib injury he sustained on stage 1 of the Tour de France.
Tom Pidcock (Great Britain): The 21-year-old is one of the most exciting young talents in the sport and a huge prospect for the future. He won the Baby Giro earlier this month courtesy of three stage wins so his form is certainly good.
Realistically he'll probably struggle to match it with the very best — this is his first elite Worlds road race — but it will be fascinating to see how he gets on. He's an immense talent.
Keep an eye on the Colombian team too. They mightn't have a big favourite, but with the likes of Sergio Higuita, Miguel Angel Lopez, Dani Martinez and Esteban Chaves on the startlist, Colombia has a lot of good options. Hopefully someone is able to feature late.
The weather
The forecast for Sunday's race is … not good. At the time of writing, rain was looking more likely than not which could impact the race significantly.
For starters, the circuit is actually quite technical, not least on the descents off the Mazzolano climb. Getting and staying away would already require good descending skills — that'll be doubly true if it's wet.
And as we saw at Yorkshire last year, wet weather can just do strange things to a bike race. Every rider reacts differently to the rain — physically and psychologically — and it introduces a significant variable that's hard to account for in predicting a possible winner. Simply though, if it's wet, look to the better bike handlers to feature more prominently but don't rule out a surprise result.
Coverage
How do you watch the race? In Australia SBS and its associated online platforms are your best bet. NBC Sports has the broadcast in the USA, and Eurosport is a great bet in a whole bunch of markets. On Twitter, the official event hashtag is #Imola2020.
Who's your pick to win the men's Worlds road race? And how will the race be decided?
Follow the link for the startlist for the elite men's road race at the 2020 Road World Championships.