Today's offering on Readers' Rigs is a fine example of modern bike design from Italian manufacturer Pinarello. Andrew in Hong Kong has owned this 'no expense spared' steed for just over a year and is still in love.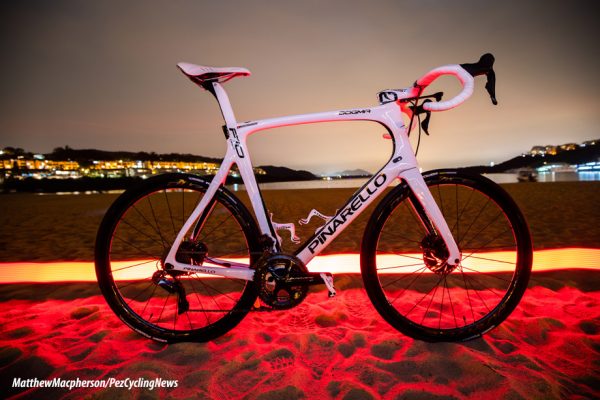 Name: Andrew Macpherson
Location: Discovery Bay, Hong Kong
Bike: Pinarello Dogma F10 Disk 62cm
Groupset: Shimano DuraAce 9170 with power meter and Di2 electronic shifters
Wheels: Shimano DuraAce C40 with Michelin Power Competition tires
Pedals: Look Keo
Saddle: fizik Vesta
Handlebar and Stem: Most Talon Aero Integrated
Other: Look carbon bottle cages
Weight: 9kg
When did you buy it?
March 2019.
What made you choose this bike?
In the past I have always owned Cannondale road bikes, my most recent being a Super Six. If Cannondale is the Ford or Toyota of the bike world then Pinarello is the Lamborghini. The shape, the build quality, the paint finish, Pinarello is on a different level. When it was time to replace my Super Six and choose a bike with disc brakes and electronic shifters, for me there was only one choice, a Dogma F10. My dream bike.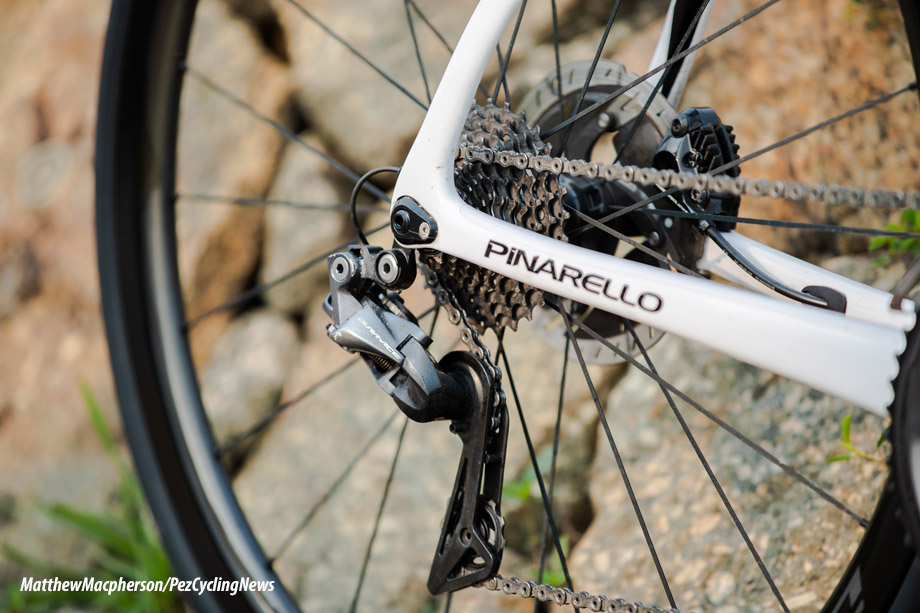 Have you done any modifications/additions to it?
No need. I bought it through a reputable bike shop and hand picked all the components and parts so its exactly what I wanted.
How many miles/kilometres do you do a year?
I ride about 3,000km per year. I also ride mountain bikes and sometimes DO track cycling on the indoor velodrome in Hong Kong.
What do you love about this bike?
I love this bike from top to bottom. If I could pick a top three they would be:
● Disc brakes. I'm 6'5" and 110kg so I need the stopping power and reliability of disc brakes. I've had enough of rear wheel locking to last a lifetime.
● The electronic gear shifting. I could never go back to manual shifters.
● The overall aesthetics, shape, build quality. This bike brings a smile to my face every time I ride it.
Favorite riding area?
I do most of my riding in Hong Kong. There are a many types of riding here ranging from flat time trial type routes near Hong Kong Disney Land and Hong Kong International Airport. Then there are challenging routes with tough climbs such as Victoria Peak and South Lantau including going up to the Big Buddha. My favorite riding is where I live in Discovery Bay. There is a range of topography including flats and a hill climb of 300m elevation up to the golf course which can be repeated until the lactic acid build up and tells you to STOP! The best part of riding in Discovery Bay is that the route is basically on your door step so no travelling time to get to and from the start and finish of your ride.
Favorite riding experience on your bike?
I'm heavy so I much prefer descending than climbing! My favorite riding experience is being outside and exerting effort. It keeps me fit and I tend to think of good ideas or solve problems when I'm riding.
Future upgrades?
To be honest, when I bought this bike, no expense was spared so there is nothing I need to upgrade.
Last words?
To all the cyclists out there, enjoy your riding. To anyone who also drives a car, please watch out for cyclists. Finally a special mention to my son Matthew (@shuttermac_) who took the photographs.
---
Thanks to Andrew for sharing his ride with us. Got a bike that you're proud of? Well, how about sharing it with fellow PEZ fans and getting it featured in Readers' Rigs so we can all stare at it! Send us a Readers' Rigs submission direct to [email protected] and your bike could be featured in all its glory here on the pages of PEZ.