More new kit: A mixed bag of goodies in Gear Break: New tools from Park Tool, new Bora disk wheels from Campagnolo, INSCYD announce the launch of the Power Performance Decoder, Slime To Go Tube Sealant, new jerseys from La Passione Cycling Couture and 100% unveils UltraCarbon Technology.
Park Tool Releases Three Innovative New Tools for Spring 2020
At Park Tool, the quest to create tools that make it easier for professional and amateur mechanics to repair and maintain bikes is a never-ending process. Each year, bicycles get more and more technical and the tools needed to maintain these bicycles must follow suit. For spring 2020, Park Tool is proud to launch three innovative new tools which will help mechanics all over the globe.
EWS-1 – Bicycle Electronic Shift Tool

A handy tool designed to make installation and removal of bicycle electronic shifting wires and batteries quick and easy. Features include:
• Durable composite body is durable and prevents scratching of expensive components
• Angled Shimano® Di2® E-TUBE® ends allow for both installation and removal in tight spaces
• Universal coin cell tool helps remove and install battery covers on SRAM® eTap®
• MSRP $11.95
• Check prices on Amazon here
OM-2 – Benchtop Overhaul Mat

A great way to keep the benchtop organized during a repair, the OM-2 features an oversized textured work area and raised trays for organizing small parts and hardware. Perfect for overhauling or rebuilding components such as forks, shocks, hubs, suspension linkages, derailleurs, etc.
Features include:
• Measures 15″ x 24.5″ (38cm x 62cm)
• Interlocking edges allow multiple mats to be joined together
• Tear/abrasion/shock resistant TPR construction
• MSRP $30.95
• Check prices on Amazon here
DF-1 – Dummy Fork

The DF-1 Dummy Fork is an essential companion for any scenario that requires dropping the fork from a bicycle, enabling complete removal of the fork while keeping the handlebars, headset spacers, and brake caliper organized. The DF-1 installs into the headset and is held in place using the bike's stem. The brake holder features threaded and unthreaded holes for attaching disc brake calipers as well as most rim brake calipers, while the included pad spacer protects hydraulic disc brakes from accidental engagement. The DF- 1 is nickel plated and powder coated for long life.
Features include:
• Brake holder features M5, M6 & passthrough holes for attaching all disc brake mounting styles as well as most rim brake caliper styles
• 1-1/8″ steerer tube features star nut for retaining top cap and spacers
• 2″ flared cone for compatibility with tapered steerer tubes NOTE: Compatible with 1-1/8″ threadless stems only – not compatible with threaded headset/quill stem setups.
• MSRP $43.95
To learn more, check out www.parktool.com.
• Check prices on a Team Issue Workstand here
---
Campagnolo BORA WTO 60 DB
A unique wheel, destined for victory in sprint finishes, track races, time trials and triathlons.
Campagnolo presents its first aerodynamic Disc Brake wheel with a 60 mm profile, designed to appeal to cyclists who love speed. The high profile can transfer all the aerodynamic advantages derived from our R&D studies to the road.
The design of each component of the wheel enables maximum aerodynamic penetration: at certain angles, the wind is transformed from an obstacle into a valuable ally for the rider. During the design process, every single choice was made with a single purpose: to optimize performance. The carbon rims with rounded profile and unidirectional finish, optimized in the wind tunnel, the new aerodynamic aluminum hubs and the USB ceramic cup-and-cone bearing system are all proof of this. The design of the rim enables maximum aerodynamic penetration: with a wind angle of between 10° and 20° – a condition which occurs for 80% of the time spent in the saddle – this wheel is unrivaled when it comes to overcoming air resistance. The unidirectional unpainted carbon rim also delivers the stiffness and lightness typical of Campagnolo, two key factors that enable optimal performance to be achieved on the bike. The tapered design of central area of the hub reduces the frontal area of the component, while the special design of the flanges helps to reduce turbulence in the air flow, and the elliptical section of the 24 spokes drastically reduces resistance when moving forwards. Nothing in the design has been left to chance.
The profile of the rim, with an internal width of 19 mm, is a perfect fit with 23, 25 and 28 mm tires. Thanks to 2-Way Fit technology, Campagnolo guarantees complete compatibility with both clincher and tubeless tires. The hole-free upper bridge, achieved through the patented MoMag system, allows a weight saving, increased rigidity and is now also an aid to using tubeless tires, in that no rim tape is required. Maintaining and cleaning the wheel on tyre changes has never been easier.
The goal of these wheels is extreme performance, and the Campagnolo mantra is reliability: the G3 spoking system with double spokes on the left of the front wheel ensures balanced and safe braking in all conditions.
The Bora WTO 60 Disc Brake wheel is entirely hand-assembled by a specialized Campagnolo technician and is 100% checked by electronic instrumentation. This procedure ensures that every single Campagnolo wheel offers maximum performance and reliability.
All in all, this is a wheel that offers maximum aerodynamic efficiency, topping the scales at just 1590 g, making it ideal for high speed racing. It is set to become the favorite of many athletes (both on the road and in triathlon competitions), as soon as they can get out and about again.
AVAILABILITY: immediate – limitations in some countries due to the COVID-19 emergency.
More info at: www.campagnolo.com.
• Check prices on Campagnolo wheels here
---
INSCYD Powers improved performance

Lab-like performance testing. Anywhere, anytime
Zurich, Switzerland – INSCYD, makers of performance assessment software, announce the launch of the Power Performance Decoder (PPD). Building on years of success partnering with World Tour cycling teams and professional triathletes, PPD was developed to meet the needs of coaches and athletes who live and work in different locations.
The Power Performance Decoder is a 'virtual laboratory', giving coaches, lab owners and athletes the most accurate physiological test available today. "We already had a strong base of customers using our lactate testing." Says Sebastian Weber, product lead at INSCYD. "With PPD, we have opened up the possibility for any athlete with a powermeter to get the most accurate and complete physiological profile – something which traditionally was only done in a lab, and was extremely costly and time consuming."
Remote testing – outdoor and indoor
INSCYD's PPD allows coaches and athletes to create a complete diagnostic (as traditionally done in a lab or via lactate) with only 4 short intervals. This testing is done WITHOUT lactate, but with a powermeter only (pic 1). The PPD provides a complete 'laboratory assessment' in less than 90 minutes of total riding – including warmup and cooldown. There is no need for coach and athlete to be together in a lab – or together at all.
PPD allows testing of athletes remotely – on their time, as part of their typical training schedule!
Test data is sent back to the coach, and evaluation takes only minutes using INSCYD. From there, coach and athlete can schedule time to review the test results and report. Validated by over 150 studies, INSCYD's PPD is used by world championship cyclists and triathletes.
Multiple options – INSCYD takes any data
In addition to power ONLY testing, INSCYD's Power Performance Decoder also allows coaches and lab owners to create a profile from laboratory data. Examples could include VO2max with Spiro, training data (modelled FTP – e.g. from Golden Cheetah), and/or individual lactate tests and maximum loads during training. Data can also be filled into the software manually (pic 2). Thanks to an integrated Google maps view, coaches may easily track road profiles – e.g. why the athlete's power suddenly went up during the ride. (pic 3)
Regardless of how the test is performed, PPD offers up the following data:
● VO2max
● VLamax
● Lactate production and combustion
● Fat/Carb combustion
● Threshold
Coaches can now quantify the respective athlete's unique characteristics and create a customized training plan to improve race performances and achieve goals.
"INSCYD is like a compass that guides us in the dark," says Marco Pinotti, coach at CCC.
More info at: www.inscyd.com.
---
100%® Eyewear Unveils UltraCarbon™ Technology 
Hypercraft® Sport Performance sunglasses now feature carbon-infused frames that are lighter, stronger and more dynamic than anything on the market.

100%® the San Diego-based sports performance company, has released the first Sport Performance sunglasses featuring UltraCarbon™ technology, which weaves carbon fiber into the nylon to create the lightest and most durable frames possible. UltraCarbon makes its debut with the all-new Hypercraft® Sports Performance optics, which were developed to meet the demands of the 100% roster of world-class endurance athletes, including seven-time Tour de France points champion Peter Sagan. With the launch of Hypercraft, 100% is bringing its market-leading technology to a broader range of athletes, including runners, triathletes, and even professional baseball players.
Designed in California and built in Italy, 100% worked with world-class runners and cyclists to perfect Hypercraft, which can now help elite athletes feel nothing and see everything. By increasing the strength of the frame with UltraCarbon, 100% engineers were able to create a minimal frame design without compromising function. Superior ventilation, aerodynamics and a featherweight frame make Hypercraft a tremendous all-around performance optic that performs great on the trail, road or track.
"We started with the singular goal of creating the lightest and strongest performance sunglasses on the market, and we had to completely reimagine how frames are built," said 100% CEO Ludo Boinnard. "From bikes to running shoes, carbon fiber is pushing the limits of performance endurance equipment, and now we're able to harness the power of carbon to make eyewear lighter and stronger than ever before."
The Hypercraft design was originally conceived to create featherweight frames for runners, but once professional cyclists got their hands on it, they realized the light and sleek design allowed for better ventilation than anything they'd tried before.
"Hypercraft is unlike anything I've ever felt," Sagan said. "The UltraCarbon material is so light and stiff that I hardly even noticed I'm wearing them. I can see everything I need to, whether I'm in the peloton or in the middle of the sprint."
By weaving carbon into the nylon, 100% was able to reduce the amount of material needed in the frame to create a pair of featherweight sunglasses without sacrificing performance, safety and fit. Each pair features interchangeable ventilated lenses to prevent fogging and are available with contrast-defining HiPER® lenses. Weighing in at an astonishingly light 23 grams, it's no wonder Hypercraft has been a hit with the world's best ultrarunners.
"Hypercraft is perfect for running in the mountains because it's super light, comfortable and gives perfect definition of colors, which is so important for where I run," said Fernanda Maciel, one of the most decorated ultrarunners on earth. "The narrow frame gives my face room to breathe and keeps the lenses from fogging up, which can be the difference between a win and a DNF when you're running up and down mountains."
Hypercraft has also been a hit with world-class athletes from all walks of sport, including 2013 Ironman world champion Frederik Van Lierde and 2019 rookie baseball phenoms Pete Alonso and Fernando Tatis Jr.
In developing UltraCarbon for the Hypercraft sport performance line, 100% engineers were able to integrate the ground-breaking technology into the Active Lifestyle range with two new Legere models: Legere Round and Legere Square. Weighting just 17 and 18.5 grams, respectively, these new styles bring all the benefits of UltraCarbon technology to all-day eyewear. Utilizing the same UltraCarbon technologies and process, 100% designed the Legere to be the new everyday favorite sunglass for the active wearer. The silhouette of the single-shield lens is enhanced by the detailed etching around the perimeter, giving it a unique look while being so lightweight it feels as if you're wearing nothing at all.
For more information about UltraCarbon and Hypercraft, visit www.100percent.com.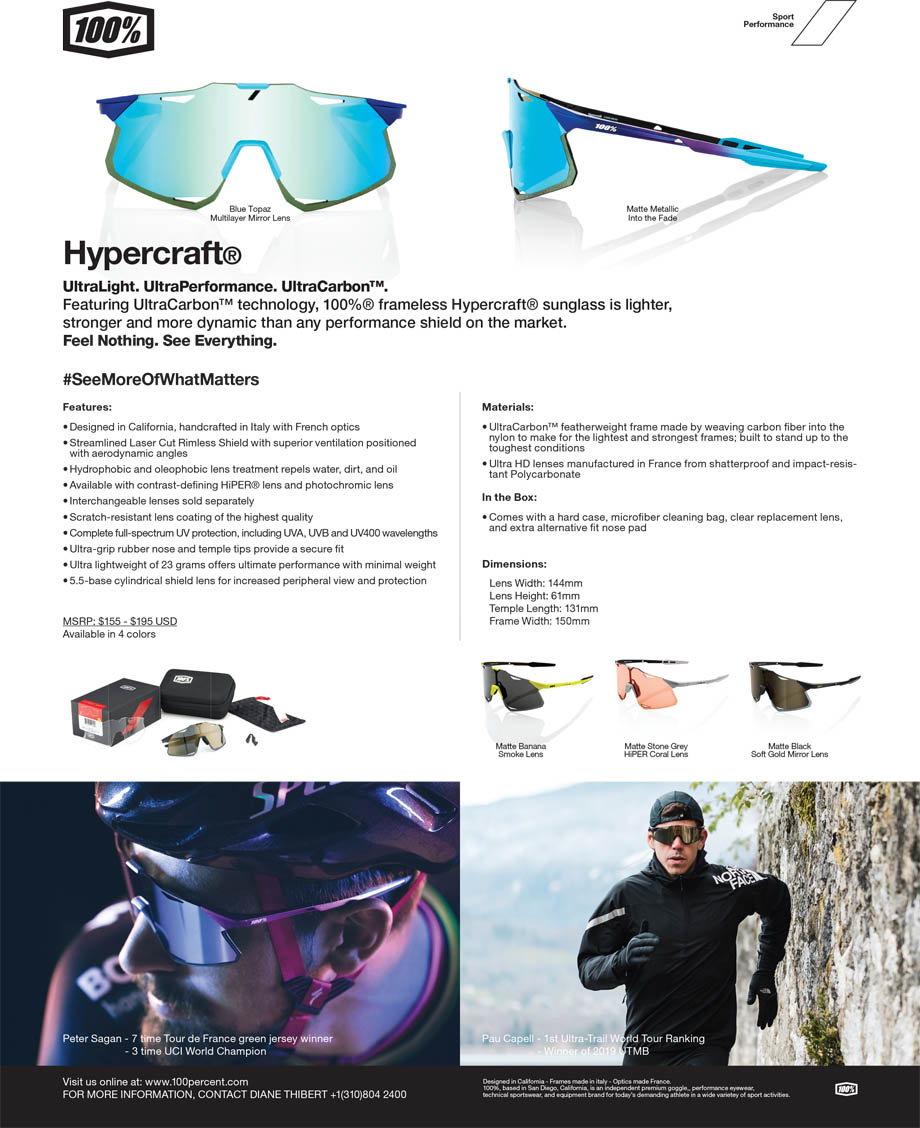 ---
No More Flats with Slime T0 G0 Tube Sealant

Slime, the nation's leader in tire sealant and repair technology, is pleased to announce their newest flat tire repair product for bicycle tires. Called Slime To Go Tube Sealant, Slime's sealant comes in a new travel-size bottle for the perfect solution for flats on the go.
Slime To Go Tube Sealant seeks out and instantly seals bicycle tube punctures up to 1/8″ (3mm). When a puncture occurs, Slime's patented sealant is carried directly to the puncture. The pressure of the escaping air forces the particles into the opening where they build up and intertwine to form a long-lasting, flexible plug. It's the perfect addition for any road or mountain biker's kit.
"We love this new bottle size of Slime sealant," said Chad Ellman, Marketing Manager. "You can keep a bottle handy to repair a flat on the go and then it will prevent future flats."
Slime To Go Tube Sealant features:
● Instantly seals up to 1/8" (3mm) puncture
● Seals punctures for up to 2 years
● Stops slow leaks
● Safe and easy
● New "To Go" size fits neatly into a bike seat bag
● Includes a valve core tool
● Great for use in: Bicycles, scooters and all other small tires with tubes
● Slime Sealant retails for $10.99 and is available at Amazon.
More info at: www.slime.com
---
Vibes and Duo, The New Jerseys from La Passione Cycling Couture
Classic and elegant: two colorful takes on original Italian style
Express your personality and your mood. Bring color to your rides with the new effervescent palette created by La Passione Cycling Couture, and make every mile a work of art.
The new jerseys are as comfortable as they are unique, and made from four different fabrics. The design is made up of a highly elastic front section to guarantee a perfect fit, while the rear section, made from perforated fabric, provides great breathability. Side inserts made of ultra-light Micromesh further assist in regulating body temperature.
Vibes and Duo go perfectly with their respective indispensable colorful accessories: socks in finest, soft Meryl Skinlife fibre keep your feet fresh and dry whatever the weather, while the gloves guarantee the greatest comfort and protection.
DUO Jersey: trusted performance in eye-catching colors
Elegant and eye-catching, this jersey features a mix and match of on-trend colors; vivid, stylish, effervescent pantones brought together to create a product that's as distinctive as it is high-performance. That's the new DUO Jersey from La Passione Cycling Couture in a nutshell.
DUO is a high-performing garment that's rich in clever details, such as the raw-cut collar and sleeves for a more ergonomic fitting, a full-length reverse zip and plenty of reflective piping for enhanced visibility. The look is completed by the words "Worth The Effort" on the front left-hand side and the logo "Hold the Line" on the back.
The Vibes jersey: stripes will never go out of fashion.
Who ever said stripes were boring? La Passione Cycling Couture has reinvented a well-loved classic design to create a striking jersey. Vibes is a homage to long rides on country roads with the wind behind you, an elegant piece available in five eye-catching colors.
The top features added details such as the La Passione logo on the sleeves, a full-length reverse zip and the "Hold the Line" logo on one of the rear pockets. The raw-cut collar allows a more ergonomic fitting, while plenty of reflective piping offers enhanced visibility. Bring color to your Spring/Summer 2020 and sport simple style to make your mark.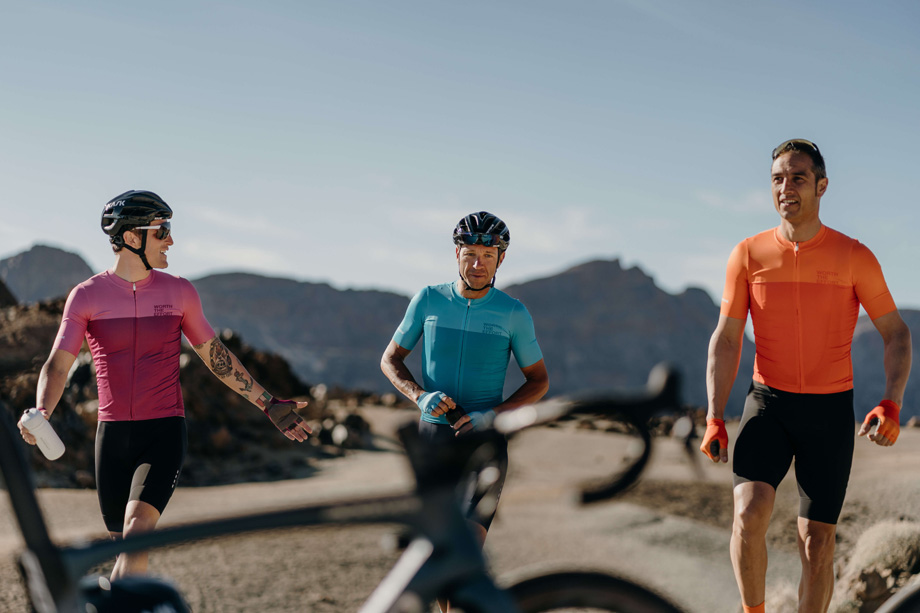 More info at: www.lapassione.cc
---
Note: PezCyclingNews ask that you contact the manufacturers before using any products you see here. Only the manufacturer can provide accurate and complete information on proper / safe use, handling, maintenance and or installation of products as well as any conditional information or product limitations.
The PEZCycling Gear Break is a collection of press releases and other materials created and submitted by brands, press agencies, and other third parties. We do not take responsibility for any claims made here, nor do we check the validity of any claims made here. If you have a product you'd like to be considered for inclusion here, please email us at [email protected].