It's always good to know what kit and clothing you need if you're getting into cycling. Whether you're starting to ride to work, developing your passion for road cycling or just want a bit more comfort when you ride, this list gives you the lowdown of what to get and why.
Some of the items in the list are essential for comfort and safety if you plan to ride frequently, while others are worth investing in further down the line.
Tech ed Alex likes to commute in full Lycra for improved comfort.

Simon Bromley
There are options available in your local bike shop and via online retailers to suit every budget, so you don't need to splurge loads of cash to get your cycling kit together.
Use this list as your starting point, and if you want recommendations then we also have plenty of kit reviews by our team here at BikeRadar, which have been tried, tested and rated so you know you're getting the right product for the right job.
Thinking about buying a new bike?
If you're looking to purchase a new bike, our buyer's guides will help you find the right one for you. 
What to wear for commuting by bike
Unless you've got an epic commute (in which case you might prefer to take a look at the road cycling kit list further down the page), the priority is to stay dry, warm (or cool if it's summer), and arrive at work clean and relatively unruffled… all while beating the traffic.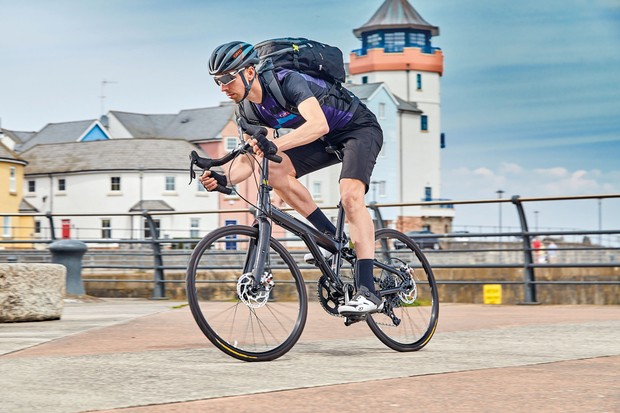 Cycling to work can be fun and a good way to get fit. Just make sure you've got the right kit.

Cycling Plus / Robert Smith Photography
Commuting in an urban environment is stop/start by nature, so commuters tend to alternate between feeling warm when they're moving and cooling down quickly when they stop at traffic lights and junctions.
Visibility in busy urban environments is also important, so commuter-focused kit will often have hi-vis and/or reflective elements, and in some cases integrated lights.
Bike helmet
The Rapido is based on Kask's high-end helmets.

Immediate Media
Depending on where you ride in the world, helmets will either be optional or compulsory, so check the law.
Visibility in traffic is a concern for many commuters, and many helmets come in bright colours with hi-vis elements and reflective patches, while some will even have integrated lights.
Make sure you get a helmet that fits well. Most will have a degree of adjustability, and some of the pricier models include MIPS (Multi-directional Impact Protection System), which is an additional layer designed to diffuse oblique forces in the case of a crash or impact.
Waterproof jacket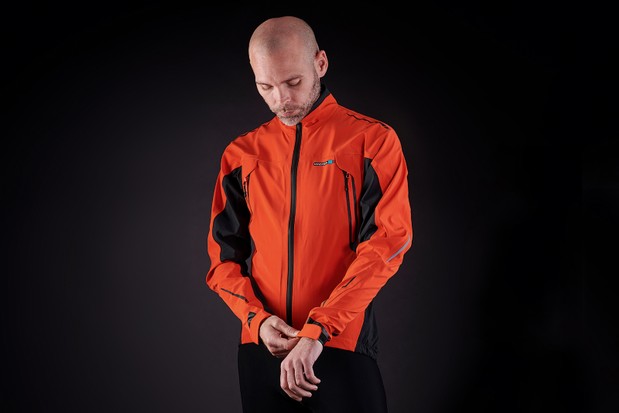 Cycling-specific jackets will be cut to fit on the bike and will often come in bright colours.

David Caudery/Immediate Media
While most waterproof jackets will work, cycling-specific jackets tend to have a longer back and sleeves that keep more of the rider protected when in a forward position on the bike.
Commuter-specific waterproofs are usually accessibly priced and are full of features that increase rider visibility, such as bright fluoro colours and reflective panels. Some also include integrated lights.
Waterproof trousers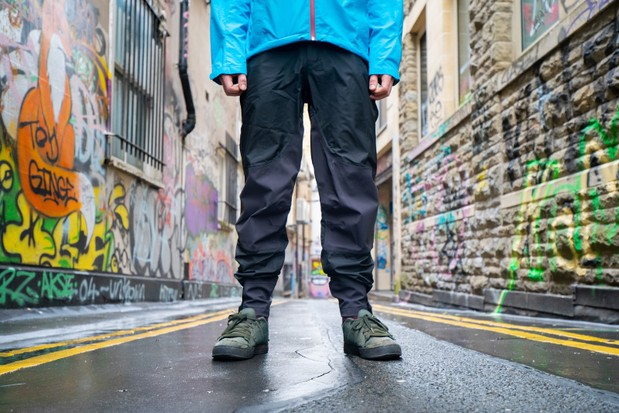 Waterproof trousers will help keep your legs dry, whatever the weather.

Max Wilman / Immediate Media
If you have to commute in wet weather, you will definitely feel the benefit of waterproof trousers, which can be layered over your clothes.
These often have reflective details and zipped legs, which make them easy to get on and off without removing shoes.
Another option to avoid getting a soggy bottom half will be to wear cycling-specific Lycra leggings or shorts. You can then bung your normal trousers, socks and a change of underwear in your bag so you can put dry and clean kit on when you arrive at your destination.
Shoes and/or overshoes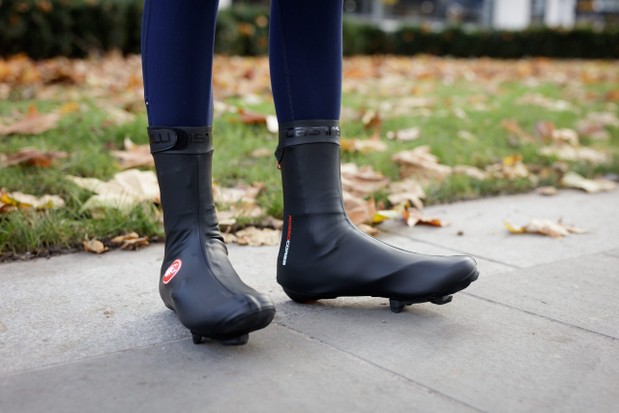 Overshoes are designed to offer foul-weather protection.

Simon Bromley / Immediate Media
The final piece in the dry-commuting conundrum is waterproof overshoes. Alternatively, you can keep a pair of shoes to use just for commuting.
Overshoes pull over the top of cycling shoes and are designed to prevent the rain and puddle splashes penetrating your shoes. They're a great addition for anyone who plans to ride whatever the weather
As for commuting shoes, you could simply use a pair of trainers that you don't mind getting trashed, or you could invest in a pair of cycle-specific shoes and clipless pedals for a more efficient ride.
Many riders opt for mountain-bike clipless pedal systems because they can be easier to clip in and out of, which is handy for the stop-start nature of commuting. Mountain bike shoes are also easier to walk in off the bike.
You can also get winter-specific cycling shoes, made from weatherproof fabrics for additional warm and rain protection.
Gloves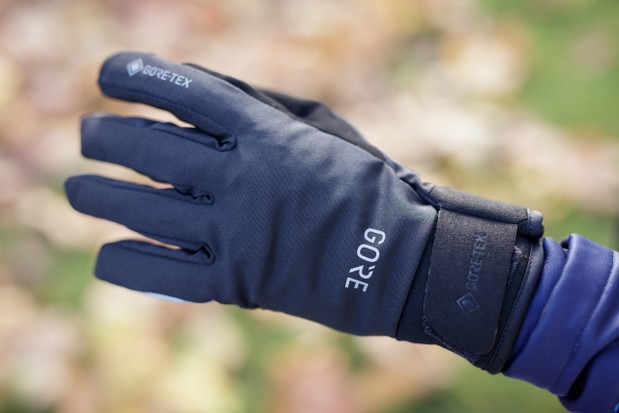 Keeping your hands warm can be key to a comfortable commute.

Simon Bromley / Immediate Media
Gloves aren't so much of an issue in the summer months, but when the weather starts to turn and the commute involves cold wet mornings, a good pair of gloves will be a godsend.
There are many options available that offer insulation and wind proofing, and a good number have hi-vis colours and reflective patches, which makes signalling movements more eye-catching to other road users.
Backpack or pannier bags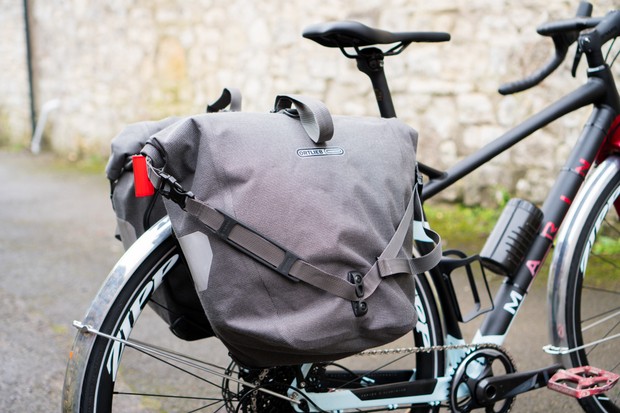 The panniers are fully waterproof and a quick-release mechanism makes them easy to attach and remove.

Alex Evans
Being able to carry daily essentials such as laptop, lunch and wallet is important, so invest in a good-quality backpack. Some have additional straps over the chest and around the waist to help keep them steady as you pedal.
There are also plenty of commuter-specific packs that feature waterproofing or come with waterproof and hi-vis covers, reflective elements and designs that are smart enough for the office.
If there's the option of fitting a pannier rack and bag to a commuter bike, it's often more comfortable and less sweaty on the back than using a backpack. Generally, it also means you can fit in more stuff like a change of clothes and shoes for work, as well as your gym kit for the evening.
Padded underwear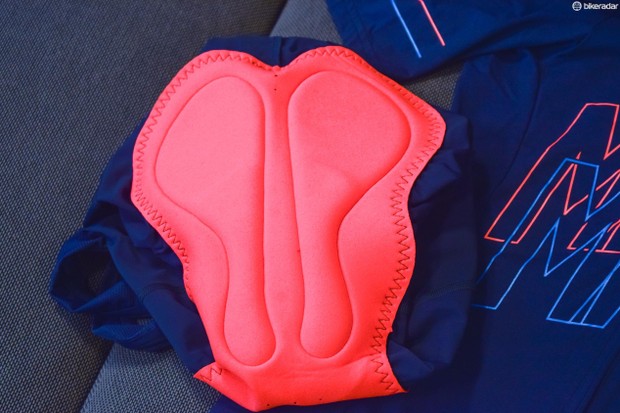 Padded underwear should make your commute more comfortable.

Reuben Bakker-Dyos / Immediate Media
Some commuters like to have a little cushioning for their ride, and padded underwear is a good compromise between full-on Lycra cycle kit and not wearing anything padded at all.
There are lots of options on the market for both men and women, and they look just like regular underwear but feature a thin padded chamois.
What to wear on a road bike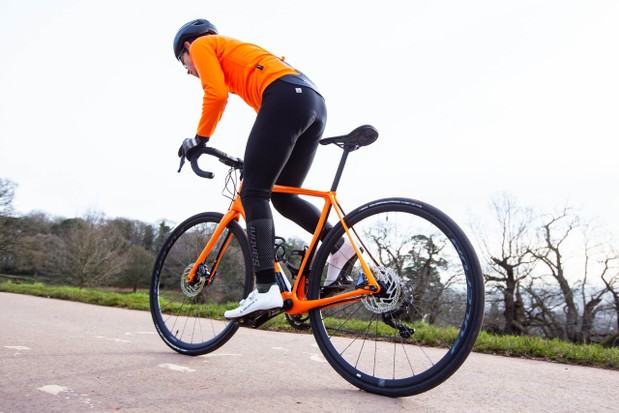 Lycra clothing is much more comfortable to wear on longer rides than baggy kit.

Max Wilman
Speed, distance, smooth tarmac (hopefully) and the open road – these are the things that make road cycling enjoyable, but road cyclists are also exposed to the elements.
And while lightweight Lycra clothing is comfortable and practical to ride in, it doesn't always provide much insulation or protection from wind and rain.
A waterproof and/or lightweight windproof jacket are essential for rides where the weather is looking even slightly wet. That said, for speed and comfort, close-fitting Lycra kit is hard to beat. It moves with the rider, which minimises chafing from all the repeated pedalling movements.
Comfortable shorts with a good-quality chamois are also worth investing in – nobody wants to be uncomfortable in the undercarriage area.
Road-cycling helmet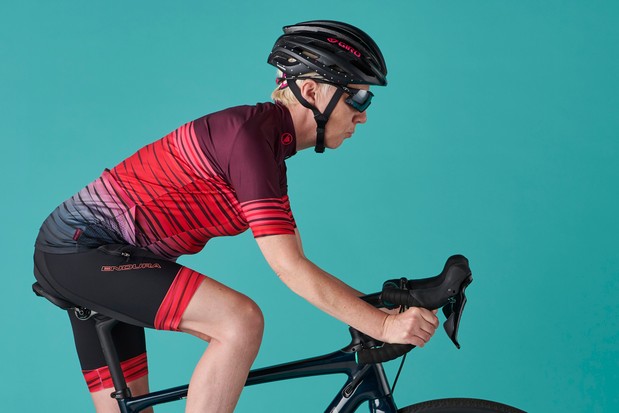 Road cycling helmets are typically designed to offer a combination of protection, ventilation and low weight..

Immediate Media Co
Road-cycling helmets offer a combination of protection and ventilation in as light (or aerodynamic) a package as the rider's budget allows.
Some come with the added protection of MIPS (Multi-directional Impact Protection System) and other additional safety features.
Cycling cap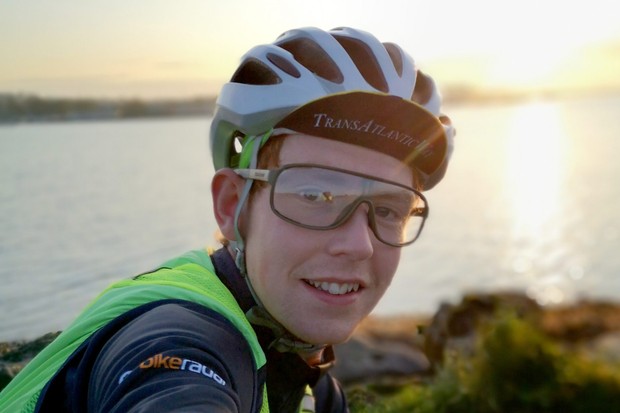 Caps usually fit underneath your lid and can help to keep your head warm and dry.

Felix Smith
Caps with a peak on the front are completely optional, but they are also very popular and relatively cheap.
So, while they might not be an essential as such, they will provide shade for the eyes in summer and extra insulation for your head in the winter.
Cycling glasses
Glasses will help keep bugs, grit and grime out your eyes when you're riding.

Alex Evans
Glasses are worn by cyclists for protection and can reduce the chance of your eyes getting irritated by grit, dust or flying insects.
They tend to have a wraparound style, which offers a single range of vision with a lens that provides good clarity, sun protection and a fog-resistant coating.
Cycling jerseys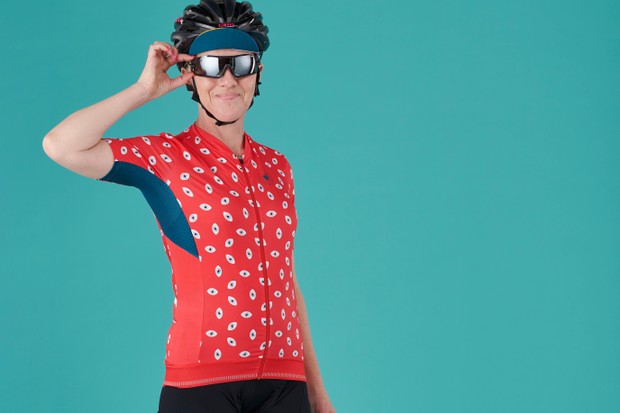 Jerseys are comfortable and the pockets on the rear are great for stashing snacks.

Immediate Media co
Jerseys tend to be close-fitting and made of Lycra, although some options will contain a blend of Merino wool.
They generally have a full- or half-length zip on the front, a high neckline and around pockets built in that sit at the lower back. These pockets are designed to stow essentials, such as wallet, small jacket, snacks or small repair essentials like a multi-tool.
As with cycling jackets, most jerseys will have a dropped hem at the rear to keep the rider's lower back covered when leaning forward on the bike.
If you like to colour coordinate, most companies have matching sets of jerseys and shorts.
Long-sleeve jerseys will provide extra warmth in cool conditions. They'll sometimes have windproof panelling or a water resistant coating for added protection.
Shorts or bibs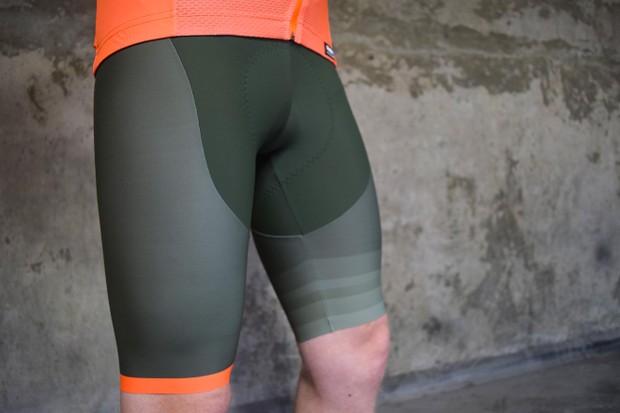 Bib shorts are generally more comfortable than baggy ones on longer rides.

Alex Evans
Padded shorts or tights (worn without underwear), are key pieces of kit when it comes to rider comfort. The stretchy material moves with the rider and is often made from a supportive Lycra fabric.
Cycling legwear comes in different lengths: shorts for warm weather; three-quarter lengths (sometimes referred to as knickers), which are good for transitional seasons; and full-length or tights for cold weather.
All of the above are usually available either as shorts/tights (with a waistband) or as bibs, which means they come with shoulder straps. Bibs stay in position better and have no compression on the waist, so there's no chance of the waistband rolling down.
The downside to bibs is that they can make going to the toilet more awkward, particularly for women. However, many brands have developed solutions to alleviate this awkwardness, with Endura offering zips at the back of its shorts, while Specialized has included quick-release straps.
Waterproof jacket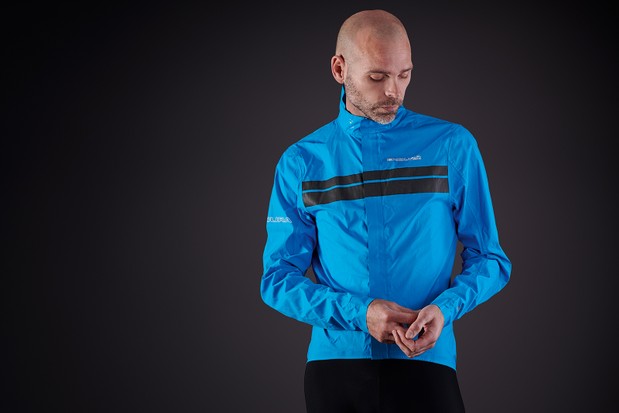 A good waterproof jacket is an essential piece of riding kit.

David Caudery/Immediate Media
A good waterproof is essential for riding in wet weather, and many are compact enough that they can be stowed in a rear pocket if the weather brightens up.
If the weather is good but the wind is chilly, road cyclists often opt for a windproof jacket or gilet, which provides just enough protection to keep warm without the bulk of a waterproof. Again, these can usually be stowed in a rear pocket.
Mitts or gloves
Mitts provide extra cushioning in warm weather, though you'll need full-finger gloves when the temperature drops.

David Caudery/Immediate Media
Mitts or fingerless gloves provide extra cushioning, as well as some protection from the breeze.
In winter, riders generally switch over to full-finger gloves, which feature windproof panels or can fully insulate against the wintry chill.
Socks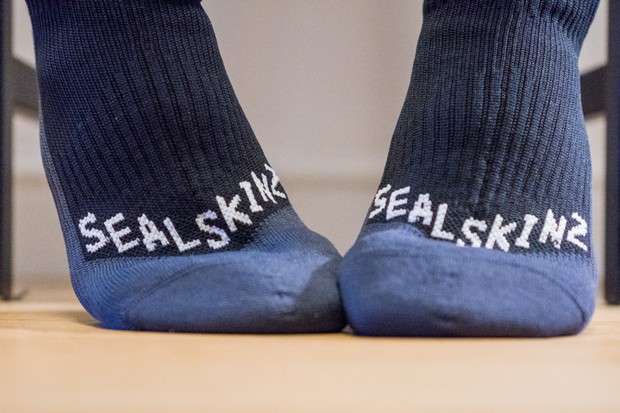 Keep your tootsies toastie with a quality pair of socks.

Alex Evans
Socks can be a make or break item. Natural fabrics such as Merino wool can keep toes warm on cold or wet rides for longer and also reduce sweat and heat build up on warmer days.
Waterproof socks from brands such as Sealskinz will also help keep you more comfortable on your bike in terrible conditions.
Arm, leg and knee warmers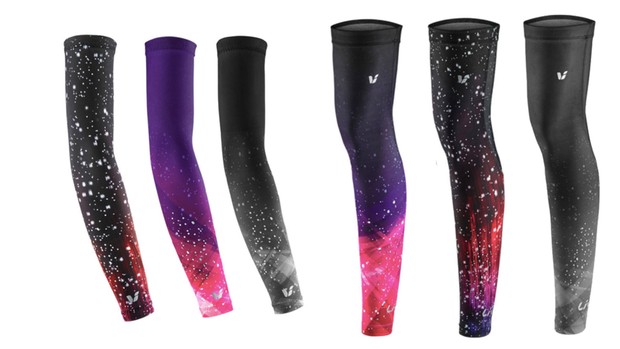 Arm and leg warmers are an extremely handy bit of kit.

Liv Cycling
Arm, leg and knee warmers are a great addition for cycling on chilly mornings and during cooler evenings. They're also popular in spring and autumn, when the weather can't make its mind up.
Warmers are essentially tubes of Lycra, often with a fleecy backing for warmth, that can be layered with a short-sleeve jersey or shorts to give extra coverage.
They will also make your other kit more versatile by extending its usable temperature range.
Warmers are easy to roll off and are normally small enough to be stowed in a rear pocket if the weather warms up mid-ride.
Clipless shoes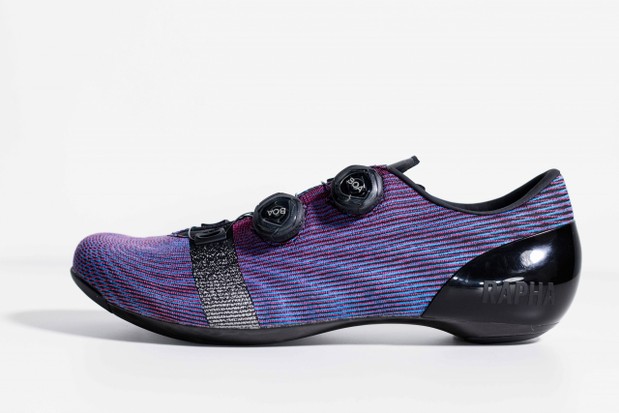 Premium shoes, like these from Rapha, will often have micro-adjustable closure dials and a stiff carbon sole.

Simon Bromley/Immediate Media
Road cyclists tend to wear shoes that attach to their pedals via a cleat. This allows them to clip in and out of the pedal with a little twist of the ankle.
Clipping in makes pedalling more efficient, and by including elements such as stiff soles and a close fit, the shoes can make the transfer of power from leg to pedal to bike even more effective.
Clipless or road cycling shoes come with different fastenings, but typically you'll find them with laces or Velcro straps, before getting more sophisticated as the price creeps up. Micro-adjustable dials feature frequently on premium shoes, along with carbon soles.
Chamois cream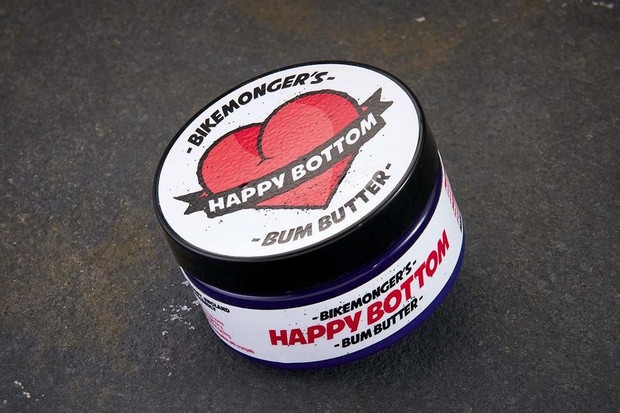 The Happy Bottom Bum Butter is a staple for any long ride..

Immediate Media
Yep, chafe-free cycling needn't be something the discerning cyclist merely dreams about.
Dollop a load of chamois cream on your nether region and enjoy the slippery sensations of cycling without suffering.
Once you've used it, we guarantee you'll never go back to dry days in the saddle.