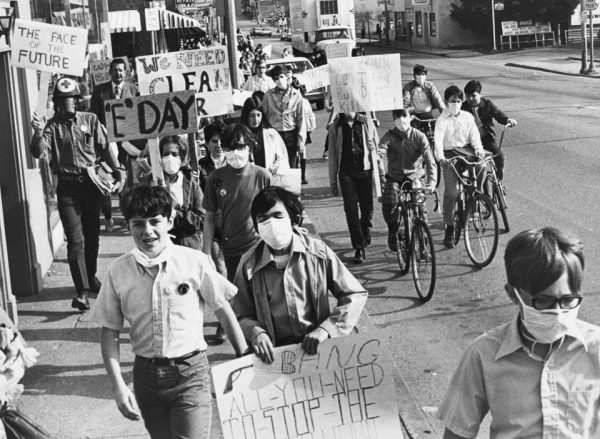 Motorists of the world beware, the all-powerful bicycle lobby (were it to exist, except as a parody on Twitter) is coming for your cars. Bicycle sales are going gangbusters; space for motorists is being reclaimed overnight by global cities installing pop-up cycleways; and 1950s levels of motor traffic mean more people are cycling, even on roads that would otherwise be bumper-to-bumper with tin boxes.
Has bicycling ever been this popular? Yes. In the early 1970s. This was when much of the world, but especially America, experienced a "bike boom"—sales were so strong that bike shops regularly ran out of stock and would-be customers had to put their names on long waiting lists.
Built on baby-boomer wealth, burgeoning environmental concerns, and the same health kick that saw the rise of jogging, this bike boom lasted for the best part of four years. (It was many times larger than the mountain-bike boom of the 1980s.)
Many commentators at the time believed the boom would never end and that cars were on the way out. (Regarding the current bike boom, the BBC asked on April 30, "Are we witnessing the death of the car?")
In the 1970s, U.S. bicycle advocates assumed America would soon become more bicycle-friendly than the Netherlands. But while the Netherlands used the oil embargo to rein back the dominance of the motorcar in its cities and expand its cycleway network, there was no lasting bicycle-shaped legacy for the U.S. The boom went bust, and now few remember how bicycle-crazy America went for a few short years.
How did the boom come about, why did motoring regain the upper hand, and what are the lessons for our post-pandemic future?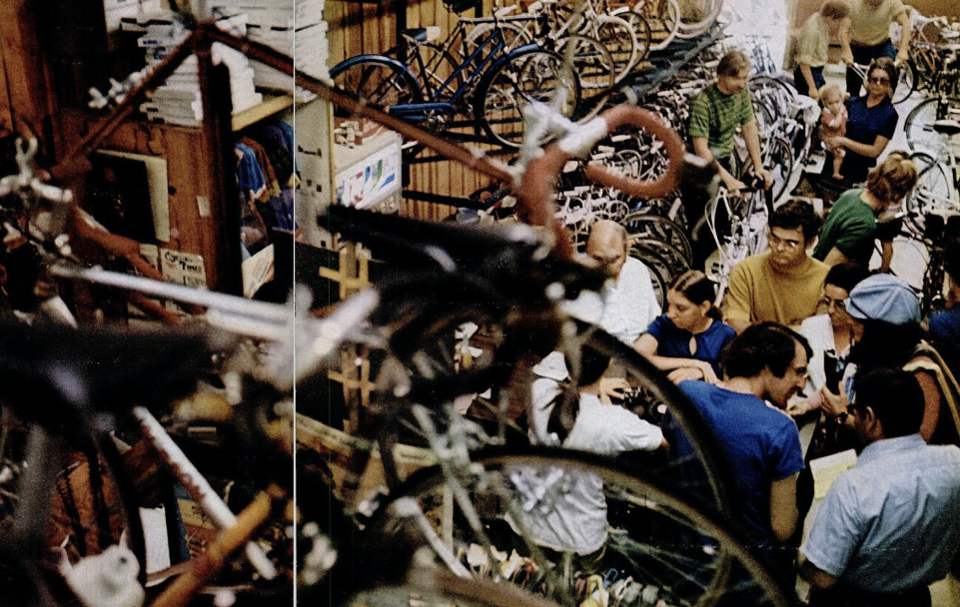 "CROWDS PRESS into Chicago's Turin Bicycle Co-op hunting for new models," reported Life in July 1971. Under the headline "The Bicycle Madness," Life's article featured a double-page photograph of a diverse crowd waiting to buy bikes: men and women, black and white, young and old.
"So far this year, Turin has sold over 3,000 bicycles and could have sold several thousand more if supplies had been available," continued the magazine.
Bike sales in 1970 rose so fast that Time claimed that it was the "bicycle's biggest wave of popularity in its 154-year history."
This was not pleasing to all: Peter Flanigan, a Wall Street investment banker and one of President Richard Nixon's most trusted aides, chided that: "The United States is not going back to the cold, the dark, and the bicycle." He was soon proved wrong, about the bicycle, at least—and even some of President Nixon's closest confidantes fell under cycling's spell.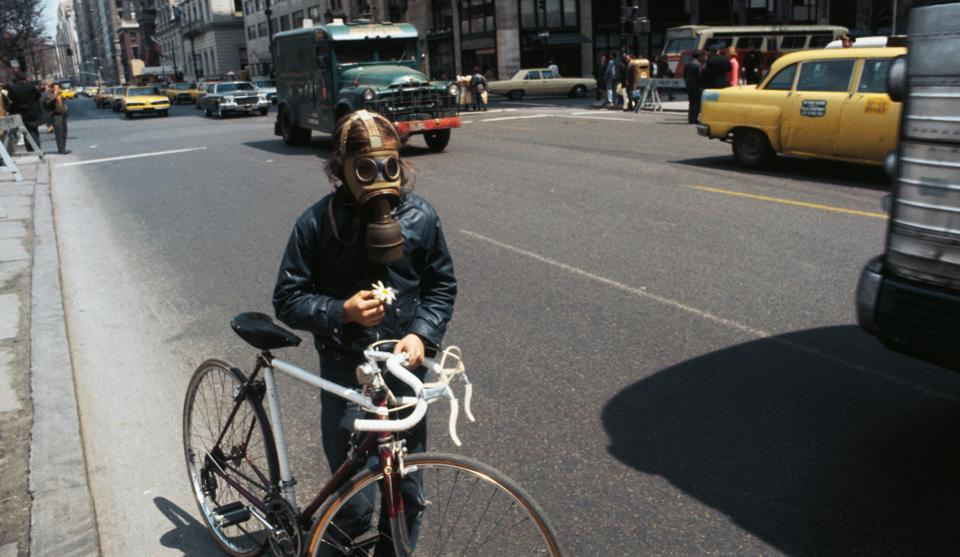 COMMUTING AND shopping by bike, cycling while pregnant, riding with musical instruments: it all sounds very Dutch but, as Time explained, in 1970 it was becoming standard for Americans, too.
"Harvard English professor Joel Porte sold his car four years ago and hasn't 'even been tempted' to own one since," explained the news magazine.
"Instead, Porte, 36, and his wife Ilana, 31, get by on three-speed English bicycles; he makes the trip from Belmont, a Boston suburb, to the Cambridge campus in 17 minutes flat."
Time continued: "Last week, just before her first baby was due, Mrs. Porte was still running errands by bike. Doctors and professors at Case Western Reserve University in Cleveland frequently commute by bike, as do some members of the Cleveland orchestra—with piccolos, flutes, violins and violas strapped to their backs."
Bicycling broke through into the mainstream during the boom years of 1970–1974. "Some 64 million fellow travelers are taking regularly to bikes these days, more than ever before," gushed Time, "and more than ever [they are] convinced that two wheels are better than four."
A Bank of America report said bicycle sales had been "rolling along" at 6 million a year "until the boom began." In 1971, sales increased 22% to 9 million and hit 14 million in 1972. In the following year, this climbed further to 15.3 million. And, said the bank, most of the increase was due to the sale of adult bikes.
MORE FROM FORBESAu Revoir Les Automobiles: Paris Closes Rue De Rivoli To CarsBy Carlton Reid
The boom was rural and recreational, but it was also urban and practical. Highly-placed politicians—a few of whom were cyclists—told planners to get on with building miles and miles of urban cycleways.
"Both national and local governments have recognized the phenomenal growth of bicycling," reported Time, "and the Department of the Interior has plans for nearly 100,000 miles of bicycle paths to be constructed in the next ten years."
(Had this plan been carried out, it would have dwarfed the Dutch cycleway network.)
In 1973, 252 bicycle-oriented bills were introduced in 42 states; 60 were passed into law, half of them were cycleway bills. The Federal-Aid Highway Act of the same year provided $120 million for cycleways over the following three years. (Cycleways were known as "bikeways" in the U.S. at the time.)
The reemergence of the bicycle had taken most observers by surprise. What had been an "exiled device, to be used somewhere between kindergarten and acne," claimed Time, became a transport mode to be reckoned with.
"Bikes are back," claimed National Geographic staff-writer Noel Grove in the magazine's May 1973 edition.
"Glutted roadways, ecological concern, the quest for healthful recreation, and the sophistication of geared machines have all contributed to a flood of cycling activity," explained Grove, adding that "legislators are beginning to think bikeway as well as highway."
His twelve-page feature concluded that "with bikeway construction and ecological concern marching hand in hand, America's bicycling boom could harbinger a whole new era in transportation."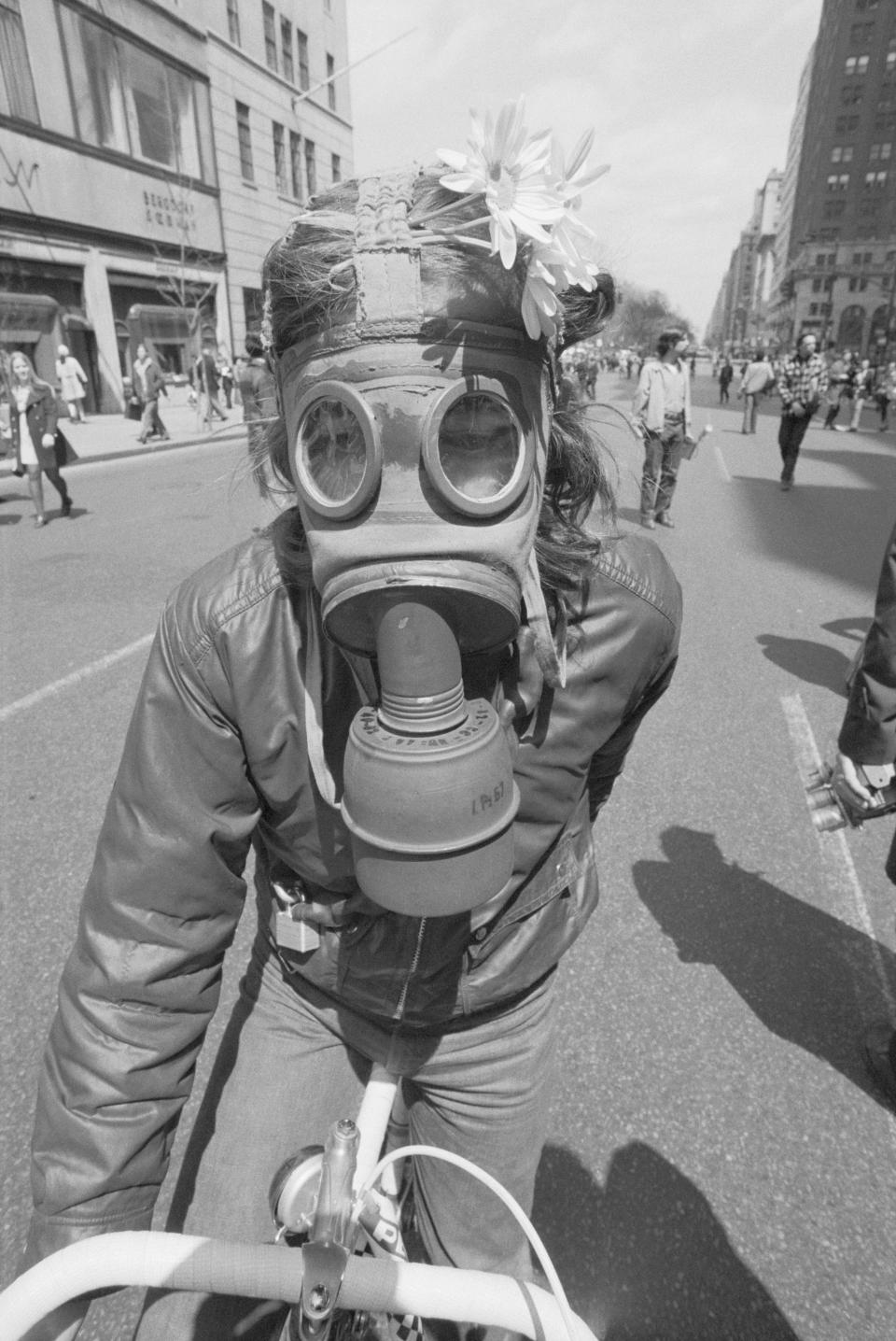 Ecological concern was one of the drivers of the boom. During 1967's "Summer of Love," the Haight-Ashbury district of San Francisco reeked of patchouli oil, weed, and incense. With flowers in their hair, and buzzed with "acid," some of the area's self-styled "freaks" protested not just against war but also waste.
This concern deepened for many, and for those "hippies" who became environmental protestors, the automobile became a potent symbol of everything that was wrong with the "military-industrial complex."
In February 1970, nineteen ecologically-aware humanities students at the San Jose State College bought a brand-new Ford Maverick and, with the blessing of their professor, buried it in a 12-foot-deep hole dug in front of the campus's cafeteria.
This crowd-funded destruction of the hated motor car made news around the world. With six students riding on the roof of the car, "it was pushed through downtown San Jose in a parade led by three ministers, the college band, and a group of comely coeds wearing green shroud-like gowns," reported the San Francisco Chronicle.
"As the local citizenry looked on from the sidewalks the students marched by at a slow funeral pace set by the band which played a selection of songs in dirge styles."
The burial was one of the events staged in the run-up to the first Earth Day on April 22, 1970.
For many event organizers, the automobile was public enemy number one. An event guide published by Friends of the Earth included a chapter titled "Warning: The Automobile Is Dangerous to Earth, Air, Fire, Water, Mind, and Body."
And if the automobile was the problem, the bicycle was the solution. The Earth Day coordination team suggested forty ideas for Earth Day events; one of them was "Encourage people to walk or ride bicycles instead of driving cars on April 22."
Twenty million Americans took part in a variety of events on the day itself and the months beforehand, many of them held at colleges, schools, and universities, galvanizing the young and melding together the first "green" generation.
"Bicycles are small, inexpensive, require little maintenance, pleasurable to use, and smogless," stated the Whole Earth Catalog for 1970, adding: "If America traded in all their [cars] for bikes, a lot of problems would be solved."
By 1974, the right-on publication included four bike-related pages: "Not only is bicycle travel human-scaled, healthful, and non-polluting, but it turns out to be more efficient than jetplanes, salmon, or seagulls."
This was a reference to an article on bicycle technology that had appeared in Scientific American the previous year and which encouraged many people to learn more about cycling. The lengthy article was by S. S. Wilson, a lecturer in engineering at Oxford University.
He wrote that the purpose of a bicycle was to "make it easier for an individual to move about, and this the bicycle achieves in a way that quite outdoes natural evolution."
He argued: "When one compares the energy consumed in moving a certain distance as a function of body weight for a variety of animals and machines, one finds that an unaided walking man does fairly well but he is not as efficient as a horse, a salmon or a jet transport. With the aid of a bicycle, however, the man's energy consumption for a given distance is reduced to about a fifth. Therefore, apart from increasing his unaided speed by a factor of three or four, the cyclist improves his efficiency rating to No. 1 among moving creatures and machines."
(This extract, and the graph that accompanied it, went on to inspire many others, including Steve Jobs of Apple, who used it in a 1980 presentation to explain the efficiency of the personal computer: "What a computer is to me is it's the most remarkable tool that we've ever come up with, and it's the equivalent of a bicycle for our minds.")
Wilson continued: "For those of us in the overdeveloped world the bicycle offers a real alternative to the automobile."
The simplicity of the bicycle chimed with E. F. Schumacher's 1973 best seller Small Is Beautiful. This was one of the critical eco-polemics of the 1970s—it theorized that capitalism was inherently bad for the planet because, like a Ponzi scheme, it can only survive by growing, unsustainably.
What was required instead, believed Schumacher, were small-scale "appropriate technologies."
The bicycle believed the bike activists was more of an appropriate technology for city use than the smelly, dangerous, gas-guzzling, space-hungry automobile.
---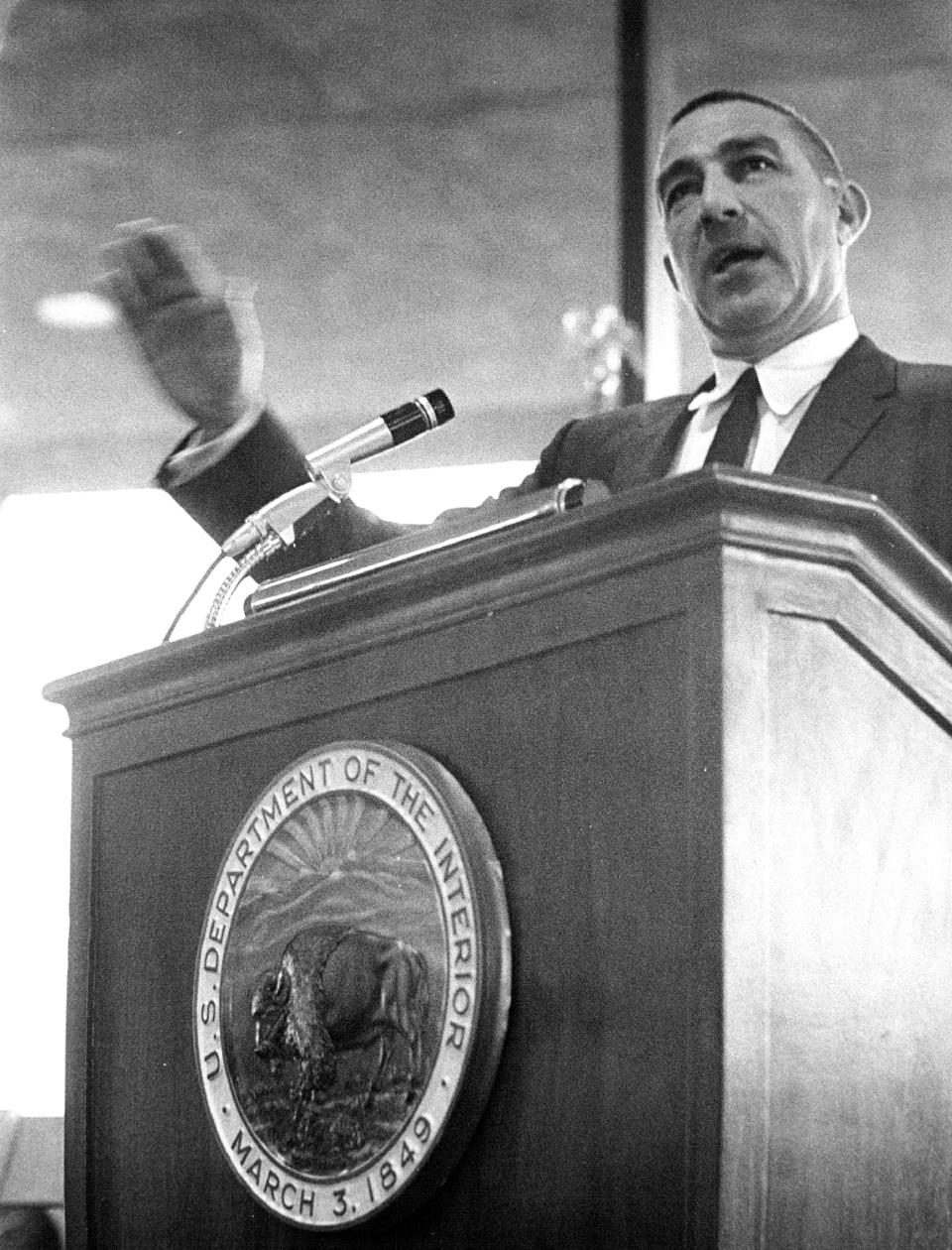 STEWART L. UDALL was one of the greenest U.S. politicians of the 1960s—during his stint as interior secretary he commissioned a study that resulted in the Trails for America report, which promoted hiking trails in national parks but also cycleways in cities: "To avoid crossing motor vehicle traffic, bikeways would be located along landscaped shoulder areas on frontage roads next to freeways and expressways, along shorelines, and on abandoned railroad rights-of-way," imagined the 1966 report.
Once out of office, he was even more explicitly pro-bicycle. In 1973, he advised that President Nixon and Congress aim for smaller and fewer automobiles, fewer airline flights—but more bicycles and urban cycleways.
"We've got to get away from the pretense that there is some easy painless way that we can save energy," Udall told the New York Times.
"We're at the final stages of the climax of the automobile era. We've gone as far as we can go."
Give people choice, he said, build more cycleways.
"People cling to their cars because there is no alternative."
---
THE INDUSTRY-PROMOTING Bicycle Institute of America was one of many organizations frequently quoted in the mainstream media during the early 1970s, thanks in part to its cycleways-boosting newsletter, Boom in Bikeways, which it had been sending to the media since the late 1960s.
The BIA—which also placed lifestyle advertisements in the press—crowed about the seemingly never-ending rise of the bicycle market. The good times were here to stay, thought many, including authors who penned zeitgeist-tapping best-sellers. Sex had Dr. Alex Comfort; cycling had Richard Ballantine.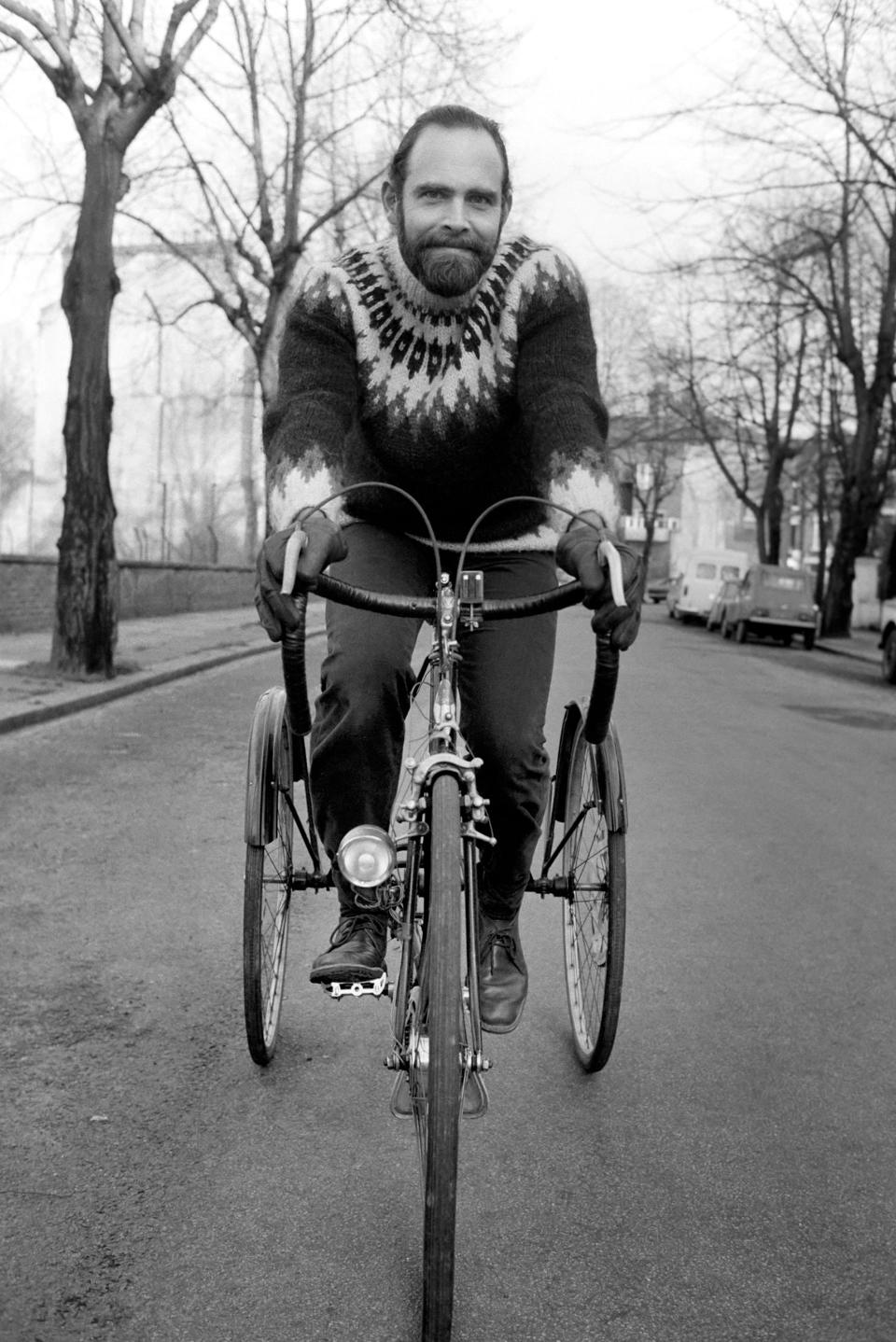 Richard's Bicycle Book was a 1970s publishing sensation—it sold more than a million copies. Ballantine plugged into the politics of eco-activism, which had encouraged many on to bicycles.
"Most active stores are able to sell out a shipment of bikes within two to three weeks," wrote Ballantine of the boom. The same could have been said for his book. It was published in October 1972 and had to be reprinted within weeks. There was a third printing in March 1973 and a fourth just three months later.
Ballantine's book imagined a utopian future of cycleways, but he didn't think this would be sufficient to get more people cycling.
"Bikeways are not enough," he wrote.
"What is needed is the elimination of polluting transportation. The absolute elimination of internal combustion engines from urban areas is the practical solution which benefits everybody."
MORE FROM FORBESRoads Can Be For People Not Cars, States U.K. Government Lockdown GuidanceBy Carlton Reid
Ballantine was the only child of publishers Ian and Betty Ballantine, creators of the New York paperback publishing house Bantam, which popularized the likes of Tolkien, Arthur C. Clarke, and Isaac Asimov. His aunt was a radical political author. Ballantine grew up in a fog of intellectual New Leftism.
"A better deal for cyclists," he asserted, "is a better deal for society."
When he argued that bicycles could change the world he meant it, but he also told his readers that there would be a "long drawn-out struggle," for they were up against "the power of vested interests in maintaining a motor age."
Richard's Bicycle Book warned readers not to be "too surprised if you are beaned at a bike-in by a club-swinging cop who calls you a dirty communist, and don't back off because of it. You have a right to live—it is your birthright—but you will have to fight for it."
---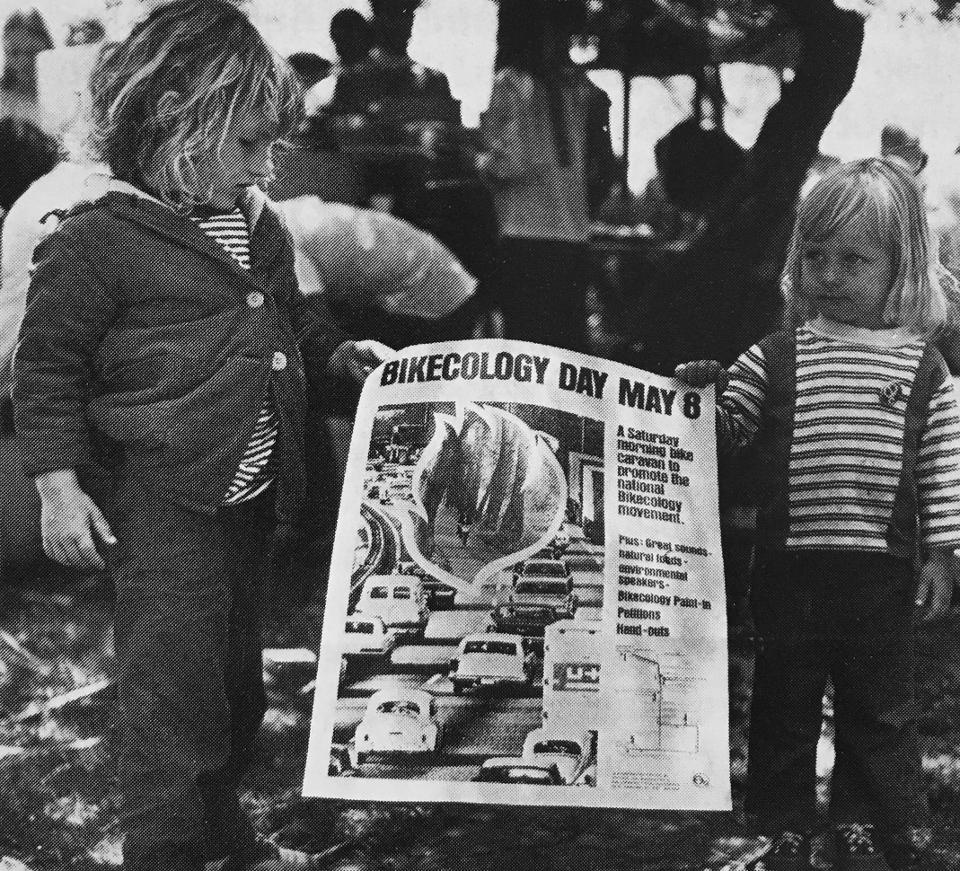 IN 1972, University of Montana students could choose from geology, psychology, biology, or—new for that year—bikeology.
"And for a full credit, too," one newspaper stated, adding that this was "just another example of America's love affair with the bicycle."
Students could even dress the part, for "special bikewear for both sexes is found in the smart shops of every college town."
At the University of Iowa at Ames, the "three most popular subjects on campus were social change, bicycling and sex, in that order."
These university courses–and there were others at the Universities of Texas, Utah, and Oregon—studied the creation of cycleway masterplans, including "how to get bikeway legislation passed" and "how to integrate bikeway systems into urban planning."
---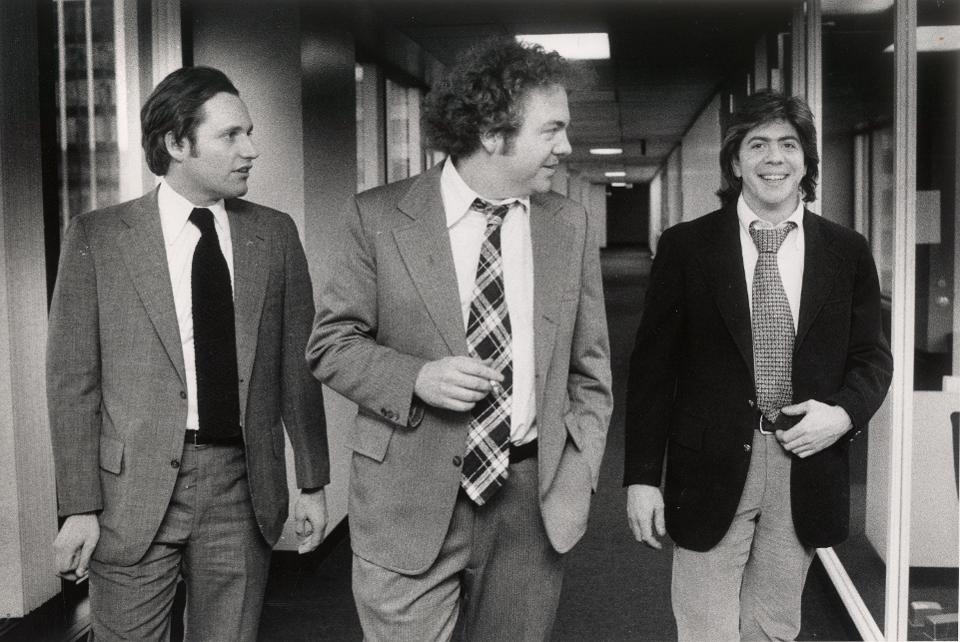 "WHEN CLAY GUBRIC opened [Washington, DC's] Towpath Cycle Shop in 1966, he counted three or four bicyclists pedaling home from work," wrote a Washington Post staffer in 1970.
"One day last week," continued the journalist, "more than 50 commuting cyclists, most of them dressed in business suits or skirts, passed by his shop in Georgetown during the evening rush hour."
The staff journalist was Carl Bernstein, one half of the famous Woodward-and-Bernstein Pulitzer Prize-winning partnership, the investigative reporters who helped reveal the full extent of the 1972 Watergate scandal, which, two years later, led to President Nixon falling on his sword.
Bernstein was the Washington Post's "office hippie," noted All the President's Men, the pair's book on the scandal that gave the world the -gate suffix.
Before they teamed up to work on what, at first blush, had been thought to be a minor burglary at the Watergate hotel and office complex, Woodward prejudged Bernstein to be a "long-haired freak who rode a bicycle."
This wasn't any old bicycle. Bernstein, just a few months into his reporter's job at the Post, had put himself up for the 1970 bike boom story because he was a D.C. cycle commuter himself. Bernstein rode to and from work—and between assignments at the White House—on one of two ten-speed racers, either his Raleigh or his Holdsworth, both of them venerable English brands.
The theft of Bernstein's Raleigh became part of the Watergate story. "Bernstein knew something about bike thieves," revealed All the President's Men. "The night of the Watergate indictments, somebody had stolen his ten-speed Raleigh from a parking garage. That was the difference between him and Woodward. Woodward went into a garage to find a source who could tell him what Nixon's men were up to. Bernstein walked into a garage to find an eight-pound chain cut neatly in two and his bike gone."
As a bike-riding hippie, Bernstein could have been stating his own views when, in his 1970 Post piece, he wrote that "many cyclists harbor fierce antipathy for what they regard as an automobile culture that is choking the nation with fumes, speed, noise and concrete."
He added that there was a "growing group of cyclists who regard pedaling as an almost political act and inevitably flash the two-finger peace symbol upon encountering another person on a bike."
Bernstein was therefore devastated when, two years after writing the commuter cycling piece, he discovered that one of the Watergate conspirators was also a "bike freak."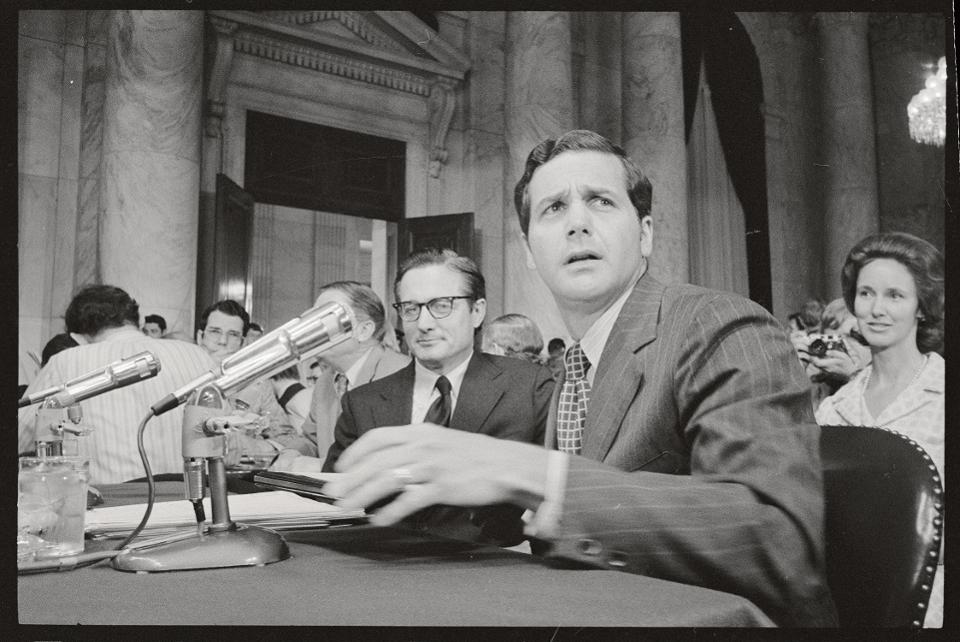 While nosing around a bike shop for a replacement for his "beloved Raleigh" Bernstein thought of Jeb Stuart Magruder, deputy director of Richard Nixon's Committee to Re-Elect the President:
"[Bernstein] had picked up a profoundly disturbing piece of information that day: Magruder was a bike freak. Bernstein had trouble swallowing the information that a bicycle nut could be a Watergate bugger. And Magruder really was a card-carrying bicycle freak who had even ridden his ten-speed to the White House every day."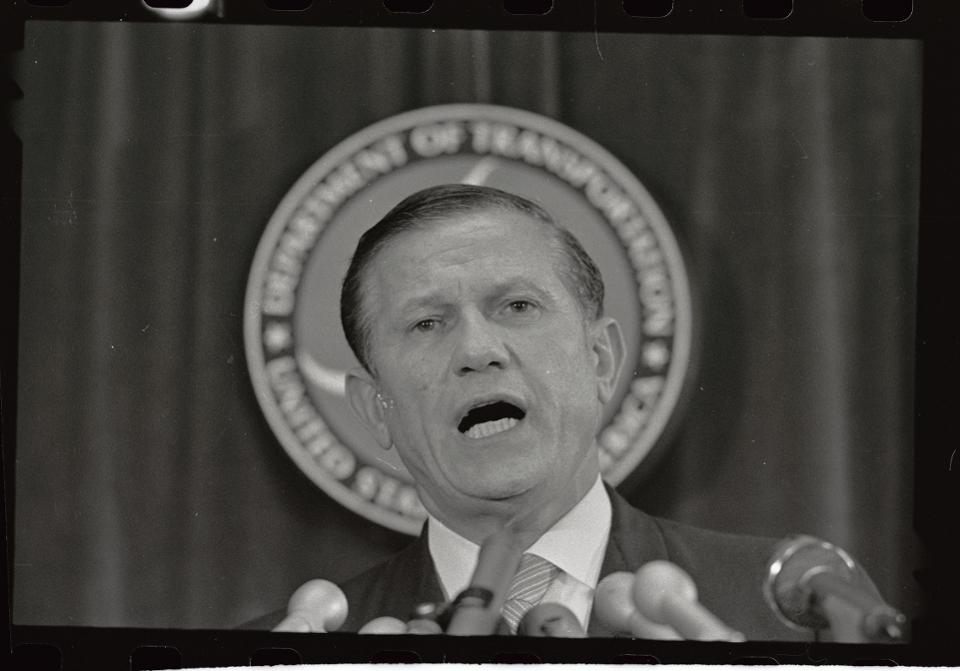 The facilities for cycle commuters in Washington, DC, had been poor in the late 1960s but had improved by the early 1970s, partly because of John A. Volpe, President Nixon's secretary of transportation.
In 1969, Volpe—who routinely rode a bicycle that "can be folded up and carried to his tenth-floor office"—told Gilbert Hahn, the District's council chairman, to build cycleways for Washington's growing number of cyclists who, like him, were not all long-haired hippies.
In fact, as Bernstein wrote in the Post, bike-boom bicyclists were just as likely to be "stock brokers and congressmen, secretaries and lawyers, students and government clerks, librarians and teachers, youngsters and oldsters."
Transport Secretary Volpe used to ride his folding bike from his home to Capitol Hill. At a meeting in 1971, he encouraged all "to use our legs that the dear Lord gave us [and to] show what can be done with bicycles."
Volpe warned that cities had to make "radical changes in their commuting patterns" to meet clean-air standards, and suggested that bicycling would be a "valuable addition to urban transportation systems."
He told the New York Times that the Department of Transportation would "make every effort to establish exclusive bicycle lanes in our nation's cities and along the freeways and turnpikes between cities."
Along with "150 dedicated bicyclists," Volpe rode in D.C.'s Rock Creek Park in May 1971, telling a reporter along for the ride that cycling was "both a means of exercise and a mode of transportation."
Volpe added that his department intended "to make Washington a model city for bicycles."
Later the same year, hundreds of bicyclists staged a "bike-in" on Beach Drive in D.C., demanding more space. Not all were peaceful. As Bernstein wrote in his 1970 piece: "some members of the bicycling minority are becoming more militant." He described how one rider was forced off a road by the driver of a Buick Riviera who "drove off laughing." The cyclist caught up with the smirking motorist and "dismounting from his trusty 10-speed steed, the rider proceeded to kick a good-sized dent in the rear fender."
Bernstein added that the motorist "watched helplessly as the pedal-power advocate remounted his bike, clenched his fist and headed off into the opposite direction with the words' Ride On.'"
(It's highly probable that this militant cyclist was Bernstein, but despite many e-mails to his office, he has yet to say whether or not this is the case.)
---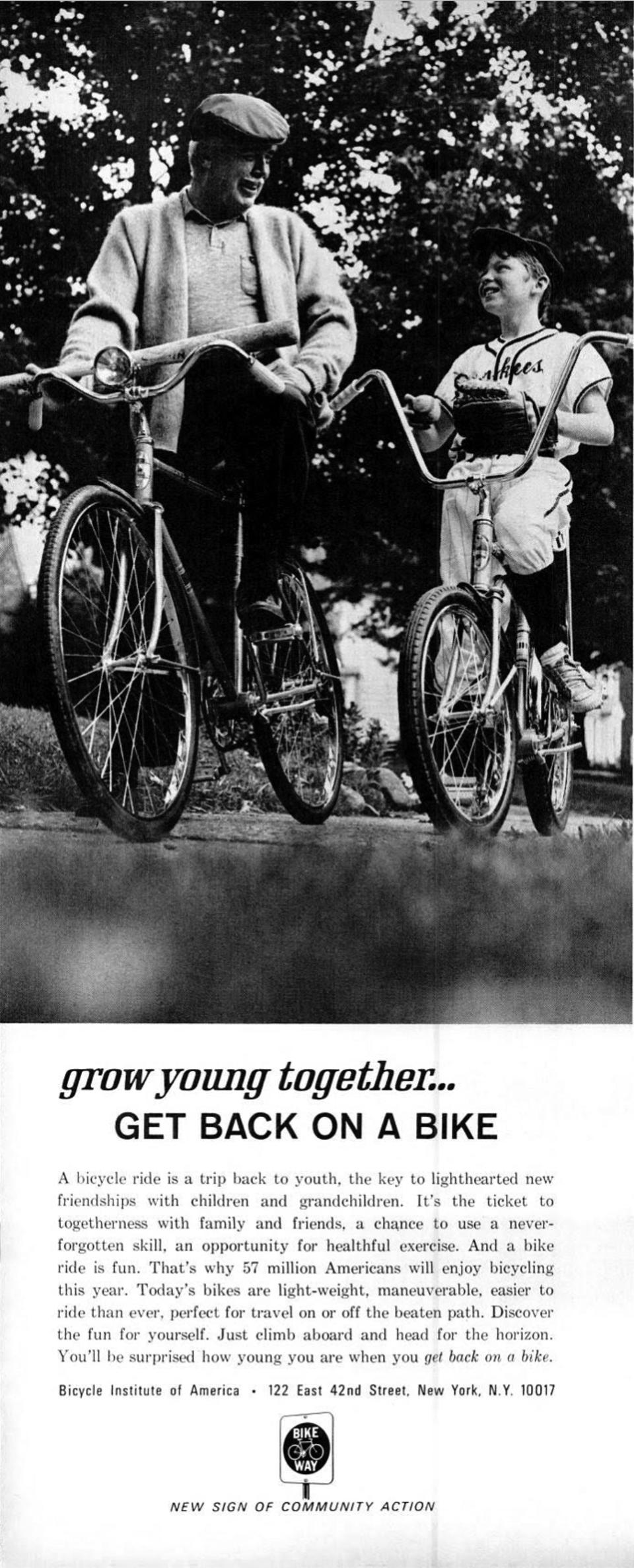 IN THE EARLY 1970s, entering a bike shop was like going into a bank: you had to wait patiently in line. "The nation faces a serious bicycle shortage," warned Time in the summer of 1971.
"The factories aren't making bicycles fast enough," complained one San Francisco bike shop. "If we order 100 bikes, we're lucky to get 25."
A Los Angeles two-wheel dealer told Time: "I can sell every bike I can get my hands on."
Bicycle ownership in America in the early 1970s was very low. Bikes were meant for kids, not adults; adults drove cars. This all changed when "baby boomers" started doing the buying.
At the beginning of the 1970s, the post-World War II birth-rate spike resulted in a glut of teens and twenty-somethings. Many had cash, were eager for novelty, wanted independent mobility, and were desperate to throw off the shackles of their elders.
In newspaper interviews at the height of the bike boom, industry leaders suggested all sorts of reasons for the doubling of market size, but the most obvious one—"the cry of the baby was heard across the land," as historian Landon Jones described the trend—eluded them.
"No one could have predicted [the boom]," said the president of a chain-store bicycle supplier in 1971.
But the signs of the pig-in-a-python demographic bulge had been building for some time. Life magazine, in 1958, cover-headlined an issue: "Kids: Built-in Recession Cure" and, referring to the retail potential of the rising number of American newborns, added: "How 4,000,000 a Year Make Billions in Business."
Presciently, the magazine said the four-year-olds on its cover represented a "backlog of business orders that will take two decades to fulfil."
More than 4 million babies were born every year from 1954 until 1964. By the 1970s, there were over 70 million baby boomers in the United States, accounting for almost 40% of the nation's population. Diapers had been the first product to spike; then postwar parents used their newfangled credit cards and charge accounts to buy family-size refrigerators, televisions, and, of course, automobiles.
The bike industry was caught off guard when the demographic alighted on their products. It was a perfect storm, with drop-out baby boomers attracted to cycling for its anti-motoring environmentalism; suburban-conformist baby boomers latched on to cycling because it was healthy and "outdoorsy"; and pre-motoring teens upgraded to lightweight ten-speed bikes after having been attracted to cycling because of "high-rise" bicycles such as the "cool" Schwinn Stingray of the 1960s.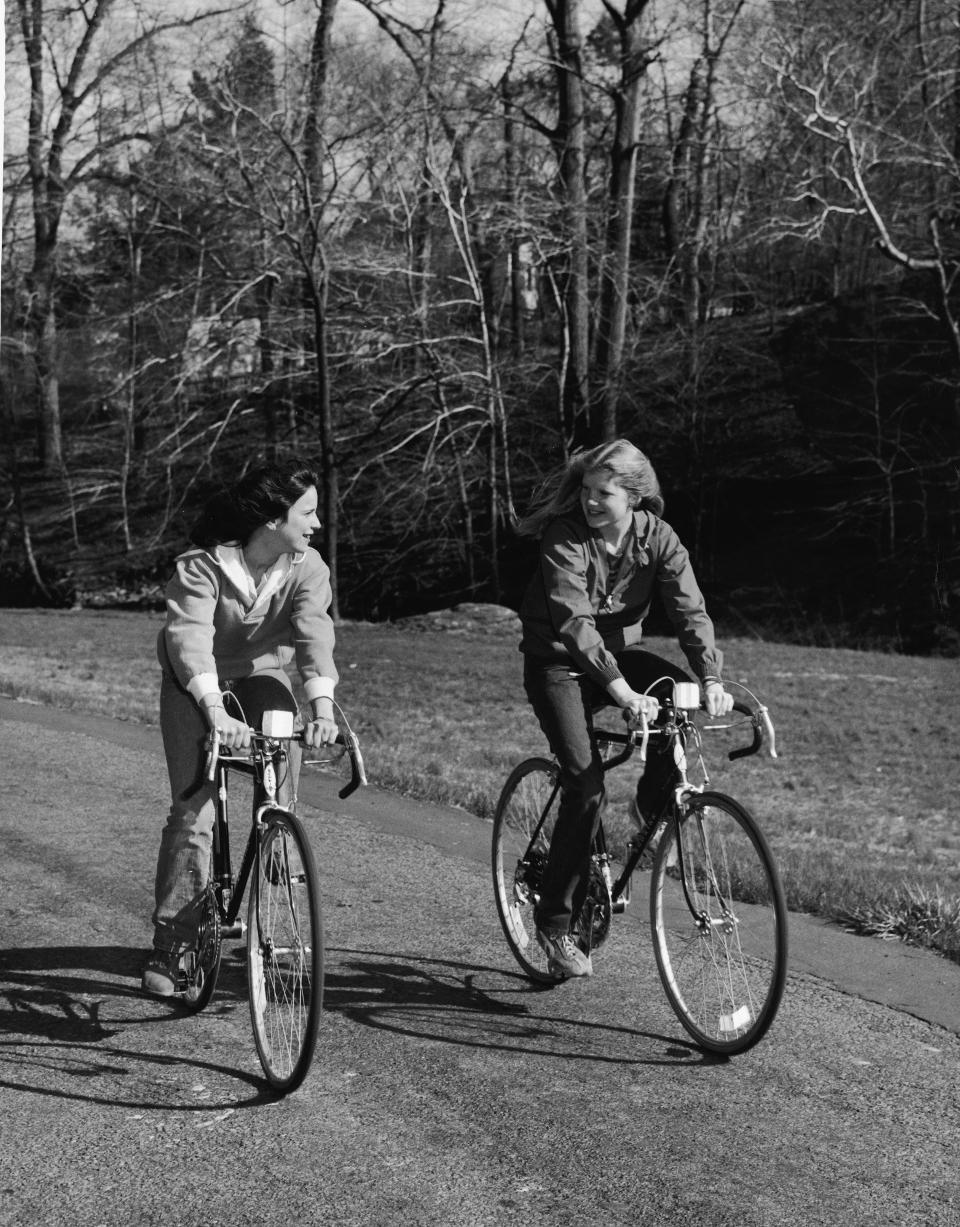 By 1971, 86% of Schwinn's sales were full-size bikes, including the Varsity, a robust 40-pound drop-handlebar bike with a derailleur and ten gears.
"Environmentalists are turning to the bike as a pollution solution; physical-fitness fans like the bike as a heart preserver," wrote Time in 1971.
"Groups of workers in some traffic-choked cities have been staging rush-hour races among car, bus, and bicycle, with the bike usually triumphant."
Industry consultant—and data-freak—Jay Townley was a Schwinn executive in the 1970s, and he remembered that the bike industry had been surprised by the sales spike. Domestic production couldn't keep up with demand, so the industry resorted to importing an increasing number of bicycles, many of which were subpar.
With the boom in full swing there was no time to worry about where the demand was coming from, but following the inevitable crash—when the market halved within two years—Schwinn attempted to analyze where the sales had originally come from.
A three-volume strategic plan from 1978, kept by Townley, spelt it out:
"This dramatic increase in adult-style 26- and 27-inch wheel multi-speed bicycles is attributable in large part to youth riders in the thirteen- to seventeen-year-old segment of the population, graduating from the hi-rise bicycle to the sophisticated derailleur-equipped lightweight bicycle."
Schwinn's analysis chimed with that of safety consultant Dr. Kenneth Cross who, writing for a motoring organization in 1978, concluded, rather blandly: "The so-called 'bike boom' that commenced in 1969 was due principally to a dramatic increase in the use of bicycles by the teenage and adult populations."
---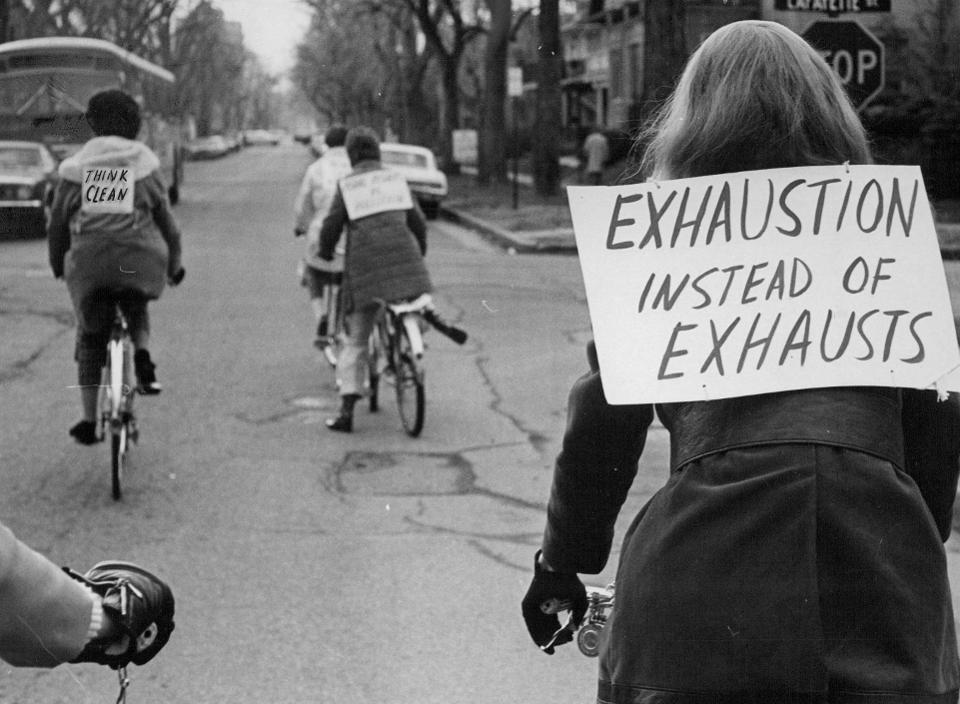 "IT IS incumbent upon us to get past the stage of talking about the revival of the bike as if we were trying to convince ourselves that it really is a viable mode of transportation," advised John E. Hirten, assistant secretary of transportation at the 1973 opening of Bicycles USA, a federally sponsored conference that he said would help cyclists find their "rightful place in the multi-modal mix."
Journalist Robert Reinhold wrote that "[the message came] through loud and clear at [the conference] that [cycling] was "a possible solution to a whole galaxy of urban ills—congestion, pollution, fuel shortage and flabby muscles, to name a few."
Bicycles USA was co-sponsored by the Departments of Transportation and Interior and staged at the Transportation Systems Center in Cambridge, Massachusetts.
Attracting 250 state highway planners, bicycle advocates, and government and police officials, the two-day conference was also attended by "several very happy bicycle manufacturers."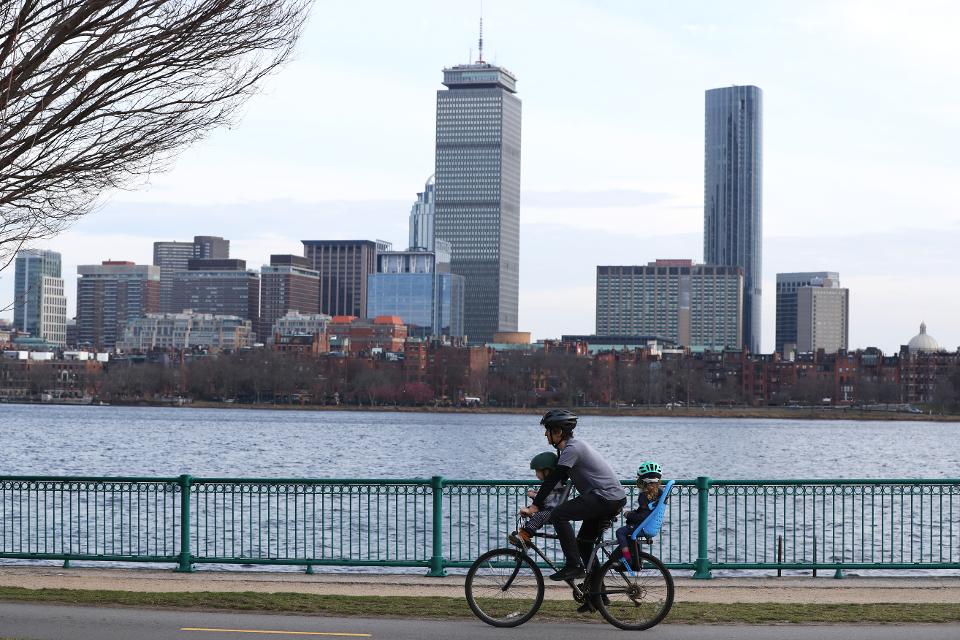 According to Reinhold's newspaper report, "a growing number of cities are beginning to regard the bicycle as an important factor in commuting patterns."
And this new status for the bicycle "has found an echo in Washington where marked awareness of bicycles has developed within recent months at the Department of Transportation," claimed Marie Birnbaum, chair of the conference and head of the department's cycling (and pedestrian) division.
Wrapping up the conference, Hirten said: "I hope we can make the bicycle a reverse status symbol, the opposite of a big car."
David Rowlands, writing for Britain's influential Design magazine, had clearly not yet visited the Netherlands, but he was impressed that a conference on cycling had attracted such high-level support from the U.S. Department of Transportation:
"What emerged from Bicycles USA was a far more comprehensive response to an expanding population of cyclists than any other country at present offers. Government assistance has been a major factor in this new awareness of the bike's potential as a means of transportation in the developed world. It is an example that deserves much wider imitation."
In fact, the Department of Transportation was about to do its own imitating. Or, at least, it would send a transport engineer to Europe to find out whether the United States could learn any lessons from what was happening in cycling countries such as the Netherlands.
The DoT's Julie Anna Fee was dispatched to Europe in May 1974 and wrote a report on how pedestrians and cyclists were treated in some European countries. European Experience in Pedestrian and Bicycle Facilities reported that "Europeans [were] returning residential areas to residents and restricting the through movement of automobiles in these areas."
Fee highlighted the fact that growing automobile use had forced some people from bicycles but that "most planners in European cities hope to effect a resurgence of bicycle transportation by the installation of separate bicycle facilities."
Amsterdam, she wrote, "is investigating ideas and techniques to encourage bicycling. It is interesting to note that in the 'city of bicycles' the method to be used to stimulate a rebirth of bicycling is to institute an extensive system of separated bike lanes.  There is generally not enough room on the street to provide a bicycle lane. Thus, in many cases, entire streets will be closed to motor vehicle traffic and designated for use by bicyclists and mopeds only."
She added that the growth of cycling in the U.S. suggested the nation should accelerate its provision for cyclists: "Bicycle activity in Europe is far more extensive than in the United States. However, the trend of bicycle usage is decreasing, as opposed to the increase in the United States."
MORE FROM FORBESElon Musk Dismisses Induced Demand, A Phenomenon First Witnessed In 1866By Carlton Reid
A major report from the U.S. Environmental Protection Agency (EPA), also published in 1974, came to the conclusion that America should ape the Netherlands and build urban networks of cycleways.
Bicycle Transportation praised the cycling facilities in Europe and said: "America is experiencing an unprecedented boom in bicycle sales and uses. In 1972, bicycles outsold automobiles by 2 million. The Federal Government is beginning to recognize bicycles as a viable form of transportation."
The EPA report remarked that "40% of all urban work trips made by automobile are 4 miles or less. These short trips could easily be made by a bicycle at 13 mph in less than 20 minutes."
What would get more people on bikes, asked the report? The answer seemed obvious: "38% of the bike owners said they would commute by bicycle if safe bikeways and secure parking were available. Of the non-bike-owners, 17 percent said they would buy a bike for commuting if there were bikeways and bike parking."
Significantly, the EPA also said, "there would be a greater number of auto commuters converting to bicycling if there were more stringent restrictions placed on the auto." Spending had to be increased on cycling because the "construction of bikeways and better law enforcement are public goods requiring governmental involvement."
That year, 1974, was the peak year for governmental interest in cycling because, as well as the EPA report and the European experience report, there was the publication of the first-ever Department of Transportation cycle-infrastructure style-guide.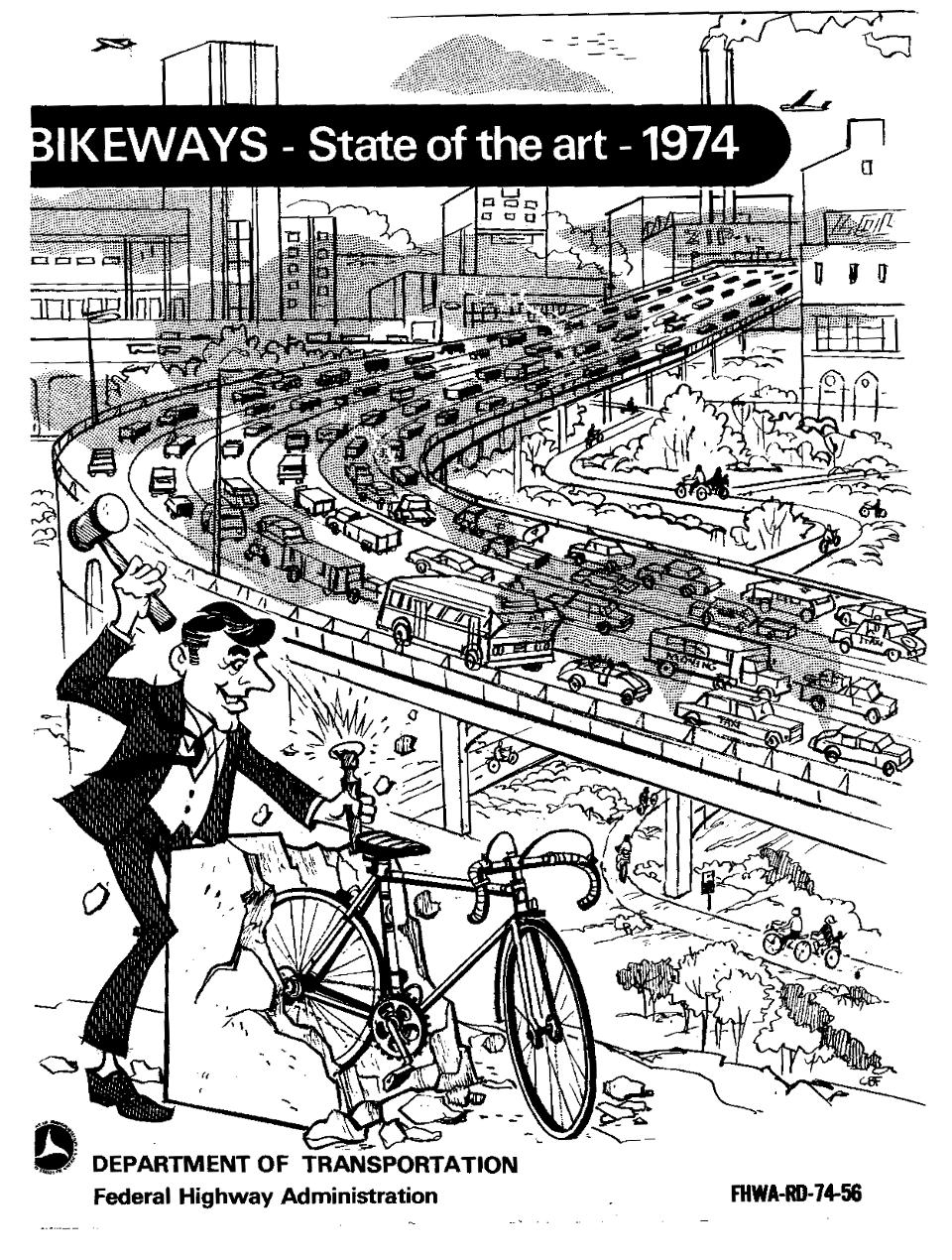 Bikeways: State of the Art 1974 was produced for DoT by an outside contractor and published in the summer. The 97-page report was "intended . . . as a first reference source for communities undertaking bikeway programs." A cartoon on the cover portrayed snarled traffic on a raised highway with separated cycleways snaking beneath, and a ten-speed bicycle was chiseled out of rock by a man in a suit.
The report included information on "protected lanes which provide a positive physical separation between bicycles and motor vehicles rather than a simple marking delineation," and praised the sort of rough-and-ready infrastructure provision now known as "tactical urbanism," and much used by cities around the world during the current pandemic.
"In Sausalito, California, planter boxes have been deployed as the lane delineation buffer," said the EPA's report.
"In this era of energy shortages, air and noise pollution, and rising costs, the bicycle offers a quiet, economical, non-polluting alternative to the automobile," stated the plan.
"But just as the automobile has needed support programs from its years of early development to its present stage of maturation, the bicycle needs them now."
In Los Angeles a Bikeway Plan wanted to create a 1501-mile "network of facilities, one that will be available to anyone who chooses to use it," and stressed "separation from vehicular traffic."
"Intersections are a big problem," recognized the plan. "Operators of turning vehicles may not see the cyclist or may not choose to honor his right of way. This is a problem with all types of bicycle facilities including a separate bicycle path which crosses a roadway. Even costly grade separations have not proven effective in some areas since bicyclists will circumvent them if not convenient."
---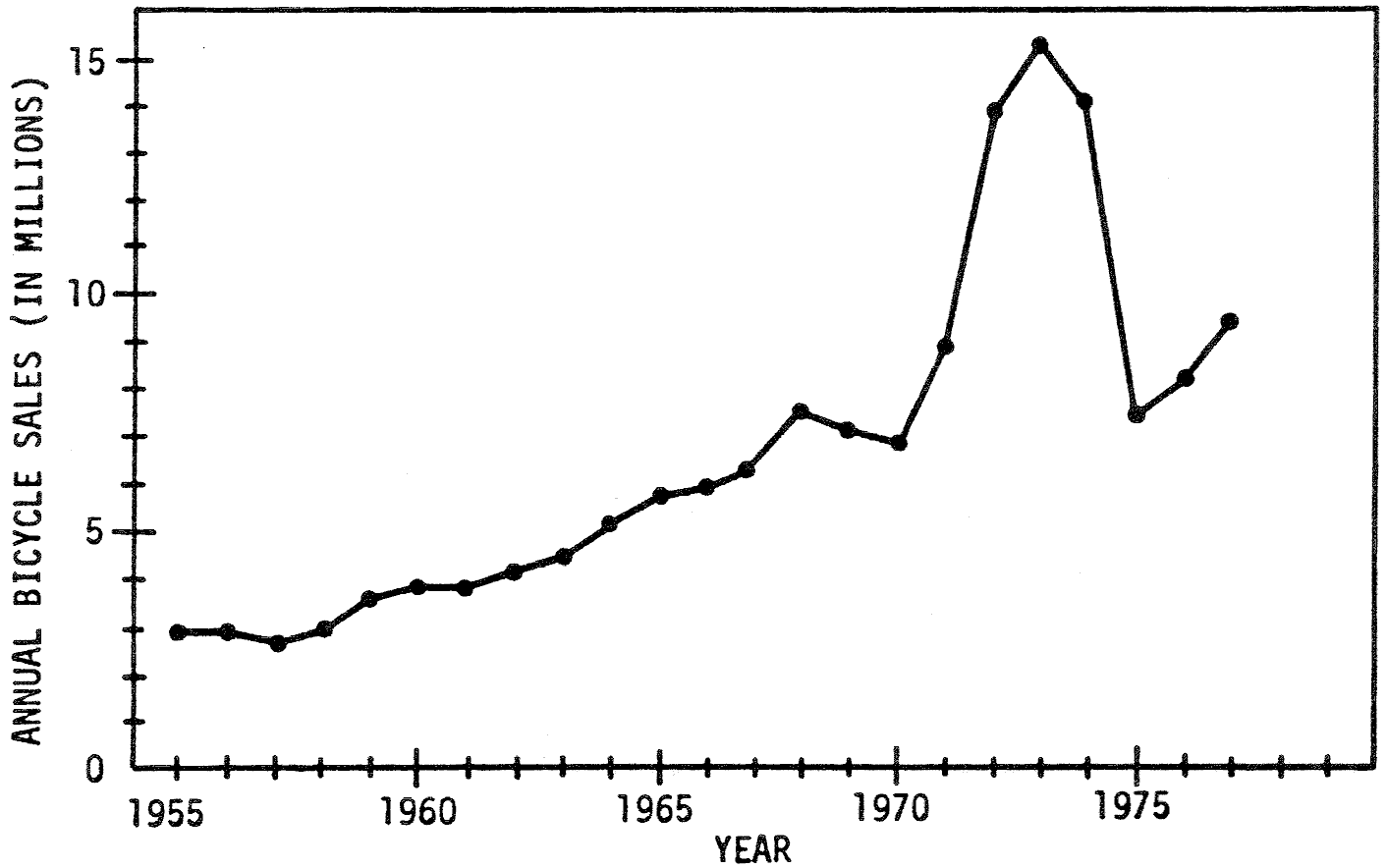 THE LOS ANGELES cycleways plan was ambitious, but it was too late. It was published in 1975, the year when the boom imploded. Bicycle sales in the U.S. fell by a full half within months.
Despite the obvious fillip to cycling in America from the 1973 OPEC oil crisis—when fuel was in short supply and getting around by car became expensive and, because of oil-saving speed restrictions, slower—cycling hadn't changed the world.
The bikeway-friendly John Volpe left the Department of Transportation to become the US ambassador to Italy. State highway planners reined back what had been grandiose bikeway plans. Bike shop lines thinned out to nothing. Bicycle manufacturers canceled overseas orders. The bike boom—and the nation's interest in bicycles—was over.
"The boom has turned into a bust," the chairman of the Bicycle Manufacturing Association of America admitted to the Senate Finance Committee in 1976.
The assistant secretary of transportation who had opened the Bicycles USA conference in 1973 had seen this coming. John Hirten, an urban planner before being appointed to his DoT role, had warned that the Great American Bike Boom, groovy though it may be, could fizzle out: "The danger is that the bike may turn into the hoola hoop of the 1970s."
Former Schwinn executive Jay Townley believes that if the bike boom had continued—if annual sales of adult bikes had stayed at 15 million for perhaps another one or two years—some of the cycleway dreams of many cycle advocates could have come true:
"If the bike boom had continued, the U.S. might look very different today," he told me by e-mail.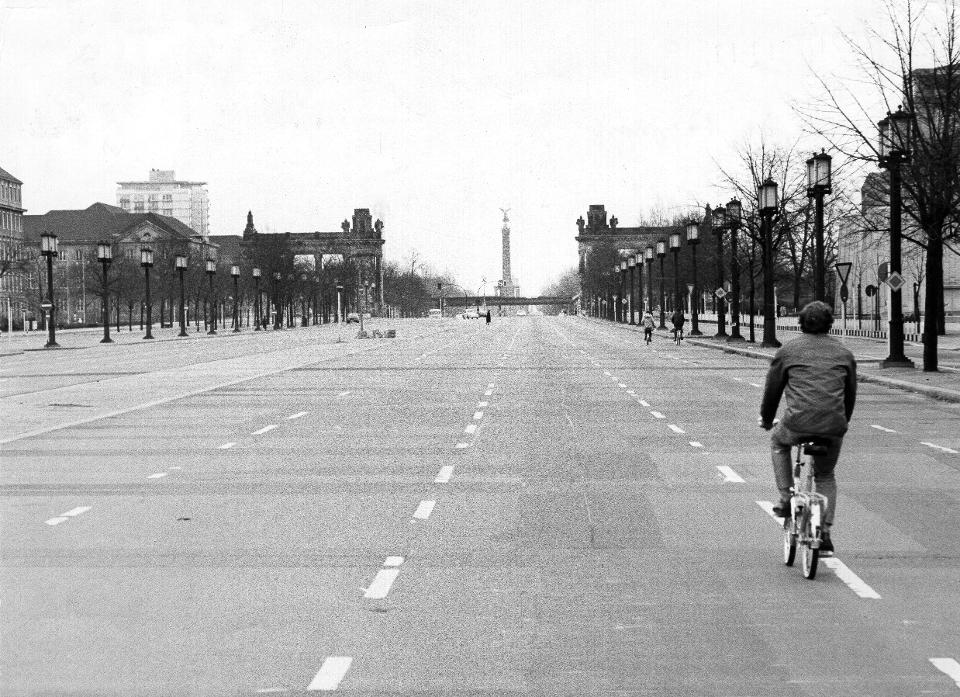 BUT THE boom did not continue, and America continued down the road of car dependence. The COVID-19 lockdown has shown a different future is possible: if we rein in the car. Cars dominate because choices were made to allow such dominance. Choices can be remade; minds can be changed.
And now is the time for cities to be bold, and many—such as Milan, Paris and Oakland, California—are being bold, removing space from cars and giving it to pedestrians and bicyclists.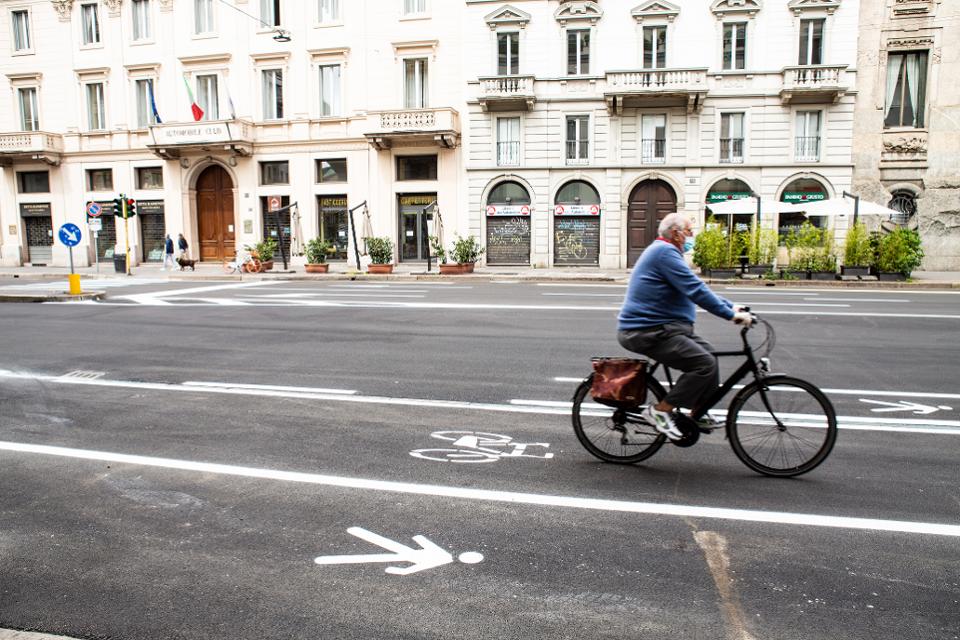 The fight to create people-first cities has always been a fight against vested interests, a fight against inertia, a fight against "that's just the way it is."
But, as we have seen during the lockdown, streets can be changed, and they can be changed radically and for the better.
An eye-opening and inspiring exercise is to look at "then" and "now" photographs of Dutch streets. Many were clogged with cars in the 1970s, but then decisions were made to remodel the streets, blocking access for cars. Today these streets are designed for people, not engines, leaving many people to assume they were always this civilized. They were not—they were changed.
The 2020 bike boom could have a more lasting impact on cities around the world than the 1970s bike boom had on America. But only if planners and politicians—and people—clamor for this change.
---
History adapted from a chapter in Bike Boom, Carlton Reid, Island Press, Washington, DC, 2017.