Hope's HB.130 is its second bike, following the release of the HB.160 in 2018. As the name suggests, it's a 130mm travel trail bike and rolls on 29in hoops.
Hope is one of the UK's best known bicycle component manufacturers and makes virtually all its parts in its UK factory, and this bike is no different.
Hope has invested in carbon manufacturing capabilities, using its knowledge of alloy CNCing to make its own molds, while also training up its engineers to be able to design, test and build carbon bikes.
Hope's HB.130 is its latest mountain bike – a 29er with 130mm rear wheel travel.

Steve Behr / Immediate Media
The front end is a carbon monocoque, while the rear is CNC'd aluminium that is bonded together. There are a number of quirks, though, with 130mm rear-hub spacing instead of 148mm. This, Hope says, gives equal spoke dishing for a better rear wheel build, but obviously limits 'upgrade' potential.
While stock builds come with Fox suspension, Hope offers a no-cost upgrade to Öhlins forks and shocks – these are less common on test bikes, so I decided to take up the offer to see how the Swedish suspension fares.
I've also chosen the Hope crank upgrade, which is a £285 option (other currencies have variable upgrade pricing).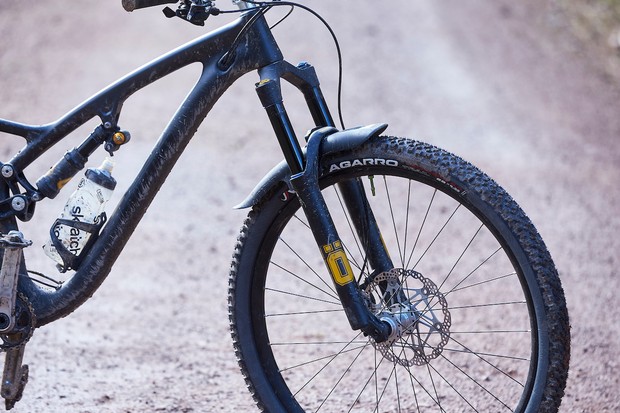 The Öhlins RXF36 m.2 fork has updated internals, but is still heavily damped.

Steve Behr / Immediate Media
Hope HB.130 specification and details
I've gone for a large HB.130 to match my 182cm height.
The frame has its carbon and alloy mix, with the 130mm hub held in place by a 17mm axle. The front of the bike is propped up by the 140mm Öhlins RXF36 m.2 fork – the latest version – while the rear is supported by an Öhlins TTX Air Shock.
The bike, understandably, comes with a lot of Hope components.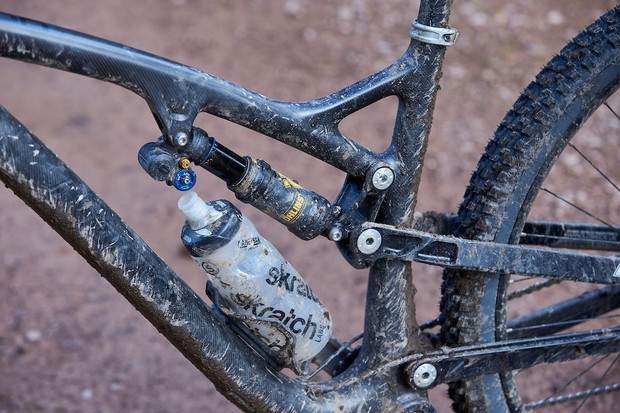 The Öhlins TTX Air shock controls the back end.

Steve Behr / Immediate Media
Hope's Pro4 hubs are in the centre of Fortus 26 rims that are shod in Maxxis Minion tyres: a DHF 2.5in WT up front and 2.3in DHR II at the back, both 3C MaxxTerra versions. The photos of the bike here were taken while reviewing a pair of Vittoria Agarro tyres, however.
A SRAM X01 drivetrain, save for the upgraded cranks, drives the bike, while Hope Tech3 E4 brakes bring it to a halt.
There's a 150mm Fox Transfer dropper holding a SDG Radar saddle, while Hope carbon bars, an alloy stem and grips finish things off.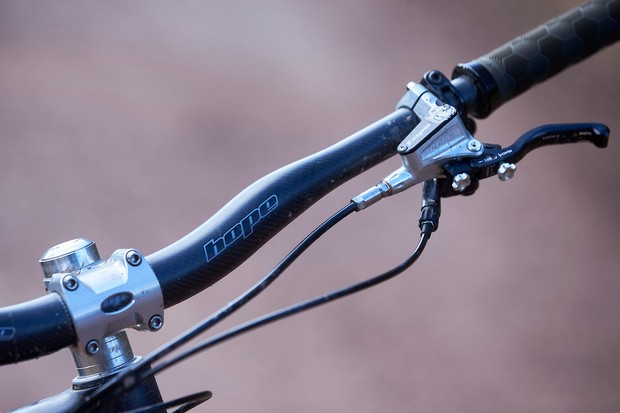 The Hope carbon bar is fairly stiff.

Steve Behr / Immediate Media
Hope HB.130 geometry (L)
The HB.130 has up to date, if not particularly progressive, geometry and this very much suits me. While I can appreciate the benefits of a super-long bike (such as a Geometron or Pole), I prefer a more 'normal' sized bike because these work better for me on a wider range of trails.
The reach (in the bike's Low setting, where it'll live) is a spacious 469.5mm, with a head angle down at 66 degrees. The 75.7-degree seat angle is steep enough on paper, and the stays are snappy at 435mm.
Head angle: 66 degrees
Seat angle: 75.7 degrees
Chainstay: 435mm
Seat tube: 450mm 
Top tube: 627mm 
Head tube: 105mm
Bottom bracket drop: 39.5mm 
Wheelbase: 1,214mm 
Reach: 469.5mm 
Why did I choose this bike?
I am, at heart, a trail rider. While everyone loves the thought of being some enduro superstar, I just love riding a bit of everything – from long days on mellow terrain to steep and frantic techy trails in the Alps. As such, this breed of mid-travel, but modern-shaped, trail bike suits me down to the ground.
I'm also a huge fan of 29in wheels. I'm tall enough to avoid the rear-wheel clearance issues on steep terrain and I love the way they roll over bumps and carve corners.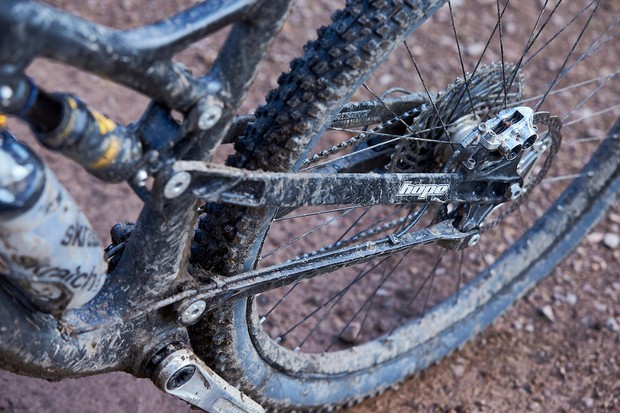 The thin stays add an element of flex to the back end.

Steve Behr / Immediate Media
If I were to spend my own cash on a mountain bike, it would certainly be this kind – no question.
The HB.130 is also a very interesting bike. I'm not emotionally connected to the Hope brand in any way, nor UK built bikes for that matter, we live in a global community after all, but its story is one steeped in MTB history. I certainly came away from the factory tour (that's available to HB.130 and HB.160 customers if you collect your bike) impressed. 
Last year, I rode the Specialized Stumpjumper EVO, and while I could see where and for whom it worked, it didn't quite suit me. So, this year, I'm very excited to be riding a bike that I know is, on paper at least, built exactly for someone like me.
Hope HB.130 initial setup
I'm kind of used to just jumping on a bike and riding off from the get-go with minimal playing around with suspension or cockpit setup. However, the HB.130 has needed a little more tinkering to get it to a point where I'm happy.
The Öhlins suspension has a lust-worthy appeal, but I've found that I'm having to run it as open as possible to get it feeling near right. The damping feels relatively heavy, even when compression dials are fully open and rebound is almost as fast as it'll go. I'm in touch with Öhlins about this and will report back.
I also needed a few rides to get the brake levers set up just-so. While having both reach and bite-point adjustment available isn't new, it took me a few rides to get it set up how I want it, with a lot of twiddling of each adjustment either way – especially as I like both brake levers to feel identical.
The bedding in period for the brakes also took a little longer than expected, so my initial impressions of the brakes weren't entirely positive. However, with a bit more time on the bike, bite and power has improved – patience is a virtue.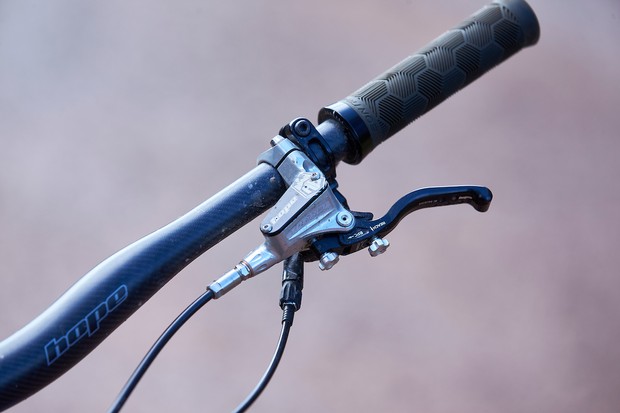 A Hope Tech3 lever offers plenty of lever adjustment.

Steve Behr / Immediate Media
Other than that, setup has been fairly easy. The Maxxis rubber supplied would be my own personal choice for the most part (I put a Maxxis Shorty up front as we battled through the wettest winter since Noah built his ark), and I attached a pair of Nukeproof Horizon CS pedals – my platform of choice.
Hope HB.130 ride impressions
First impressions count, and mine of the HB.130 were mixed, but generally positive.
The shape is spot on in my eyes. Some of my colleagues might prefer a longer reach, but I like the sizing. It's short enough to not feel like a barge, long enough to give stability in most situations, and it's a size and shape that I've found very easy to sit on and ride.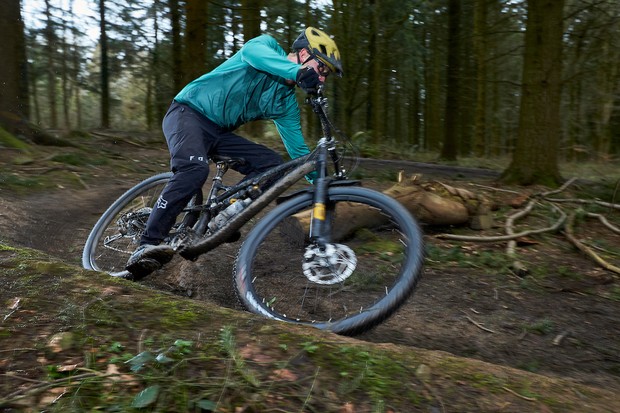 Fairly neutral geometry means the HB.130 throws up no surprises when you first jump on it.

Steve Behr / Immediate Media
What surprised me at first was the rear end's flex. There's a fair bit of side-to-side twang back there, which certainly has its pros and cons, and I plan to explore them more in the coming months (lockdown dependent).
Where it works really well is on off-camber trails and corners, where it's possible to really push the shoulder of the tyre into the dirt to extract maximum grip. On the woody trails I love to ride, this has clear benefits.
When barrelling through really choppy, harsh terrain, though, a stiffer back end would give a more precise feel. I've had a few issues with the rear axle loosening during rides and I reckon an element of this is thanks to the rear end flexing around a bit. I've properly greased the axle now and I'm hoping that this will solve the problem.
I picked the Öhlins suspension option because we almost exclusively seem to have Fox and RockShox on our long-term bikes, so I figured it would be great to try something different.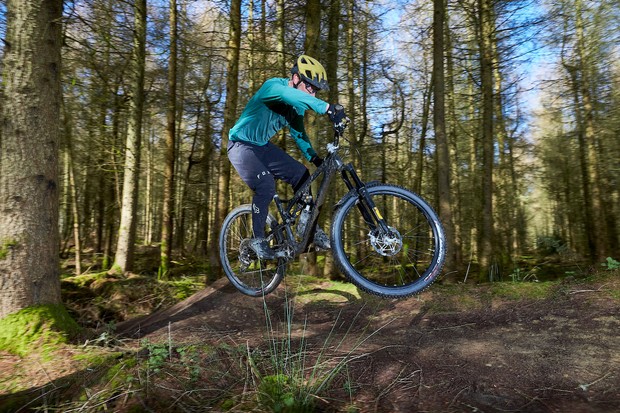 Stable, yet not sled-like, the HB.130 is happy in the air.

Steve Behr / Immediate Media
The damping is heavy, leading to a slow, but composed, feeling suspension at the front and back. This is fine on steep, sloppy, muddy tracks where big g-outs are confidently dealt with and also helps keep the bike nice and stable under pedalling. So I'm yet to feel the need to reach for the compression switches.
However, over harsher rocky and rooty trails the suspension, while not binding or spiking, doesn't smooth the ride as well as I'd like. This also accentuates the fairly harsh feeling handlebars.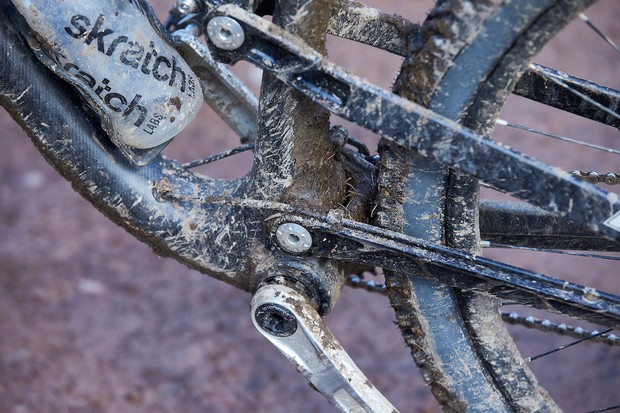 In sloppy conditions, a fair bit of mud collects at the back.

Steve Behr / Immediate Media
As mentioned, the brakes took a while to get performing as I expected. The bed-in process took a little while and the lever setup required a bit of fiddling.
Happily, I've got the brakes offering decent (if not outstanding) power and good enough bite to keep me happy too. They're not as sharp as Shimano, but feel perky compared to the softer feel of a SRAM Guide, for example.
Hope HB.130 upgrades
From stock there are few components I plan to change.
First to go will be the handlebar. It's not the most compliant out there and, with the fork damping being fairly heavy, I want a bit more comfort at the front end on rocky trails.
It's also 780mm wide and I prefer an 800mm bar. I've got a set of Nukeproof Horizon bars to try, so they'll be fitted very soon.
Hope's new Evo crank is a bling addition to the bike.

Steve Behr / Immediate Media
I've contacted Öhlins about the suspension damping, so will change that if I can.
One area where long-term bikes are often 'upgraded' is the wheels, but with Hope's 130mm rear hub spacing this isn't easy to do.
The rims are 26mm wide internally, which isn't huge, so on paper I would probably have swapped them at some point down the line, but I'll keep them on the bike for now. It'll keep me running 2.3in tyres at the back and no more than the 2.5in up front.
Down the line I may look at a rim swap, should I want something wider.
BikeRadar's 2020 long-term test bikes
At the start of the year, every member of the BikeRadar team selects a long-term test bike to ride over the course of the following 12 months. Some choose a bike from their favoured discipline and ride it hard for a year, others opt for a bike that takes them outside of their comfort zone.
Our long-term test gives us the opportunity to truly get to grips with these machines, so we can tell you how they perform through different seasons and on ever-changing terrain.
We also use them as test beds for the latest kit, chopping and changing parts to see what really makes the difference – and help you decide which upgrades are worth spending your money on.
To see all of the BikeRadar team's 2020 bikes – and stay up-to-date with the latest developments – visit our long-term review hub.