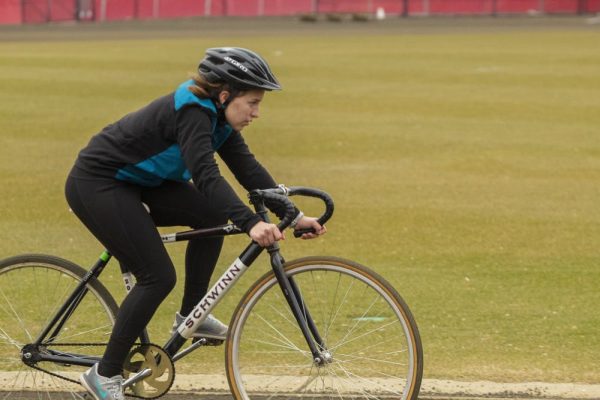 April 24 would've been race day. It would've been the day the cadets on the women's Army Reserve Officers' Training Corps bike team raced in their first Little 500. 
Despite early morning cycling sessions, Army training sessions, a case of mono, a broken nose, a concussion and a hip injury, the all-rookie women's Army ROTC Little 500 team was fully prepared to race before the cancellation of "The World's Greatest College Weekend" was announced March 15. 
Sophomore Josephine Froelich began to organize the team in the fall with help from her fellow cadets and was later named captain by her teammates. The rookie cadets reported to the higher ranking senior cadets and the cadre members to ask for permission and assistance in forming a team. The cadre members actively serve and are stationed in Bloomington to run the IU ROTC program.
Froelich had help from their coach, Rob Mathioudakis, a former ROTC cadet who rode for Black Key Bulls when they won the men's Little 500 in 2017.
Together, they led five freshmen cadet riders Kaye Terryberry, Bret King, Sara Grossniklaus, Marisa Patel-O'Connor and Lauren Alexander through training for would have been the first women's Army ROTC team in the race since 2005. 
Froelich also led one non-ROTC member, freshman Ashley Alcala, through her first Little 500 training experience as well. Froelich said Alcala was the first rider she recruited to the team because she said she knew Alcala would put in the work to train. Both knew each other from the Arabic flagship class that they had together.
"It's a real honor to lead these girls because they are all super strong and super dedicated," Froelich said before the races were canceled. "It's a really great feeling to say this is my team, and we are here to represent ROTC." 
Training for the race brought challenges. Injuries were so prevalent with this team that Terryberry said one of the cadre members referred to it as "the death team." 
Froelich would have been unable to ride in the bike race due to her case of mono she contracted after winter break. She had a fever for the whole month of February, and the weekend before rookie week, her doctor told her she could not participate in any physical activity.
Her doctor warned that any physical activity could rupture her enlarged spleen. Froelich was unable to finish any of the required 17.5 riding hours. 
"I was really disappointed, but there's nothing you can do about it," Froelich said. 
Froelich was not the only teammate who wouldn't have been able to race. A hip injury early in the fall semester during Alexander's ROTC training would have also prevented her from competing. 
King was concussed during rookie week after she was cut off by another rider on the track. She fell head first from her bike into a gutter. 
"It was a little dangerous, not going to lie," King said with a smirk across her face. 
Patel-O'Connor broke her nose after a faulty bike exchange. Both she and King would have been able to recover in time to race. 
Women's teams have ridden under Army sponsorship in years past, but an ROTC sponsorship has been absent for the last 15 years. Since 2014, no women's Army team has qualified for the Little 500. 
Chester Ciudad is the human resource assistant for IU ROTC and started working with the ROTC program in 2011. He said this would have also been the first time since he joined that female cadets have been allowed to race. 
While the team was training as a rookie team for the Little 500 race, it also carried the pressure of riding under the Army ROTC name.
"Since we are branded as Army ROTC, we have a name to live up to," King said. "It is not easy coming in as an all-rookie team and already having that label high above our heads to perform at our ultimate level."
Grossniklaus said that once other teams associate them with being from the Army, they automatically become intimidated because of the physical reputation of an Army cadet. However, the team comes from various athletic backgrounds including powerlifting, boxing, rowing and soccer.
They combated this perception from other teams even though the race was just as new to them as other rookies. 
The team did not see its cadet status as an advantage over other teams, but its army training and Little 500 training complemented each other.
"Here we are in this one program where you are expected to be above and beyond as an athlete," Terryberry said. "You come into this competition for biking, but just because you can run a fast two miles does not mean you can ride a bike really fast."
Perhaps the biggest connection between the two styles of training was endurance. The rookies said both workouts tested their endurance levels and built upon each other. 
For three days each week, the cadets had physical training where they had to be in formation at 5:45 a.m. They would finish body weight workouts by 7 a.m. that consisted of exercises such as pushups, burpees and squats. Froelich said sometimes they would also be required to run up to five miles. 
To counteract the demanding workouts, the cadets used stretching to take care of their bodies.
"ROTC is very aware of injury prevention and taking care of your bodies," Froelich said. "So they work us hard, but then they make sure we are okay."
On Thursdays, the cadets have a lab day where they train near the cross-country courses by the new hospital being built and work on tactical skills and missions. One of their lab day trainings involved a game of paintball. 
For the cadets' Little 500 workouts, Mathioudakis designed workouts around their ROTC training. Most of the time was spent on the bikes. If they were not on the bikes, the team was doing core and short sprints. 
"It has been a great learning experience with learning how to balance our life with the Army, our academics and the Little 5 while not over doing it," Terryberry said. 
Despite all the challenges it juggled, including the cancellation of the race, the team is excited for a second attempt to qualify. There's more time for the riders to focus on their fitness and the skills they learned during rookie week. Froelich said the team is maintaining a positive attitude.
While this rookie team will not be competing this spring, Froelich said every woman who was planning to race this year is ready to put in the work again for next year's race. 
"I think for us, we have to keep in the back of our heads that we are a rookie team, and that is OK," Froelich said. "With all the things that come with being new, you need to figure it out together and not stress about winning first."
Like what you're reading? Support independent, award-winning college journalism on this site. Donate here.