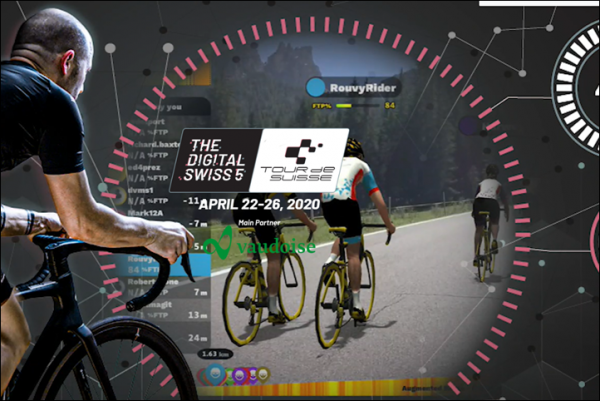 Over the past few days, and over the coming days, Rouvy is hosting the Digital Swiss 5. That confusingly named event is basically the digital version of the Tour de Suisse (Tour of Switzerland), one of the major pro cycling races on the annual calendar. But not this year, it's been canceled.
However, what's most notable about this is that it's by far the 'biggest' esports race to occur within cycling. You can use any definition you want on 'biggest': The largest live TV audience (27+ countries, on real broadcast networks in all of them), all 19 UCI WorldTour teams, or some 57 WorldTour pro riders concurrently competing each day, or even the fact that it has five stages.
Again – no matter which metric you want to use, it's the biggest and most prominent use of virtual cycling within the pro cycling scene. Which doesn't take credit away from Zwift. Undoubtedly they've been the tip of the spear when it comes to esports cycling races, and have been for some time. Last year they held the first event to be held on broadcast TV, and then of course, consequently the first event to have a racer stripped of their crown for cheating. Such is life when you're first.
But this isn't about Zwift. This is about what Rouvy is doing, and perhaps whether or not it (or any other esports) is sustainable.
Rouvy's Race:

While most of the online indoor cycling events that we've seen over the last month or so have been put together hastily, the Rouvy variant of the Tour de Suisse actually wasn't a last-minute thing. At least, not in its original format.
For that, you'd have to turn the way-back machine to last year. Last December they signed an agreement with the Tour de Suisse to host a virtual 8-stage variant of it, with the agreement lasting 3 years. The idea was that regular consumers could compete on the planned stages ahead of the pros (or even during the same time period). Of course, that was when the race was still going forward and to be held outdoors. It didn't have the entire length of each stage – since most people don't really want to spend 3-5 hours riding each stage route indoors. Instead, they consolidated them into highlight variants.
Of course, that all shifted last month in March when the Tour de Suisse decided to hold a variant of the event indoors atop Rouvy. This is notable because it marks two major pro-level wins for Rouvy, almost back to back. The other being Ironman holding their VR series pro races on the platform, also live-streamed to an audience far larger than any other platform we've seen before.
In the case of Rouvy and the Tour de Suisse, all 19 UCI WorldTour pro teams have put forth three riders for each stage. However, those riders can change each stage. The total list of 'available' riders on the bench to compete in the Digital Swiss 5 is the bulk of the 2020 UCI WorldTour pro field (complete list here), roughly about 200 riders. However, there are some notable omissions. For example, you won't find Chris Froome or Geraint Thomas on the list – nor will you find Peter Sagan. Sagan recently noted that he has no desire to race indoors, while I suspect that Geraint isn't on the list due to his sponsorship agreement with Zwift. Still, there's a massive number of A-list riders that are on the list.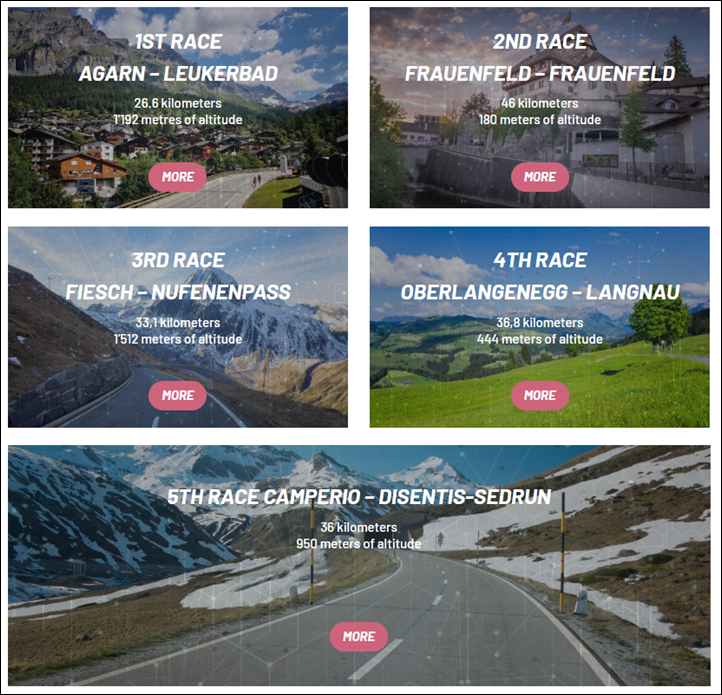 When it comes to the routes, they've all got a fair amount of climbing in them – logical, given so does the real-world race. Each of these routes is visible in Rouvy, and in fact if you crack open the Rouvy AR app, you'll see them listed here: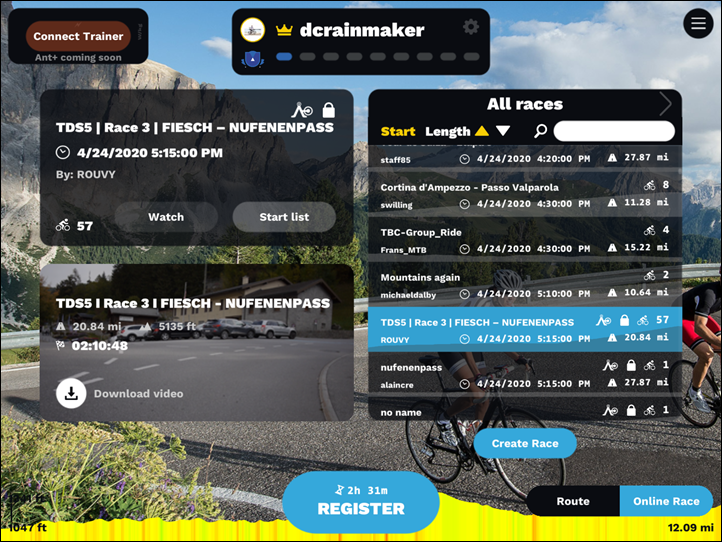 Come broadcast time, the racers line-up, many of them with all sorts of webcams or other connected cameras pointed at themselves. Their sponsorship game is virtually always on-point. Many of them have team banners with their sponsors behind them (likely shipped to them ahead of time). Others have extra team gear in the background.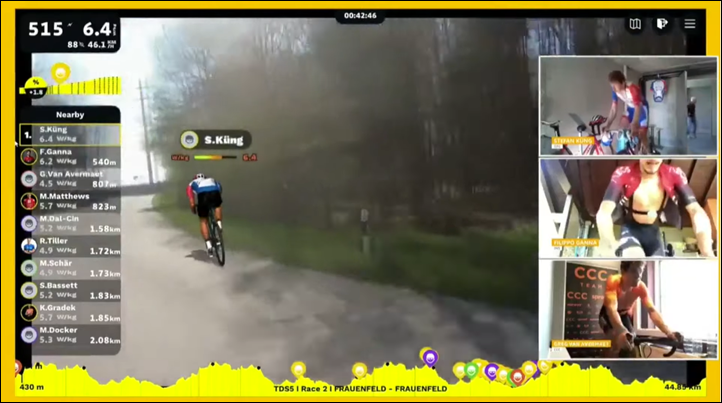 Some like Filippo Ganna from Team Ineos had their jersey opened to show their team-sponsored Wahoo TICKR heart rate strap. And ya know what? That's probably how it should be. That's the sign of a professional athlete knowing that their bills are paid by their sponsors, and in this time – perhaps more than any other, it's key to show support of those sponsors that are still paying those bills.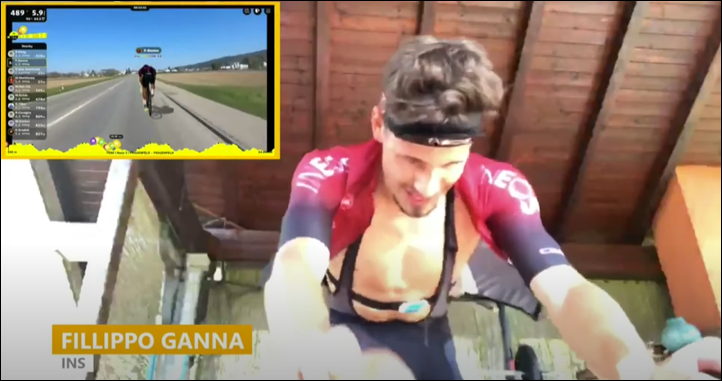 Each day at 5:10PM the race begins. The races are commented in multiple languages by the organizer itself, and then by various TV stations beyond that. Here's the list of all the TV stations and countries it's currently being broadcast in:
Europe:

Belgium, Poland, Portugal, Italy: ELEVEN Sports Network
Bosnia Herzegovina, Croatia, Montenegro, North Macedonia, Serbia, Slovenia: SportKlub
Denmark: TV2
France and DOM-TOM: L'Équipe
Germany: ZDF
Netherlands: NOS
Norway: TV2
Switzerland: SRG
UK: BBC Sport

Middle East

Israel: Sport 5

Africa:

Sub-Saharan Africa: SuperSport

Asia:

Japan: J Sports
Myanmar, Taiwan: ELEVEN Sports Network

North America:

USA and Canada: FloBikes

AUSTRALIA/NEW ZEALAND

Australia: SBS Australia
New Zealand: Sky NZ

GLOBAL

Olympic Channel (excluding USA and Canada)

Live streaming

Velon, and Rouvy, and the participating teams will be live streaming each race on their Facebook and Twitter channels (except in the USA, Canada and Japan).
For example, here in the Netherlands, I can actually watch it on NOS – either on my real-world TV like any other broadcast sporting event, or streaming using the NOS website. Still, it's odd to me that there are such huge exclusions around the USA & Canada, specific to only having that available on FloBikes. That seems like a pretty big miss.
Still, It's kinda hard to imagine a scenario where just a few short months ago we would have said that 27+ countries were streaming this daily on real-word broadcast TV networks. Or that this would be the current state of pro cycling. Or probably for that matter you'd have assumed such an event would occur on Zwift, the largest of the indoor bike racing platforms.
[Technically Peloton is the largest indoor cycling platform at twice the size of Zwift, and as amazeballs as it would be to see 57 pro cyclists lifting arm weights mid-ride synchronized to music as part of a 80's Music Rock Ride workout – I think we can all agree it's probably not the most ideal venue for this competition.]
In any event, the first thing you'll probably notice about the Digital Swiss 5 is the broadcast quality is high. When I watch it on any platform with my reasonably good internet here, the imagery is sharp and the commentators don't skip a bit (at least in English). Just like with other major races, Tour de Suisse provides a broadcast feed to the various broadcasters, and then those country/network broadcasters will add their own commentary (or overlays).
Throughout the broadcast they'll switch between the various competitors' webcams as well as the route and overlaid AR competitors. The entire competition is based on Rouvy's Augmented Reality technology that they introduced nearly two years ago. That means the courses are real-world video of actual routes (with changing gradient to match). Then, the riders are overlaid atop it, to appear as though they're in the video.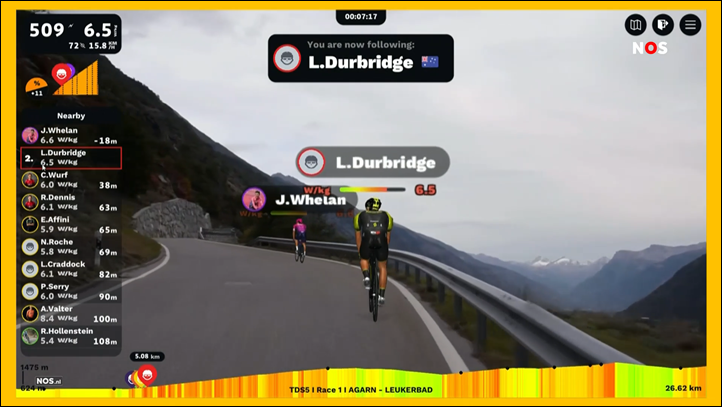 They've done the work here of digitizing all the team kits as well as getting correct avatars for many (but not all) riders in-game. It's interesting to note however the stream quality varies considerably. When I watch it on NOS (Dutch broadcaster), it's super-crispy, as seen in the above screenshot. Yet, when I watch snippets from Velon's Facebook/YouTube pages later, or even Rouvy's daily stream on their Facebook page.
Within the race they'll toggle to the map view from time to time, showing the 'peloton' spread out across the countryside: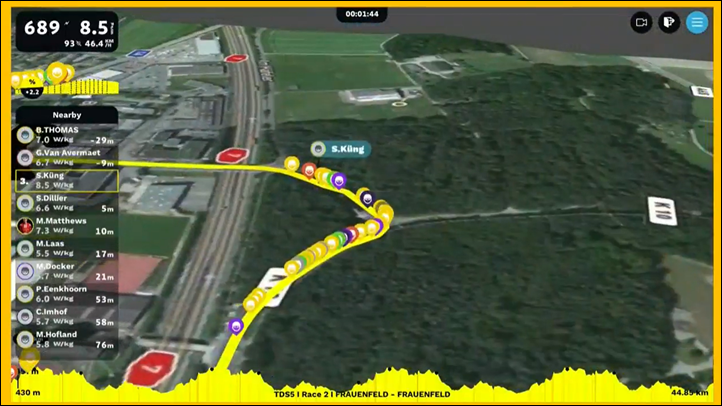 At other times they'll switch to a mass screen grid showing 16 riders spinning along suffering on trainers: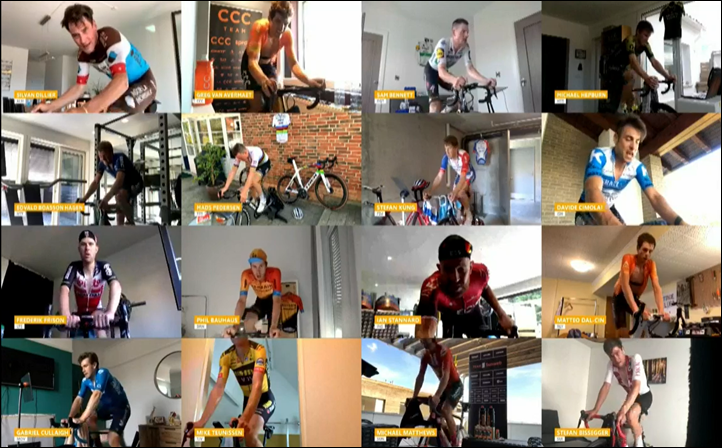 And other times they'll cut to the rider (complete with enough nutrition to last him all 5 stages). The video quality of each individual rider varies of course, likely based on their individual home internet connectivity and camera setup. But it's super-clear that this has been tested/practiced/rehearsed with if not all, but a large majority of the riders. No rider (or more importantly team), wants to be the one that's fumbling around trying to get the app or trainer working in front of a global audience.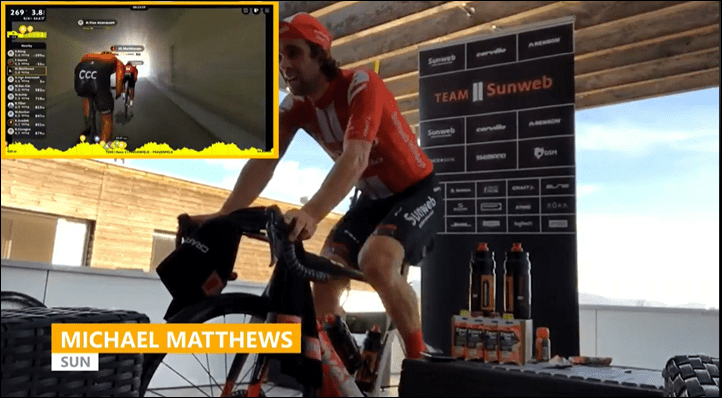 Still, there are some catches. For example – the way Rouvy is filmed (facing forwards) means you can't get numerous shots from the sides, a helicopter, or really any other angle. The vast majority of the time it'll be looking in the same direction as the rider. However, there are exceptions to that. For example, this series of shots here where they've used Google Streetview and super-imposed the rider on that, as they pan through the shot:
That's something you probably didn't even notice was occurring – but they're literally toggling between what are in effect entirely underlying different platforms all seamlessly to you. For those techies in the crowd, you likely understand how impressive that is from a technical level.
Throughout the race there are placement stats on the screen, just like in real-life, and then as soon as the riders cross the line there are final stats there: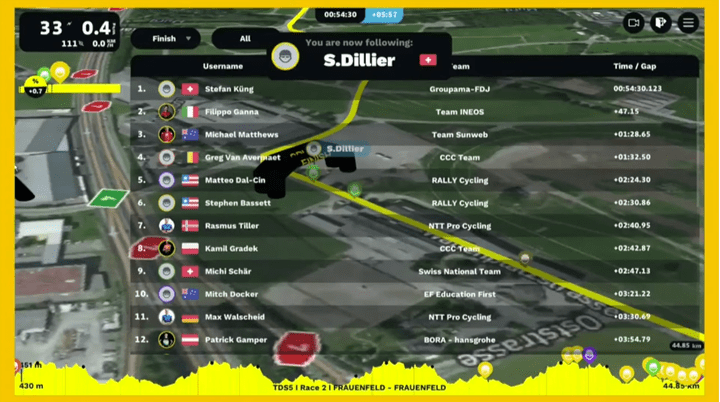 Additionally, up on the website there are complete detailed stats too for each stage: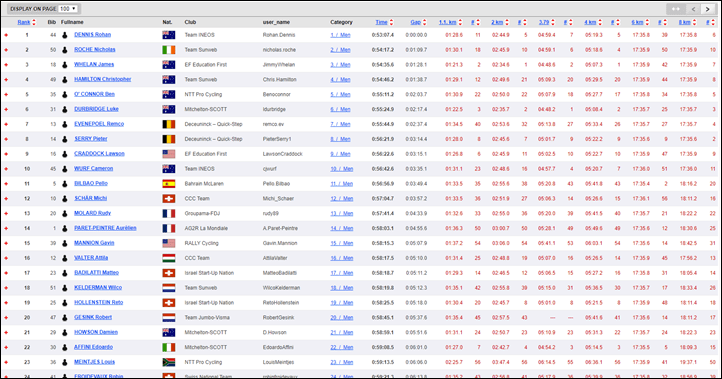 Heck, afterwards in some cases there are even rider interviews. I'm not kidding: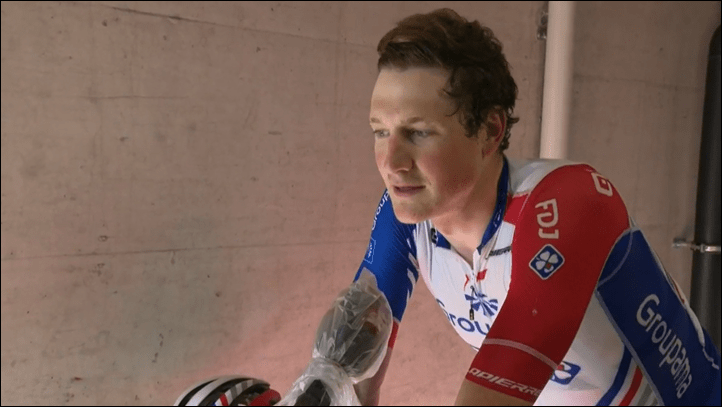 The details of how or where FDJ's rider is with respect to the microphone are a bit fuzzy to me. From other snippets of their webcam, it appears they're in a concrete nuclear fall-out bunker. But what I do know is that the microphone is properly wearing a mask, so, we're all good.
Going Forward:

Is this the future of professional cycling? I sure hope not. Which isn't a slam on Rouvy, Zwift, or anyone else. But rather a simple observation that it's lacking much of what makes outdoor cycling awesome – be it the excitement of real-world fans alongside the course, the challenges of mechanical issues (or worse), or the fatigue complexity element that comes with trying to travel while doing a stage race. Those are all aspects of professional cycling, and all aspects that make it interesting and unpredictable. Whether or not someone's trainer is inaccurate doesn't tend to be one of those aspects.
Still, to dismiss it is equally silly. We've seen huge strides over the last year in what makes for a more interesting esports variant of cycling. It's not perfect yet. If we imagined the Digital Swiss 5 playing out in broadcast quality studios with teams of fans around them instead of isolated in their living rooms, it'd probably increase the engagement level. If we imagined 2-3 camera angles per ride in a crispy resolution – that'd also increase engagement level. And perhaps those are things that'll come in time.
And for now, we likely have a lot of time on our hands. There's realistically no major WorldTour level cycling races that are going to happen for many months to come, in even the most idealistic of scenarios. Until that point, these sorts of events help keep fans engaged to the sport they love and athletes they support in one of the only ways possible. And regardless of the platform, I don't think that's a bad thing. After all, once outdoor racing opens back up, I'm sure we'll all be happy to get outside and compete again.