Many Subaru owners lead active lifestyles and go mountain biking on the weekends. What is best for your Subaru Forester, Outback or Crosstrek, a rooftop carrier or trailer hitch carrier? If you haven't already purchased a roof carrier, you might want to consider a trailer hitch bike rack instead. Consumer Reports did a study of roof vs trailer hitch bike racks and here's the data.
CR measured how different bike racks, when empty and when loaded with two adult-sized bicycles, affected the fuel economy of a Toyota RAV4 small SUV going 65 mph. This would be very similar to a 2020 Subaru Forester compact SUV.

The Subaru Outback is a popular model for outdoor adventures
The Toyota RAV4 SUV was less affected by either rack type, but the hitch was still the clear winner. With a roof rack, and carrying two mountain bikes, there was a 19 percent reduction in fuel mileage and 5 percent less when empty.
With a hitch rack carrying the same two bikes, the SUV had a 12 percent reduction in fuel mileage and 2 percent less when empty. A hitch rack is also easier to remove than a top rack which CR says will help encourage you to take it off when you don't need it and save fuel.
The seven percent fuel savings might not be enough to persuade you from getting a rear hitch carrier for your mountain bikes. There are benefits and both have downsides.
Rooftop bike racks are a bit more secure, and allow you to access your rear liftgate and load cargo easier. Roof racks are a good choice if you don't mind lifting the bike onto the roof and low-clearance garages or ceilings aren't an issue.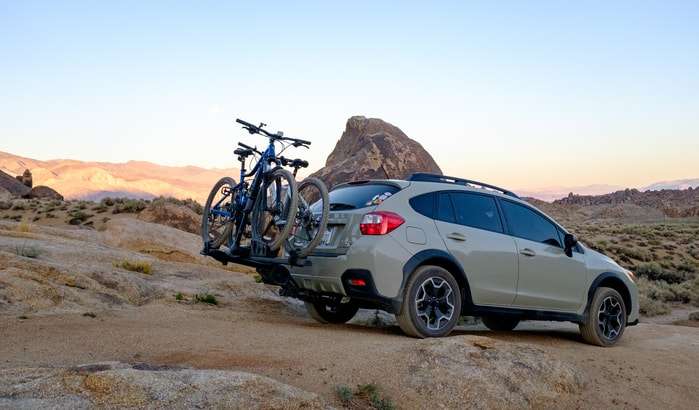 Hitch bike racks allow you to easily get to your bikes with moderate lifting (unlike roof racks). A rear carrier can easily be swung away from your tailgate so you can access your rear cargo area.
Mountain biking is one of the fastest-growing sports around the globe. In the mountain regions of the U.S., Canada, New Zealand, France, and South Africa, it's gaining popularity. We think the best way to transport your bike is a hitch-mounted bike carrier as opposed to a roof-mounted bike rack. A roof-mounted bike rack can be challenging to load-and unload, and it affects aerodynamics, which increases fuel consumption.
Thule offers a sweet 2-bike hitch-mounted carrier that allows tailgate access. Its lightweight aluminum rack is nearly half the weight of most hitch racks, for easy handling, installation, and removal. The carrier is unique to Subaru and designed to properly attach to the Subaru trailer hitch. It fits newer Forester, Outback, Crosstrek, and Ascent models.
You Might Also Like: 7 Best Accessories You Can Fit To The Dirt-Loving Subaru Forester, Crosstrek, Or Outback
Denis Flierl has invested over 30 years in the automotive industry in a variety of roles. All of his reports are archived on our Subaru page. Follow Denis on Facebook, Twitter, Instagram, Subaru Report. Check back tomorrow for more Subaru news and updates at Torque News!
Leave your comments below, share the article with friends and tweet it out to your followers!
Photo credit: Subaru, Wondering Always