Of all the bikes we tested at the Gravel Bike Field Test, none strayed as far into proper road bike territory as the Cervelo Aspero. It looks the part, and feels the part, but it also boasts very generous tire clearances that raise its capability level far above what you might otherwise expect from a brand so deeply rooted in racing on asphalt.
The Aspero may not be the most rough-and-tumble gravel bike out there, but that's just how Cervelo wanted it — and depending on the type of gravel you're riding on, that's not necessarily a bad thing.
---
Story Highlights
What it is: Cervelo's first drop-bar bike purpose-built for riding off-tarmac.
Frame features: Modular monocoque carbon fiber construction, TrailMixer adjustable steering geometry, internal cable routing, BBright press-fit bottom bracket, room for 700×42 mm or 650×49 mm tires.
Weight: 1,110 g (claimed, medium painted 56 cm frame only); 450 g (painted fork only, uncut steerer); 8.84 kg (19.49 lb, as tested, 51 cm early-production Ultegra RX model, without pedals.
Price: US$4,000 / AU$5,300 / £3,600 / €4,000 (standard Aspero GRX 810 Disc model).
Highs: Quick handling, sleek aesthetics, road-bike-like fit and feel, excellent tire clearances.
Lows: Road-bike-like fit and feel, press-fit bottom bracket, quick handling.
Road bike geometry with a twist
We've mentioned on several occasions that gravel bikes are a lot like mountain bikes in that they occupy a broad spectrum of intended usages and types. Some boldly steer more toward the off-road adventure realm, resembling something like two-wheeled, human-powered overloading machines. They might move slowly, but they can go anywhere you wish, and for a long, long time.
Others stick closer to their road bike roots, prioritizing speed and agility, low weight and efficiency. Athletic almost to a fault, they shed excess and prefer to move fast and light. In terms of four-wheeled analogies, they're the rally cars of the bicycle world.
The Cervelo Aspero very much adheres to the latter philosophy.
Its carbon fiber frame hints at more than a little bit of aerodynamic shaping with its U-profile down tube and seat tube, and the cross-sections in general are enormous even by road racing standards. The overall look is distinctly sleek, especially with that curvaceous hourglass-shaped head tube.
It's pretty light with a claimed frameset weight of 1,560 grams (56 cm frame and fork, painted). It uses the same 79 mm-wide BBright oversized press-fit bottom bracket shell design shared with Cervelo's carbon fiber road bikes. Cables are internally routed through the down tube, chainstays, and fork blade.
Without question, it looks like a road bike, maybe with slightly more cartoonish proportions.
Cervelo adopted more of a road-bike-like approach to the Aspero's handling, too. The head tube angle is steeper than what you typically find in this genre, and the relatively generous fork offsets further those agile intentions. Impressively, Cervelo has also produced a trio of distinct fork rakes for the six frame sizes to ensure that everyone gets the same experience.
The resultant trail dimension is just shy of 60 mm across the board, and is a distinct outlier in this genre. The Trek Checkpoint is one of the quicker-handling gravel bikes on the market, but even that has a trail dimension of 65 mm. The Santa Cruz Stigmata strays even further toward stability at 79 mm. And the Evil Chamois Hagar? That sits at a monumental 93 mm, and is the current king of gravel bike steering stability.
Cervelo offsets the Aspero's front-end agility somewhat by pairing it with a longer effective top tube and shorter stem. This maintains the usual dimensions in terms of overall fit, but Cervelo contends that pushing the front wheel further out in front of you provides enough stability and confidence to keep the Aspero from crossing over into full-blown sketchiness when riding on loose ground. As compared to a 56 cm Specialized Roubaix endurance road bike, for example, the front wheel on the Aspero is nearly 20 mm further in front of the rider.
The bottom bracket is also several millimeters lower than what you'd normally find on more conventional gravel bikes, ranging from 73.5 to 78.5 mm, depending on size.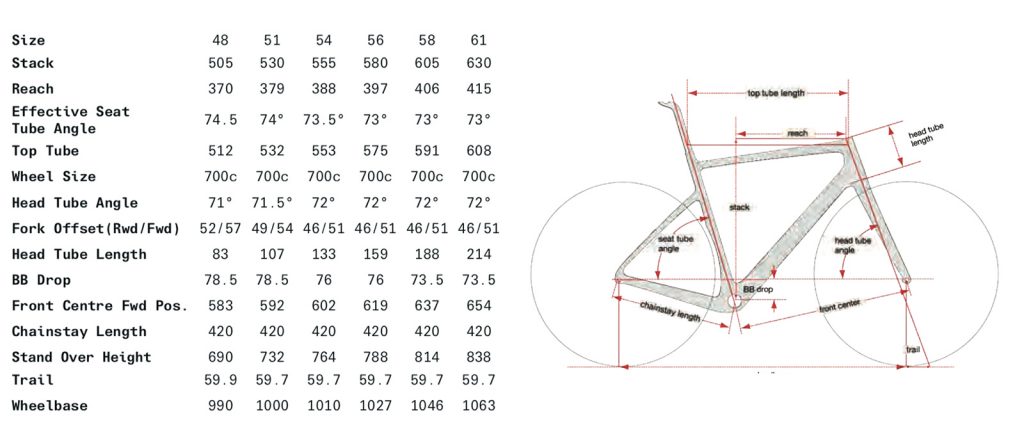 When combined with the wholly normal 420 mm-long chainstays, the end effect is that the rider's weight bias is shifted slightly more rearward than what you might otherwise expect, and also situated lower, for more of a ground-hugging feel.
All that said, Cervelo has still baked some real off-road capability into the Aspero recipe, at least in terms of tire clearances.
Despite the compact rear end, clever tube shaping still allows a 700×42 mm tire (or a 650×49 mm one) to comfortably shoehorn its way in between the stays, with just as much room in the svelte-looking full-carbon fork, too. More impressively, Cervelo has also managed to do that while maintaining room for two-chainring drivetrains (with a removable bolt-on front derailleur mount for those preferring a cleaner-looking 1x setup).
Such a broad selection of possible wheel-and-tire setups can potentially result in big variations in front-end handling given the resultant changes in trail, so the fork incorporates adjustable rake to help keep things consistent regardless of your choice in rolling stock. Dual-position "flip chips" in the fork tips change the rake by five millimeters, and while it's not exactly a road- or trailside process (since the disc brake adapter has to be changed as well), it's nevertheless a further testament to how much Cervelo is prioritizing the handling traits of the Aspero.
Cervelo is also pretty committed to the light-and-fast idea for the Aspero in terms of accessory compatibility.
There are mounts for three water bottles (with one under the down tube) and a top tube feed bag, but that's about it. There are no fender or rack mounts, and nothing on the fork blades. Looking to do a multi-day adventure? This is not the bike for you, and Cervelo isn't about to apologize for it.
The Aspero is offered in six sizes and three colors, with a choice of up to four complete build kits, depending on region. Prices start at US$2,800 / AU$3,900 with SRAM Apex 1, and top out at US$6,000 with SRAM Force AXS 1 (Australia's top model will be the Aspero Force AXS 1 for US$7,900). Bare framesets are also available for US$2,500 / AU$3,300. UK and EU prices are to be confirmed.
Actual weight for our early-production 51 cm sample (with Shimano Ultegra RX instead of GRX 810) is 8.84 kg (19.49 lb, without pedals).
Lots of speed, but also a rough ride
Cervelo may have designed the Aspero with a fairly narrow usage philosophy in mind, but if going fast is your main goal — and the idea of a gravel bike that feels a lot like a road bike appeals to you — I can think of few other bikes that fit the bill as well as this one.
As expected, the Aspero is gloriously stiff and responsive, offering up that snappy road-bike-like feel often lacking in gravel bikes that are tuned more for compliance or toughness. It's eager and reactive, and wholly lacking in any semblance of hesitation when you suddenly decide it's time for a little more speed. On the smoother dirt and gravel routes we rode in Sedona, Arizona — and certainly the paved roads — the Aspero is about as close to a road bike as you'll find in this category.
"This really just feels like a road bike with a wicked amount of traction off-road," said CyclingTips Australian tech editor Dave Rome. "It seems to hold speed on the road better, and certainly jumps when you want it to. Part of this is the weight, but also from an unquestionable frame stiffness."
As promised, that road-derived personality is reflected in the handling, too.
The front end is somewhat darty in that it doesn't take a whole lot of steering input to change direction. It's a boon at lower speeds when it comes to flicking around potholes in dirt roads or rim-eating rocks on singletrack, or even just snaking around tight switchback corners. And Cervelo's idea of tempering that overly caffeinated personality by stretching the front end does seem to work.
You still need to keep a steady hand on the bars, but that slightly longer wheelbase really does provide a bit more confidence at higher speeds, particularly on loose surfaces where it's not quite as hair-raising to slide the bike a little through corners as you might expect.
As a nice bonus, the longer front center lessens toe overlap, although it doesn't eliminate it completely.
Unfortunately, the Aspero also feels a lot like a road bike in terms of ride quality.
Those big tube cross-sections may be great in terms of power transfer and handling precision, but they feel pretty brutal on rougher patches of gravel or even mildly rocky singletrack. With the same 40 mm-wide Continental Terra Speed tubeless clinchers we used on the rest of the Gravel Bike Field Test fleet (and at the same 38/40 psi front/rear pressures), the Aspero was notably harsh, to the point where none of us would grab the Cervelo as our first pick for an all-day off-road adventure if given the option for something smoother-riding like the Salsa Warbird (or, even better, the BMC URS). Even the somewhat rough-riding Viathon G.1 — the third bike in our "racing" gravel bike category at Field Test — felt more comfortable than the Aspero.
That said, no other bike in this group test would work as well as the Aspero in terms of a single, dual-purpose machine for both road and dirt.
Yes, the Aspero is compromised somewhat on gravel, but with narrower and lighter road-specific wheels and tires fitted, it also feels (and looks) like a proper road bike that would be right at home hunting KOMs on local tarmac routes, mixing it up on fast group rides, or knocking out the occasional century. So while the Aspero maybe isn't the bike that's most keenly focused on gravel performance here, it's still the best option of the bunch for riders that split their time more evenly between paved and unpaved surfaces.
"The ride is certainly stiff," Dave said. "Stiffer than the Salsa and certainly stiffer than the Viathon (at least in the front end). "The Salsa is the race bike you want on relentless straight paths — think multi-day races or wide-open gravel races — whereas the Cervelo is the one I'd pick for shorter, harder, and faster one-day events. It's the bike that truly can double up for CX racing or as a road bike replacement."
Mix-and-match spec
As already mentioned, our sample was a pre-production loaner that arrived before the widespread availability of Shimano's gravel-specific GRX groupset, so our tester was instead outfitted with close-cousin Ultegra RX. That said, we have more than enough time on proper GRX components from other bikes in the Gravel Bike Field Test fleet at this point (as well as other test bikes) to be comfortable recommending it highly.
The "gravel-specific" GRX lever design is particularly noteworthy, featuring a more pronounced texture on the body for a more secure grip, as well as a revised shape on the lever blades that provides surer braking while on the hoods. Much has been said about the revised pivot point on the brake lever, but that's unfortunately reserved for the electronic Di2 version, not the mechanical ones that we used at Field Test.
As is usually the case with Shimano's upper-end gear, the hydraulic disc brakes offer heaps of power, but it builds quickly and they can feel somewhat grabby until you're used to it. And at least in dry conditions, they run quietly without any undue squealing or howling.
Rear shift performance on our GRX-equipped test bikes has been rock-solid as well, with typical Shimano-levels of silky-smooth chain motion when switching to either easier or harder gears. And the clutch-equipped pulley cage does an excellent job of keeping the chain from rattling around (or beating the paint off the chainstay).
Cervelo hasn't gone with a complete package on its GRX build, though, substituting an Easton EA90 crankset in place of the standard Shimano one. Shift performance up front suffers a hair as a result — to this day, no one does front shifting better than Shimano — but it works well enough, and the 47/32-tooth chainrings are well-suited for the mixed-use application, albeit with a little less total range than the 48/31T setup that you can get with GRX.
On the plus side, though, the Easton setup is about 20 grams lighter, and is built around a larger-diameter 30 mm aluminum spindle as compared to the 24 mm-diameter steel one that Shimano continues to use.
No question, though, Cervelo's insistence on sticking with its pseudo-proprietary BBright press-fit bottom bracket will be a dealbreaker for some. In fairness to Cervelo, the 79 mm-wide shell at least places the bearings further apart than what you'd find in a more problematic PF30 setup, and it'll accept nearly any modern crankset system out there, but still, it's a little bit of a bummer.
Cervelo taps Easton's expertise for the EA70 AX aluminum tubeless clincher wheels, too. They're pretty unremarkable with their 1,760-gram claimed weight, but the 24 mm internal width provides plenty of support for wider tires, and they setup tubeless easily.
The Easton EA50 AX label graces the rest of the finishing kit, and it's all … just fine. Fans of flared bars should find the handlebar perfectly agreeable, and the Easton stem gets the job done. Given the Aspero frame's notable lack of compliance, it would have been nice to see a carbon fiber seatpost here to help soften things up. Likewise, I'd strongly recommend that any Aspero buyer who's going to be riding a lot off-road consider something like a Redshift ShockStop suspension stem.
Along those same lines, the 40 mm-wide Continental Terra Speed control tires we used are light and fast, but they're also a bit narrow for the stated size. Cervelo specs the Aspero GRX Disc with slightly more voluminous Donnelly X'Plor MSO tires, though, and prior experience suggests that they'll roll slower than the Contis, but will also provide a cushier ride.
The go-fast option for smoother gravel tracks
Overall, the Cervelo Aspero may not be the smoothest-riding bike of the lot, nor is it the most unflappable choice for when the conditions get truly rowdy. But then again, that's not what it was necessarily designed to do, and Cervelo clearly doesn't pretend that the Aspero is something it isn't.
Recovering roadies who are looking to still go fast away from paved roads will find a lot to like here, as will riders seeking a capable one-bike solution for both tarmac and dirt. And while some people might lament that sort of compromise, the Aspero may very well be an ideal choice for those that aren't quite ready to fully commit to a life away from painted lines.
Want more gravel? Be sure to check out the rest of the content from the 2020 CyclingTips Gravel Bike Field Test. Also, be sure to subscribe to our YouTube channel so you don't miss any of the associated videos, either.