Yesterday we announced that Zwift was starting a new race series specifically for pro triathletes. Today's inaugural race featured a mix of Ironman and ITU stars competing over a 23 km course.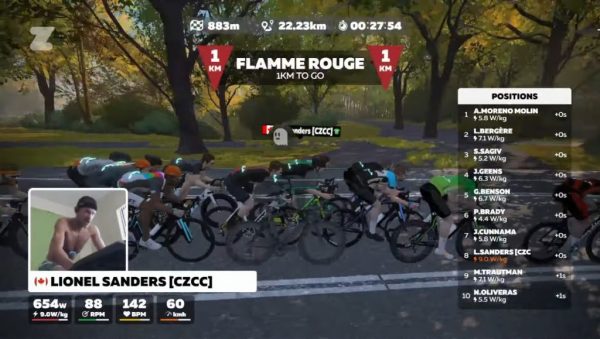 As great a triathlete as he is, Lionel Sanders is quickly becoming renowned as the king of triathletes when it comes to e-cycling. Last week he took an exhibition Zwift race that featured a number of cycling professionals including world cyclocross champoin Matheau van der Poel, and today it looked like he was on his way to another win. Sanders pulled clear of the field in the inaugural Z Pro Tri Race Series event with just a few hundred metres to go, pushing almost 1,000 watts heading into the line, only to be caught just before the finish by Great Britain's Jimmy Kershaw and France's Antony Costes.
Yesterday, in a post on Instagram, Sanders had hinted that the race would likely come down to a sprint, even though he almost managed to steal the show with his last-minute breakaway.
Last year's Ironman 70.3 Mont-Tremblant champ, Jackson Laundry, continued his amazing comeback after a terrible bike crash at the 70.3 worlds in Nice last September with fifth in the online race.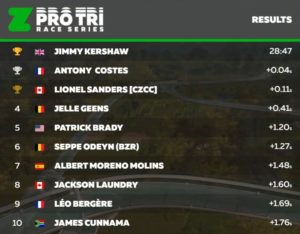 Duffy takes the sprint
The women's race also came down to a last minute push to the line. Three-time Kona runner-up Lucy Charles-Barclay is a regular on Zwift, so it came as no surprise that she would use that experience to put herself in a seemingly perfect position to take the win heading towards the finish line. Then two-time ITU world champion Flora Duffy showed why she is considered one of the greatest cyclists the sport has ever seen, sprinting past the British star to take the win. Charles-Barclay managed to get to the line just ahead of her countrywoman Sophie Coldwell.
Edmonton's Paula Findlay was in the lead pack throughout the race and eventually took fifth.