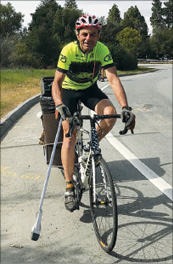 Courtesy of Rick Denman
Los Altos resident Rick Denman leads an effort to clean up local streets – on bicycle.
Philosopher Johann Wolfgang von Goethe once said, "Let everyone sweep in front of his own door, and the whole world will be clean."
Los Altos resident Rick Denman has taken that philosophy to another level. Noticing that people weren't picking up after themselves along local roadways, he decided to do it himself.
"When I started riding these gorgeous roads up in the Santa Cruz Mountains, I kept seeing litter everywhere," he said. "Sometimes I'd see the same piece of trash month after month. I would get this bad taste when I'd see how much litter was on (the roads)."
That prompted Denman to start Bicyclean, a newly formed group of cyclists who pick up trash daily as they ride the roads of Santa Clara and San Mateo counties. Each cyclist carries a long picker and can nab trash while riding up to 10 mph, Denman said. He estimated they have already collected thousands of pounds of trash.
"As cyclists, we will enjoy our rides a lot more if the roads are clean," he said. "I find this area so beautiful, but if every time I ride I see the same piece of trash week after week, ride after ride, it just really adversely affects my enjoyment of the ride."
Denman said he has loved cycling for as long as he can remember and has participated in several long rides and races. The 62-year-old rides nearly every day with recreational cycling groups, from which he recruits Bicyclean members.
The idea for Bicyclean stems from Denman's days in Southern California, where he and his family used to live. He was associated with a group called the Topanga Trash Warriors that picked up trash on foot every week.
But Denman didn't think driving place to place to pick up trash was environmentally conscious and realized that he could cover more ground on a bicycle than the organization could on foot.
He noted that cars go by too fast to notice individual pieces of trash, and they can't stop in the middle of the road to pick it up. Cyclists, he said, notice the trash the most and are more capable of collecting it.
Denman added that he understands pedestrians don't want to pick up the trash they see because it's a burden to lug it with them.
Members of Bicyclean drop the trash into a garbage can along their ride or into the trailer attached to the back of Denman's bike.
He said Los Altos residents have helped the group dispose of the trash it collects, informing members of dumpsters in public parks. Additionally, the owner of Rossotti's Alpine Inn restaurant in Portola Valley – popular with cyclists – allows the group to use his dumpster.
Lending a hand
Denman said he could not have formed Bicyclean without Katheryn Curi, a professional cyclist who won the U.S. National Road Race Championships in 2005 and the Geelong World Cup in 2008.
Curi and Denman met through a Wednesday cycling ride that Curi leads. From there, using Curi's cycling community connections, Denman exponentially grew his organization.
Curi is now a committed member of the Bicyclean group and said she tries to participate as often as she is able.
"I think it's important to take care of the environment in which you live because it shows your pride for your area and it's the right thing to do," she said. "From a young age, it was instilled in me to take care of your environment. I remember my dad putting my brother and me in the car and he would drive along the street and when he would see trash, he would stop the car and we would hop out."
David Coale, who met Denman through a Thursday cycling group, is also an active member of Bicyclean. Coale, who has participated in several cleanups over the years, said he was eager to meet Denman and join Bicyclean.
"The driving community often sees the cyclist community as a nuisance, so this is a great goodwill gesture," Coale said. "I mean, we are mostly picking up their trash – (the trash) is not from cyclists."
Bicyclean has received praise from businesses in Los Altos for its efforts to clean up the streets. State of Mind Public House and Pizzeria offered Bicyclean members free pizza after a cleanup bike ride.
Bicyclean's Facebook page has more than 150 members and includes photos and videos of its rides. Denman said he welcomes anyone to join the group, and Curi added that she hopes more cyclists will get involved.
To join and for more information, visit the group's Facebook page at tinyurl.com/u3wjkpt.