PEZ-Fans – Missing the Classics sucks, there's no question, but as one friend told me yesterday… this is a good time to count our blessings too.  In 2004 I made my first trip to Belgium to discover the riding, racing and culture of cycling's cobbled heartland. Here's my original post on an amazing trip with Velo Classic Tours, and my first ride at the Tour of Flanders Sportif.
———
It's 1:30 AM, Belgium time, we just got the power restored after I plugged one too many cords into the hotel's electrical outlets. BAM! Hotel blackout… courtesy of PEZ. But what a day it's been – we rode on the Flanders' route, and it was "TOP RIDE" material for sure. Here are the pics…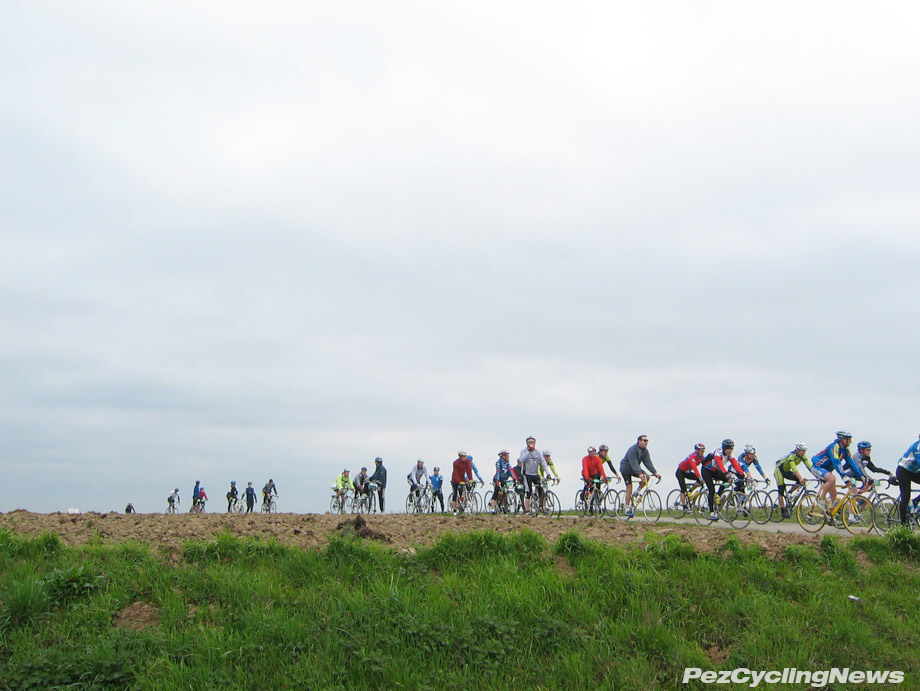 We had the option of two rides- 140km and 75 km, taking in the last part of the race route. The day was overcast, about 11 degrees C, with intermittent light rain – Belgian weather did not disappoint.

I was just inside that yellow-looking window when I overloaded the hotel's electric circuits.
An exhilarating day to say the least, but what stood out most, was how little depth just watching the race on tv gives you. I felt like I was riding roads I had never seen before, and was stunned by the beauty of the countryside, the directionless wind, and the friendliness of the people. You gotta get over here…
We're not in Kansas anymore! Classics Belgium Spring day – gray sky, green grass, 12,000 riders. Awesome riding.

Number 15 of the 'Bergs. The Berendries. Looks much nicer than it is.
And on another climb…


Just when you think things could not get any worse…

… they do.

The Velo Classic Tours crew – all smiles before the start of the cyclosportif Flanders route ride.

How wrong you can be. I admit that the racer-weenie in me first chuckled when I saw this gent ready at the start. But the real story emerged as the day rode on. Amid all the lycra, neon, and attitude that is so prevalent in road cycling, this guy shows up in a heavy wool sweater, golf shirt, shorts, sneakers and a 35lb. Mountain bike. About 2 hours later he passed me at a rest stop, and I was surprised he was still out there pedaling.
Shortly after, I came across him as we descended a small hill to the valley just before the Mur du Gramont. Only, this time, as I rode up behind him, I noticed he was talking on his cell phone. Yap, yap, yap, happy as could be. It made me think about what's he getting that we're not… Maybe it's that he really knows how to enjoy the bike… and riding… without all the expensive, fancy gear the rest of us think you need to have a good time on your bike. Later, at the finish, we made eye-contact, and the old guy gave me a wink and smile.

Another Belgian cultural oddity – leave your "stage fright" at the door fellas…

10 km to the line – the Bosberg, not that steep, but after 250km, this is your last hurdle to cross. And those cobbles are just that much nastier… I'm riding the Ristretto from Co-Motion Bicycles – custom build, high-end aluminum.  Today's shake-down ride was a success – after several sections of the harshest of cobbles, I faired much worse than the Ristretto. They got the fit exact, so I survived stuff you would not wish on your worst enemy.  I'm riding the bike through the Classics, so stay tuned for more as we log the northern miles.

Only after completing the full ride, are you rewarded with the honorary t-shirt and medallion.

Who loves ya baby! This guy was everybody's best friend, no need to explain why.
---
The PEZ Belgian Spring Break is proudly partnered with: