This story is part of our Summer Preview, a collection of features, guides and reviews to help you navigate warmer months ahead.
Buzzards. Visions of those airborne jackals fill my helmeted head as I navigate Arizona's cactus-packed McDowell Sonoran Conservancy, tailing a couple dozen riders ripping a 50-mile day over alternately dusty, sandy and rocky trails. We're all here for Gravel Camp, an annual summit of media, brands and gravel-event organizers. And while I'm easily the greenest member of the group, I'm quickly grasping the appeal of cycling's fastest-growing segment.
Tackling up-and-down terrain on rugged, unsuspended sets of wheels, gravel biking combines road cycling's speed and mountain biking's thrills, minus the dangers inherent in those pursuits — think distracted drivers and unforgiving trees.
The sport's key event, the Dirty Kanza in Emporia, Kansas, got rolling in 2006 with just 36 participants. It now boasts seven sub-categories; around 3,000 riders for the main event, a 200-mile endurance race called the Garmin DK200; and as many as 12,000 finish-line fans, says Kristi Mohn, one of its chief organizers. Jayson O'Mahoney, who runs the publication Gravel Cyclist, estimates the U.S. will host more than 500 gravel events in 2020.
One of those will be the inaugural Big Sugar in Bentonville, Arkansas, which sold out its 800 participant slots less than five minutes after registration opened last fall. Meanwhile, an anecdotal study by To Be Determined Journal calculates that half of first-time participants in Vermont's Raputitsa Spring Classic will swap road racing for gravel racing within a year.
What's driving all this action? Along with the sense that gravel is safer than its road and mountain brethren, there are three major factors.
One is organization. While gravel biking is not necessarily new — "In the original Tour de France, they were riding on dirt roads," notes mountain bike legend Rebecca Rusch, who has hosted her own gravel event, Rebecca's Private Idaho, since 2013 — it has come a long way in the past 15 years.
"None of us knew what we were getting into, what bike to ride," recalls MTBR and Road Bike Review editorial director Josh Patterson, who finished third in the very first Dirty Kanza, astride a steel-framed Surly Cross-Check. "We didn't know how to gravel, at least not for two hundred miles. And now it's down to a science: the gear, but also the events themselves."
A second key component is inclusivity. In contrast to the upturned noses one can encounter in the road cycling world, the gravel community welcomes new riders with open arms, literally. "We're turning the spectator into the main event," says the director of Stillwater, Oklahoma's Mid South, Bobby Wintle, who hugs every single person who crosses the finish line.
In contrast to the upturned noses one can encounter in the road cycling world, the gravel community welcomes new riders with open arms, literally. The director of Oklahoma's Mid South hugs every single person who crosses the finish line.
That sentiment extends even to the terrain. Gravel riding has become hugely popular in the Midwest and South in part because you don't need immaculate roads, a bustling metropolis or majestic mountains to saddle up for it. Wintle could be speaking for many areas when he says of Stillwater: "Our roads are sick, our town is small, we're two miles from dirt in every direction." Making use of the land you have is part and parcel of the gravel scene.
And perhaps the biggest element of late? Brand buy-in. A decade ago, the starting lines of gravel events were cluttered with Frankenbikes — weird, DIY-ed fusions of various road and mountain bike technologies. These days, companies big and small have moved beyond slapping "gravel" on existing products to engineering purpose-built items to meet customer demand. For months now, we've been testing true gravel rides such as the Allied Able, Ritte Satyr and Specialized Turbo Creo SL Expert EVO (an e-gravel bike, of all things).
"It took a long time for the industry to catch up," says Neil Shirley, influence marketing manager for ENVE Composites. "And then products became available, and it just snowballed. They started feeding into each other."
While most of the development has come from the road cycling side, mountain bike brands want in on the action. Case in point: Evil Bikes's funky new Chamois Hagar — complete with gravel-specific ENVE handlebars, fork and wheels — which I've come to Gravel Camp to ride. Featuring mountain bike geometry, a dropper post, fat 700x50c tires, a 1×12 drivetrain, drop bars and no shocks, it looks like almost nothing else out there — and rides roughshod over pretty much everything I encounter.
Evil's COO, former mountain bike racer Jason Moeschler, lobbied hard for the bike's creation. Now hooked on gravel riding himself, he believes the trend is inexorable.
"When you've got a parts maker as big as Shimano making a gravel-specific component group," he observes, referencing the Japanese Giant's GRX line, "that means there's something there."
And although it's still somewhat under the radar, the sport is already hitting a crossroads. The events arm of mega-gym brand Life Time is buying up iconic races like Utah's Crusher in the Tushar and Dirty Kanza, and Tour de France riders like Peter Stetina and Ian Boswell are trading in their road slicks for beefy gravel tires.
Even as corporations and pro athletes are migrating over, however, gravel cycling's charms remain. "I'm not in it for the money," Stetina points out. "This was a move for fun. I'm there just like the other thirty-five hundred people at Dirty Kanza to have a damn good time."
Assuming that ethos sticks around, even as gravel's popularity grows, the buzzards won't start circling anytime soon.
A version of this story originally appeared in a print issue of Gear Patrol Magazine. Subscribe today.
The 10 Best Commuter Bikes for Every Kind of Road and Rider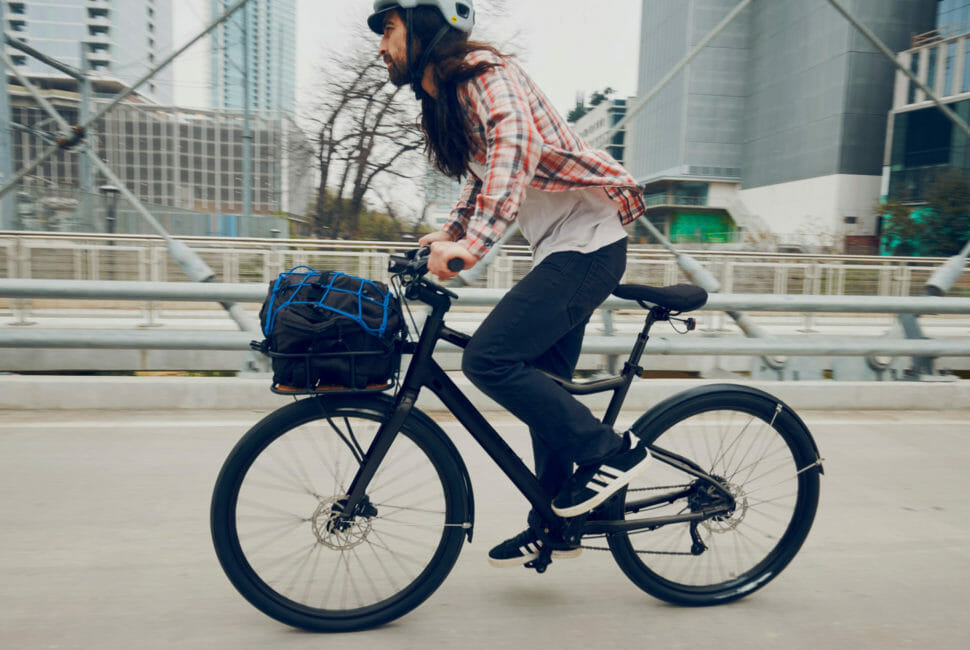 No matter how precarious the path to your office is, our favorite bikes — from pedal-assist and gravel to folding and fixie — can get you there in style. Read the Story
Note: Purchasing products through our links may earn us a portion of the sale, which supports our editorial team's mission. Learn more here.