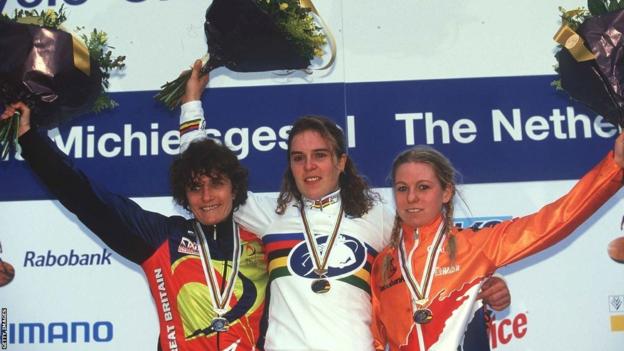 She was bidding for a World Championship crown, but knew more than a title was at stake.
She and the rest of the field also had to put on a show. The winner would be the first woman to wear the cyclo-cross world champion's rainbow jersey, but another victory could be everyone's.
"You're a little bit nervous before the start because you want to show the people that you can make a beautiful race, that we deserve to be there," she says.
British rider Louise Robinson felt the same. "There was a lot of pressure to make it a good event so it would continue. For me it was huge."
It seems remarkable now, but the first Women's World Championship only took place in 2000, fully half a century after the men's first elite race was held and 42 years after the first women's track and road world title races.
That it happened at all was down to the efforts of a group of young riders who wanted to compete with the best, and who pushed, cajoled, persuaded and never settled until they got their chance.


Cyclo-cross is a thrilling sport. Riders tackle a looped course, mostly off-road, that takes them through mud and sand, over steep hills, around tight turns and – as a winter discipline – in whatever the weather throws at them.
In its heartlands of the Netherlands and Belgium the top events attract thousands of fans.
For the riders, simply staying in the saddle of what are essentially skinny-wheeled road bikes is hard enough – in the most difficult conditions they jump off, shoulder the frame and run.
Heavy falls are common and it is physically intense in a way that few other disciplines come close to matching.
Growing up in the Dutch province of Brabant, Van den Brand started cyclo-cross at a young age – it was a standard part of a young cyclist's winter programme, with girls and boys on the course together.
Her ambitions lay in mountain biking, which by the mid-1990s had an established women's circuit and a chance of winning the prized rainbow jersey.
But Van den Brand's chances of making an impact were hampered by heavy hay fever. She could train in the spring and summer, but the extra effort of competing meant she would never fulfil her dream of winning.
So she turned back to cyclo-cross. She wasn't left with much – some races in the Netherlands, maybe one a year in Belgium or Germany, but nothing resembling an international circuit.
Across the North Sea, British rider Isla Rowntree had followed a different path to a similar position.
A fanatical cyclist, she discovered the off-road scene when mountain-biking became popular in the late 1980s.
Mountain biking had included women from the start, but Rowntree found that wasn't the case when she wanted to move into cyclo-cross.
"I was 19 years old, and I turned up at a venue with a great cyclo-cross history at Wolverhampton to race," Rowntree says.
"They didn't know what to do with me because I was female and they put me in what was then called the 'juvenile boys' race' – the under-16s.
"I loved it and I loved the experience, and from there I started to get involved in cyclo-cross.
"I thought, 'I'm enjoying riding the races but I don't think I should be with children', so I started saying 'put us in with the seniors'."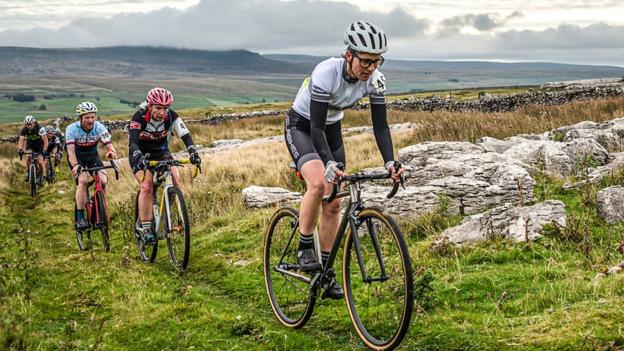 With strong support from many of the volunteers who helped make cycling happen in the late 80s and early 90s, Rowntree began to expand her horizons.
She persuaded other mountain bikers to use cyclo-cross as part of their winter training programme and, as the numbers increased, they pushed the authorities for a national women's championship – which finally came to fruition in the early 1990s.
Internationally though, women's cyclocross was in its infancy.
Christelle Reille is the cyclo-cross co-ordinator for the UCI, cycling's world governing body.
She says the perception of the discipline as a fitness-preserver in the off-season held it back.
"In the 1980s and 1990s, I think we had only three or four nations having [female] riders competing in cyclo-cross," Reille says.
"Cyclo-cross was seen as a winter activity for road professionals, and not so popular for [non-professional] women riders."
But soon Rowntree, Van den Brand and the other women who helped to grow the sport in different countries wanted the chance to race each other on the biggest stage.
More events had opened up to women, and British competitors – with the support of their governing body – travelled to take part in races in the Netherlands and Belgium.
A circuit of sorts was coming together, but it wasn't enough.
"Cyclo-cross is my real passion and love," Rowntree says. "I wanted to be able to race a world championship. I wanted to win a rainbow jersey."
Gradually what had been separate voices came together into a campaign. If they wanted to compete against each other at the highest level, first they had to collaborate.
"We said [to the other riders], 'you all need to lobby them if we want a world championship'," remembers Rowntree. "You need to do your bit."
Van den Brand was immediately on board. She and a group of fellow Dutch cyclists secured the backing of their national federation and wrote to the UCI asking for a women's world championship.
Meanwhile, Rowntree was garnering support from other federations around the world.
"Someone who had a Swiss boyfriend who was a cyclist got them to make a representation," she says.
"I made a contact with somebody in Japan which had a very small but burgeoning women's cyclocross scene, and they made a representation too.
"There was no internet then; I was doing all this with faxes and letters and calls."
Their collective pressure become irresistible and in January 2000, in the Dutch town of Sint Michielsgestel, the world's best female cyclo-cross riders finally had the chance to compete for the World Championship crown.
After all her work to get to this point, Rowntree had to sit out the race because of illness. She would have to wait another year to take part in her first World Championships.
But there were more than 50 competitors on that inaugural start line, nervously waiting to see the reaction.
Among them were Van den Brand and Britain's Robinson, who had diverted her attention from preparing for the Sydney Olympics, where she would finish 15th in the mountain bike, to make a bid for the rainbow jersey.
"It was really exciting that we were able to race on that kind of stage," Robinson says.
"The crowds weren't as big as they were for the men's, but there were still a lot of people there compared to what we were used to. It was pretty exciting – it felt like a big event, the whole atmosphere.
"You stay in the team hotel, you're surrounded by the Great Britain team – mechanics and managers and so on, you're kind of in a bubble."
Van den Brand also loved the experience of taking part, and was relieved about the reaction of the public.
"That first was a bit of a try-out – to see how many girls there are in the race, how the people beside the course are reacting.
"Maybe they would go to the tent and drink some beer, but people stayed. They liked it. And it was good to see."
The race was won by Germany's Hanka Kupfernagel, who stayed out in front from the start. She went on to be a dominant force in the early years of the event.
But the tussle for second place – between Van den Brand and Robinson – came down to the last lap, before Robinson broke away to seal a silver medal.
"I was absolutely over the moon," Robinson says.
"I knew I was fit and I knew I was going well, but I certainly wasn't expecting second. It was all a bit special."
It is hard for those pioneers of just over 20 years ago to compare the standard of the sport now to those early years.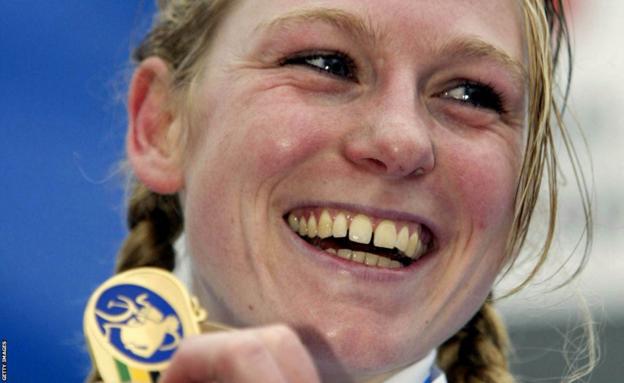 "Now it's changed a lot," says Van den Brand, who finally claimed her long dreamed-of world title in 2003.
"The prize money is higher, the girls are riding in the same teams as the men, so that's very good, also with the same facilities.
"I don't know if the level now is higher than our level, but it is wider. It's nice to see a lot of girls can win.
"In my time it was me, Hanka Kupfernagel or Marianne Vos and a couple of French girls. The top is wider now."
Marianne Vos. It's impossible to consider the history of women's cyclocross without mentioning this extraordinary rider.
Olympic and world champion in multiple disciplines across the road and the track, she is also the towering figure in cyclocross – having amassed eight world titles.
Her most recent triumph off-road came last year in Fayetteville, while her first was way back in 2006, having made her World Championship debut as a 16-year-old in 2004.
Between 2009 and 2014 Vos won the rainbow jersey every year.
Rowntree says you cannot overstate Vos' influence on cyclocross and the sport it has become.
"She was winning world championships in other disciplines that at the time had more status and more attention, and because of that she drew a new fan base into women's cyclocross," says Rowntree.
"She was a road world champion and a track world champion and because she was already a superstar from those disciplines, that gave credibility to cyclocross in those early years.
"She demonstrated just how fast we can ride drop-handlebar bikes off the road."
Robinson says Vos' success was central to bringing a new generation of riders into the discipline.
"She's a brilliant role model – just a brilliant all-round athlete," Robinson says.
"These young riders, they wouldn't have been born when the first women's World Championships happened, or were very young at the time, so they've grown up knowing there was a women's world champs. They've had the opportunity from being young to be able to concentrate on cyclocross."
At the age of 35, Vos has just extended her contract with her Jumbo-Visma team for two years, although a minor physical problem is preventing her from defending her cyclocross world title in Hoogerheide on Saturday.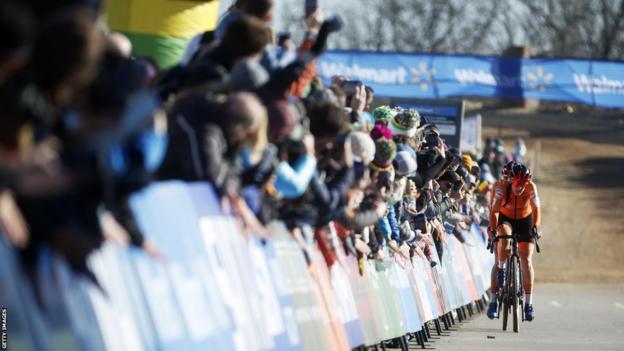 And what of the next generation? Even before Vos' withdrawal, the pretenders to her title were making a strong case.
There is a group of young Dutch stars, led by Fem van Empel and Puck Pieterse, who have dominated the current season, while Hungarian Kata Blanka Vas' strength across multiple disciplines is an ominous echo of Vos' abilities.
The Netherlands' Shirin van Anrooij will take on British champion Britain's Zoe Backstedt in the under-23 race in what may well be a forerunner to duels for the senior title in years to come.
"The young girls who are [coming through] at this moment, they came on the bike because they loved Marianne," says Reille.
"She was a star when they were really babies.
"We are lucky to have five, six, seven super-competitive female riders, and more are coming.
"We have not finished with the development of women's cyclocross."
The UCI has plans to ensure every major event includes a full spread of women's junior, under-23 and elite categories.
Robinson, Rowntree and Van den Brand, whose combined efforts helped bring about that first World Championship in 2000, agree that the future of women's cyclocross looks bright.
But whoever wins the rainbow jersey over the challenging, muddy course this weekend will be riding in the tracks of the pioneers who forged a new path for women's cycling 23 years ago.