Sun, sea, sand …. and now also the "big three" of cyclocross. That's what springs to mind at the mention of the Costa Blancan tourist trap of Benidorm.
Long lumbered with a reputation for sunburned and beered-up Brits and north Europeans, the Spanish resort makes its debut appearance at the World Cup Cyclocross this weekend.
Wout van Aert, Tom Pidcock, and Mathieu van der Poel will all be there Sunday for what looks to be their last three-way throwdown of the winter.
The brutal towerblocks and cheap bars of Benidorm are already buzzing for the first World Cup on Spanish soil since 2011.
"The fact that more than 9,000 tickets have already been sold is a clear sign that Benidorm is going to be a great success, both for us at Flanders Classics, for the local organizers, and the city itself," said race chief Tomas Van Den Spiegel.
"Benidorm is a well-known city here in Belgium, and therefore it is a very interesting option for us. Not only next week but also for the future."
How and why 'cross came to the Costa Blanca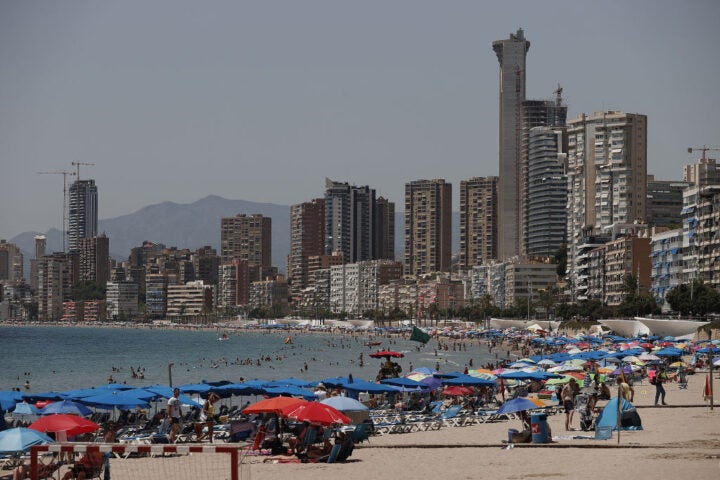 The UCI's premier 'cross series stretched its legs in recent seasons.
Trips to Val di Sole, Italy, and Dublin, Ireland, saw the sport expanding territories in its bid to hit the Winter Olympic schedules sometime soon.
World Cup chiefs are always on the hunt for new venues to expand the sport's reach – and so hunting hosting bids from the relatively untapped terrain of Spain seemed a no-brainer.
But after racers objected to the long flight to the Alpine Val di Sole, why is the UCI taking the likes of Van Aert, Van der Poel, Fem Van Empel, and Puck Pieterse some 1,800km south from the Belgian heartland of 'cross?
Because they're already there.
Most of the WorldTour that's not racing Down Under or en route to Argentina are on a training camp in the bike-friendly resorts around Calpe, Denia, and Altea – all of which are just a short drive from the high-rise skyline of Benidorm.
Indeed, Van Aert, Van Empel, Van der Poel, and Pidcock are all topping up tanlines and building base fitness on Spain's "sunshine coast" right now.
"We long had a typical training camp destination in mind for a new race," Van Den Spiegel told Het Nieuwsblad. "In recent years there had been tentative talks with Calpe, we had someone who thought he would get an organization there, but in the end, that never materialized. It works now with Benidorm."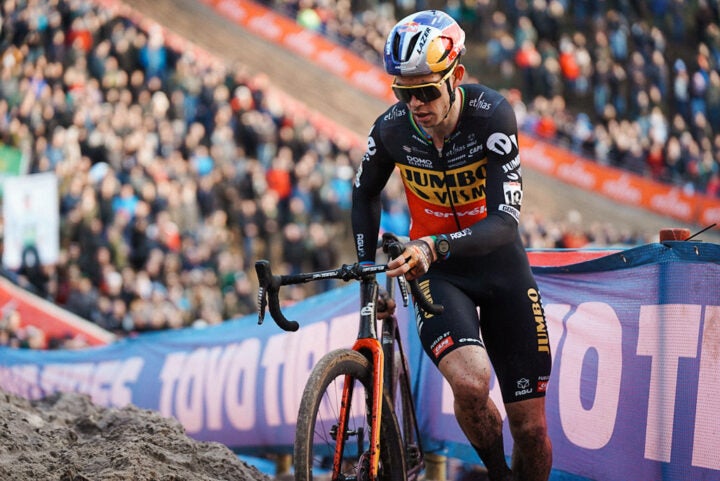 And with a long history of attracting Belgian and Dutch tourists, Benidorm makes for a home-from-home for the lowland heartland of 'cross.
Belgians began to flock to southern Spain in the 1960s, and it's reported the coastal city currently plays home to some 8,000 natives of the north European country.
"After Great Britain, we receive the most tourists from Belgium and the Netherlands," said Lucho Perez of Visit Benidorm. "We can offer them something extra with cyclocross."
The World Cup's trip to Benidorm is not just for the Brits and Belgians though.
Spain has long been a bit-part player in top-level cyclocross – something the nation wants to change. At present, only Felipe Orts and Lucia Gonzalez are keeping a toehold in the elite-level mud of Belgium and beyond.
"I love cyclocross and I want to push it to the next level. That's what we're working on right now," said Pascual Momparler, Spanish national 'cross coach and co-organizer of this weekend's event.
"We now have the World Cup in Benidorm, next year there will be the European cyclocross championships in Pontevedra."
What to expect Sunday
The Benidorm cyclocross will be no coast-tracking beach race.
The mass of tourist apartments close to the coastline limited organizer's beachy options and forced a shift inland to two downtown parks.
Officials forecast fast, dry racing featuring grass, gravel, sandpits, and an ever-undulating dynamic on the part-man-made, part-natural track.
As the penultimate race in the World Cup series before the final round in Besançon, France, the overall victory can be all but sealed Sunday.
In the men's league, Laurens Sweeck and Michael Vanthourenhout are locked in a tight battle at 333 and 309 points respectively. Racing is equally close in the women's standings, with Van Empel leading Pieterse by just 35 points.
And headline names Van Aert, Van der Poel, and Pidcock?
It could be the last time the "big three" share the startline this winter before Pidcock pivots to road mode and skips 'cross worlds.
With eight wins from 11 starts, and no finishes lower than second, don't be surprised to see Van Aert crowned the first male winner of the Benidorm 'cross.
And from Benidorm, it's a fast descent to a mouthwatering "MvdP" vs "WvA" epic at the February Hoogerheide worlds.