Orbea launched the first generation of its Gain e-road bike back in 2019, and now, just four years later, the Basque brand is launching its third generation of the platform. Things are obviously evolving quickly in the e-bike world, but they also seem to be settling down a bit, and what Orbea has arrived at this time around may be a surprise.
Orbea's marketing tagline for the new Gain is, "The many faces of joy." Joy isn't a word that doesn't often crop up in marketing material for new road bikes, but that seems to me a missed opportunity when you think about it; we're all supposed to get some joy from riding, aren't we? But more of that in a while.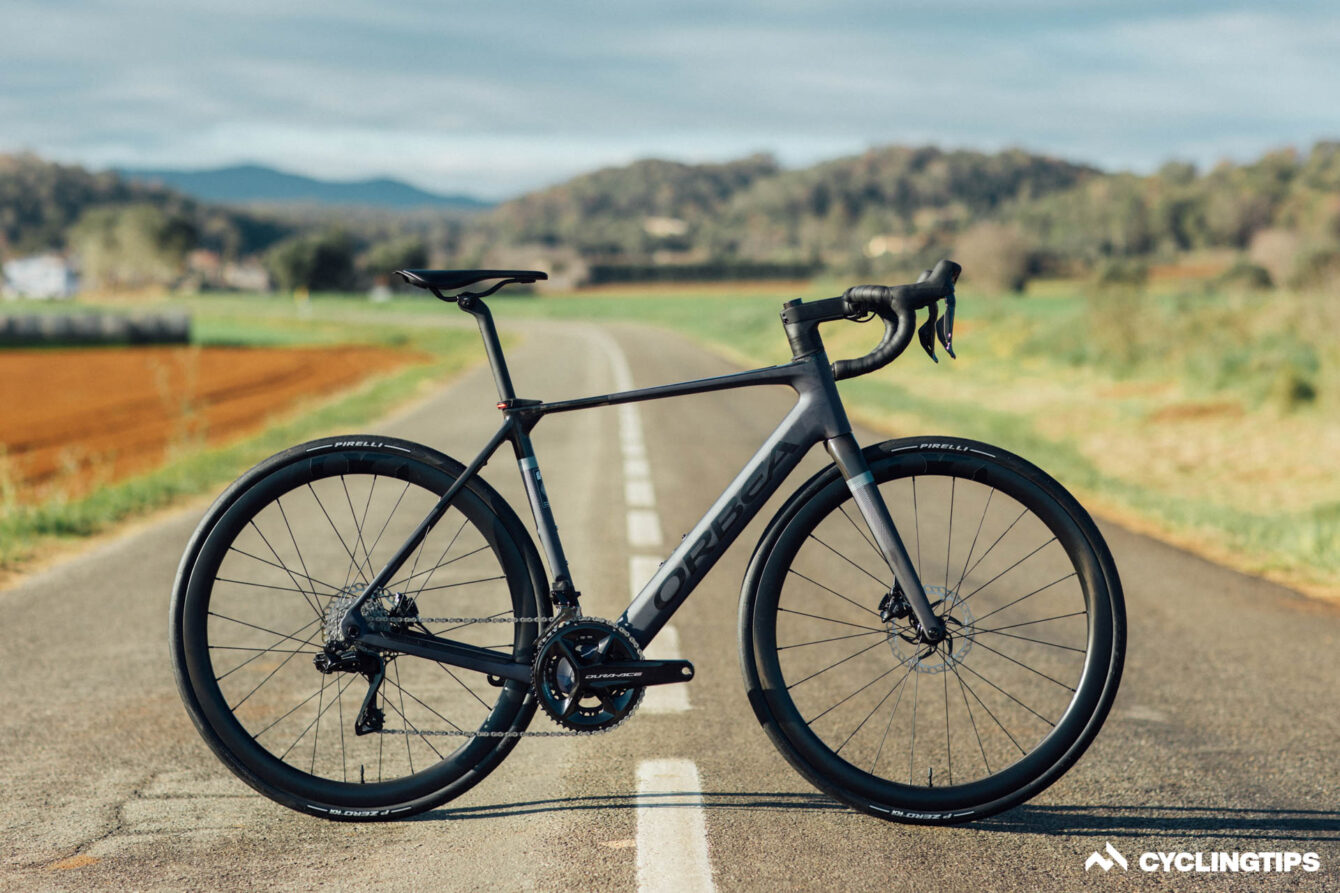 Third time lucky?
So what's new for 2023? Although the Gain is technically in its third generation, it's more of an evolution than a revolution, incorporating all the lessons learnt from the previous two versions of this bike – not just in engineering terms, but also in what an e-road bike should offer and ride like. This time around, Orbea has opted for the recently released Mahle X20 hub drive motor, the same one found on the Scott Addict eRide and the Wilier Filante Hybrid.
The motor unit itself is one of the lightest around at 1,399 g, but Orbea says reducing weight wasn't the main goal. Case in point: instead of opting for the lightest possible set-up and the smallest capacity battery, the Gain is equipped with Mahle's larger 350 Wh battery, which by itself tips the scales at a hefty 2,250 g. That's a full 800 g heavier than the smaller 250 Wh battery, but it supposedly will power you for up to 4000 m of elevation gain on the lowest-power assist mode. Throw the bike into ultimate assist mode, level three, and that range drops to a still respectable 1,500m. Of course, there's always the range extender battery add-on if you want more, but that's more weight and one less bottle you can carry. For comparison, the 250 Wh battery will limit you to 2,800 m of elevation gain in the lowest-power setting – hardly nothing, but probably not enough for a truly long ride in the mountains.
Picking a motor is relatively easy, though; most of the hard work has been centered on tuning the motor's power delivery.
Mahle may be a German company, but the business's e-bike arm started out as a Spanish start-up under the eBikeMotion name. Mahle acquired the brand a few years back, but left the expertise and staff to reside in Spain, so the close partnership makes perfect sense given Orbea's location in the Basque Country. Much like the best e-bike motors do, the power delivery is tuned to come on gradually and in proportion to your own efforts. However, while so-called full-power motors can make the rider feel like they're basically just holding on, the output of the X20 is more modest, and is meant to work in tandem with your own efforts and allow you to keep your natural pedaling style. It's intended to allow you to get out and still have a decent intensity cardio workout, but without going into the red – more like you're just having a really good day on the bike, as opposed to feeling superhuman.
Three levels of assistance are available. Level one gives you a maximum of 150 extra watts of extra power, while level two bumps that up to 220 W – but in both cases, that's only if you are putting out 450 W yourself. Level three steps things up to 250 W, but this time you only have to put out 250 W for a proper 100% assist. All of these settings are easier to access than before. Instead of taking the hands off the bars and tapping the power/control button on the top tube like on the previous-generation Gain, Mahle has updated the X20 system to include remote buttons on the bar tops. A Knight Rider-style three-colour LED indicator on the top tube tells you the current assist setting and remaining battery power. There's also the new Pulsar One head unit, which offers up even more data. And if those two options aren't enough, you can always connect a compatible GPS head unit of choice.
The frame and fork aren't anything to write home about, not that they're bad; far from it. It's just that there's no massive new technology here. It's all tried and trusted construction, and the modular monocoque carbon frame is a good-looking design that could easily be mistaken for a standard road bike to the untrained eye. There are a few neat additions, of course, including the new Automatic Motor Connection System, or AMC. Unlike some other hub drive motors that require special tools to remove or install electrical connections at the rear wheel, the X20 design uses a special plug attached directly to the non-driveside dropout. Just drop the wheel out as you normally would, and the rest happens automatically with no additional faffing required.
While we're talking integration, Orbea has integrated as much as possible without causing too much havoc for mechanics. Orbea was one of the first brands to bring semi-integrated bars and stems to market, and the ICR system we've seen on the Orca and Avant models is again in use here. Cables are fully hidden and routed through the upper headset bearing, but not through the bar or stem. As long as the control line lengths are compatible, it's just as easy to swap bar and stem sizes as it used to be. And just like the last version of the Gain, lights front and rear have been built directly into the bike and turn on automatically when you power up the motor.
Geometry
The previous Gain was offered in five sizes, but the new Gain now adds a sixth option at the top end to better accommodate taller riders. Frame geometry slots somewhere between Orbea's endurance-focused Avant and the sportier Orca. Overall, things look to have got a bit racier; reach seems roughly about the same but stack is somewhere in the region of 10-15mm lower than it used to be. The bottom bracket height has also been slightly lowered for more high-speed stability, and the seat tube angle steepens by around half a degree across the range.
Tire clearance is very much a hot topic. Orbea has intentionally played it safe here and avoiding following trends that the designers feel can occasionally ruin a bike's true capabilities. So rather than trying to "go for broke" with the Gain and make it an all-road/gravel-type bike, maximum tire size is limited to a reasonable 35 mm. Sure, in this day and age, we see endurance and even race bikes that can take up to 40 mm-wide tires, but Orbea wants this to be a best-in-class road bike, not an attempt to be an e-bike that is just OK on all surfaces. The 35 mm width should allow for some light gravel, but this is very much a road bike at heart.
Build kits
The new Gain will be available in six different build options. The base carbon model starts at US$6,400 / £5,300 / €5,500 and comes with a full Shimano 105 mechanical groupset and alloy wheels. The top tier offering comes with Shimano Dura-Ace Di2 and Orbea's in-house carbon wheels, with a price tag of US$11,500 / £9,300 / €10,000.
There's also the option of venturing down the MyO path, Orbea's in-house custom program, which allows you to spec and paint the bike however you desire. Just be warned, you can lose many hours falling down the online configurator rabbit hole.
Ride impressions
The fact that our comment section is down during the site's ongoing platform changes could be a blessing in disguise for this first-ride review because, as we all know when publishing anything about an e-bike, the discussion channels can get a little bit – how should I put it politely – fiery. Nevertheless, be prepared, good people, because this review will end with me stating that I could quite happily see myself adding a Gain to my fleet of bikes.
To ease us up to that point, I'll start with the negatives first.
Yes, the Gain is heavy compared to a non-powered bike. At 11.5 kg for the top-end Dura-Ace Di2 model, it's a good kilogram heavier than other high-end e-road bikes already on the market. That bigger battery may turn some people off with its added bulk, but I understand why Orbea has gone down the larger battery/longer range route. The thing is, that weight isn't all that noticeable in the real world. Sure it's not a nimble, agile race bike, but neither are any of the e-road bikes I've ridden so far. However, the Gain impresses in action. Up hills, you have the motor helping mask that extra bulk. On the flats, it's not so much an issue unless you're on really rough surfaces where it feels a bit overly planted. And on the downhills, you'll only feel that weight if you're steering through sharp corners at speed. And as I didn't get to test it in windy conditions, I can only guess that with it being lighter up front and with a slightly deep rim, it may be a bit on the lively side if caught in a crosswind.
As a hardcore roadie, reactiveness is something that I'm finding is slowly being eroded away with the uptake of the wider tires in road bikes. This year I've ridden a few endurance bikes that have come shod with 30 mm or even 32 mm tires for that "added comfort". And each time, I've come away disappointed, finding that the extra comfort of the wider tire has negated any nimbleness the bike should have. After seeing the Gain's wheels wrapped in 30 mm Pirelli Race TLR rubber, I feared the same. But luckily, it would seem the Orbea engineers have taken into account early on in the design process that an e-bike needs to roll on at least 30 mm tires and, thankfully, adjusted the geometry just enough to erase any tractor-like traits in handling. That geometry isn't anything groundbreaking or new, just predictable, confident and trusted.
As promised, the motor performance and assistance feel far more natural than others I've tested, and it's a route I hope other manufacturers replicate, as I think it is how an e-road bike should work. It's as if you've got good legs constantly; not super legs, but just good legs. I unfortunately succumbed to either food poisoning or allergies the day I arrived at the bike's launch event, meaning I spent the first test day in my hotel room making friends with the bathroom rather than out on the bike. I know for a fact, with the way I felt on day two, if Orbea had been launching a "normal" road bike, I'd probably have gotten out for about 40 km and returned feeling ruined for the rest of the day. But with the Gain's subtle assistance, I managed a solid 75 km loop, taking in the famous Els Àngels climb that descends into Girona, a good cafe stop, a nice light gravel path, and even a trip to the Haribo factory store on the outskirts of Banyoles. Plus, I still returned feeling I'd worked hard, to the point I wished I'd skipped the last 10 km of gravel. The legs felt as though I'd had a good run out.
It's not just the smooth progression of assistance that the motor offers that's surprising; the smooth cut-off in power is also something you don't notice. All e-assist bikes cut the power off once you hit that magic speed limit (just 25 km/h in the EU), leaving you with little more than a lot of extra weight and drag. Sometimes the cutoff is jarring, other times just noticeable, but its' noticeable nevertheless. But with the Gain, the motor eases off more gently, avoiding any such jolting. There were multiple times when we were in the group riding along at 30+ km/h, and I didn't even notice that the motor wasn't working.
So who is the bike for? Well, that tagline had me thinking. From the inside, road cycling has far too much "macho" about it at times, with too much emphasis on making pain and suffering something we should strive for when riding, that it goes hand in hand with accomplishing anything in the sport. I'm pretty old school and have accepted and strived for it myself over the years. It's part and parcel of what cycling has been for me, but this bike had me thinking differently. It's a bike that could allow a new demographic to come to the sport and enjoy the freedom and thrill you get from pushing your body without the sacrifices that often have to be made to get there. It's a bike for getting to the nice parts of your route and back without too much stress and strain.
The Gain manages to straddle the assistance/effort quandary in a much more natural way. This bike isn't going anywhere if you don't pedal; it's no motorbike. All-in-all, what Orbea brings to the e-road market with the third-generation Gain is something that will undoubtedly surprise you if you're open-minded enough to try. It did me, to the point where I could easily see one lining up against the rest of my road bikes and being something I'd choose to ride. I'd throw a leg over it on the days when my legs are not at their best or when I do not want to "dig deep" but want to get to my favorite lookout, cafe, or climb – you know, the places that supply that odd flicker of joy. And heck, who couldn't do with a bit more joy in their life?
More information can be found at www.orbea.com.