Don't miss a moment from Paris-Roubaix and Unbound Gravel, to the Giro d'Italia, Tour de France, Vuelta a España, and everything in between when you join Outside+.
HARTFORD, CONNECTICUT (VN) — After years of second best, Curtis White is a cyclocross national champion.
The Steve Tilford Foundation rider won the 2022 US Cyclocross National Championship men's elite race on Sunday amid progressively heavier snowfall, taking the fight to defending champion Eric Brunner (Blue Competition Cycles p/b Build) in a close, back and forth race.
Kerry Werner (Kona Adventure Team) finished a minute back on the pair for third.
"It truly means the world," White said of his victory. "This sport is beautiful. I've wanted to be a professional cyclocross racer my whole life. I've been chasing the stars-and-stripes jersey, but my peers didn't make it easy on me, and I thank them for that."
Also read: Clara Honsinger three-peats at 2022 US Cyclocross National Championship
How it happened
Snowfall that began to fall in earnest during the women's elite race earlier in the afternoon had intensified into a full snowstorm the time the men took to the start line. By the end of the race, Hartford would be blanketed in white, making for deteriorating slippery and muddy conditions that kept the mechanics busy in the pits.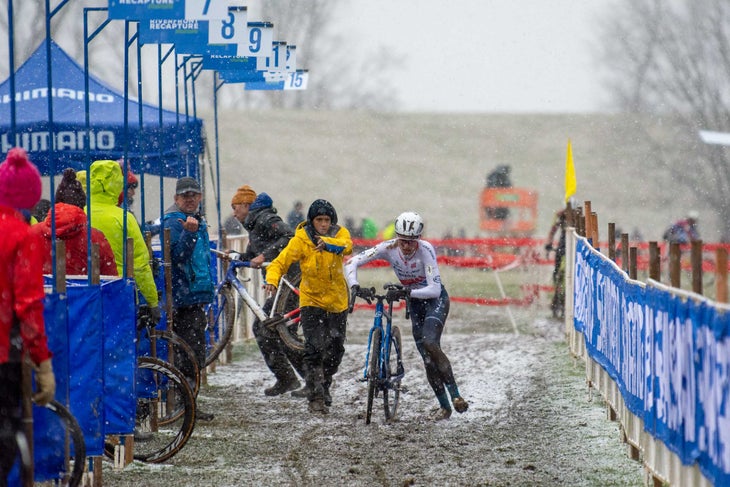 Recently crowned collegiate cyclocross national champion Lance Haidet (L39ION of Los Angeles) had a strong start, leading the pack out. But he lost some time in the pits and was passed by a competitive lead group that included Scott Funston (Blue Cycles p/b Build), Brunner, and White.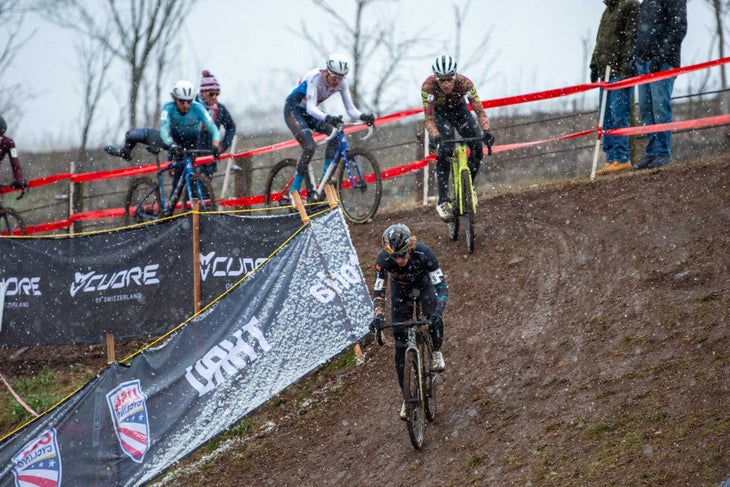 It soon became Brunner and White's race, however. The pair went back and forth until Brunner pulled away with a few laps to go, dangling just out of reach. With the difficult conditions, Brunner went down in the pits, allowing White to regain the lead.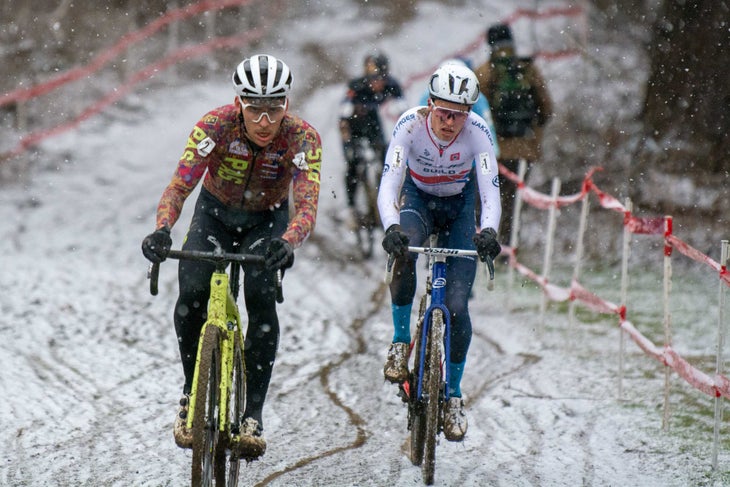 "When Eric went with three or four (laps) to go, I knew that I had to be patient," White said. "This course is hard. The chances of both of us making mistakes were high. When he went down, I saw my opportunity to get back to him and took it on the off-camber descent. It took all of my skill and focus to do that, but I made sure to do it behind him so he wouldn't see, and I saved that card for the last lap, and that was the move that won the race."
Exactly how many second places at nationals has it taken for White to reach this moment? Three, if you count elite races, all three of those coming consecutively in the previous editions. More, if you delve deeper into his 18-year career of racing at nationals.
Now he has that elusive victory.
"National champion, finally, I've wanted that stars-and-stripes so bad, and I finally did it."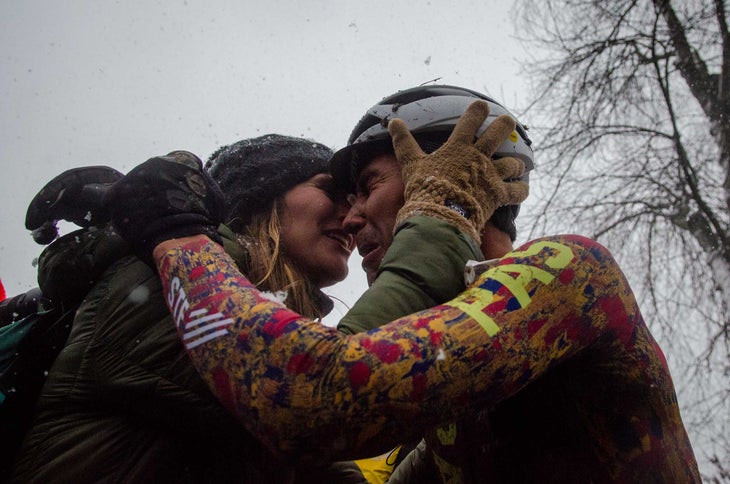 Results
Andrew Strohmeyer wins men U23 title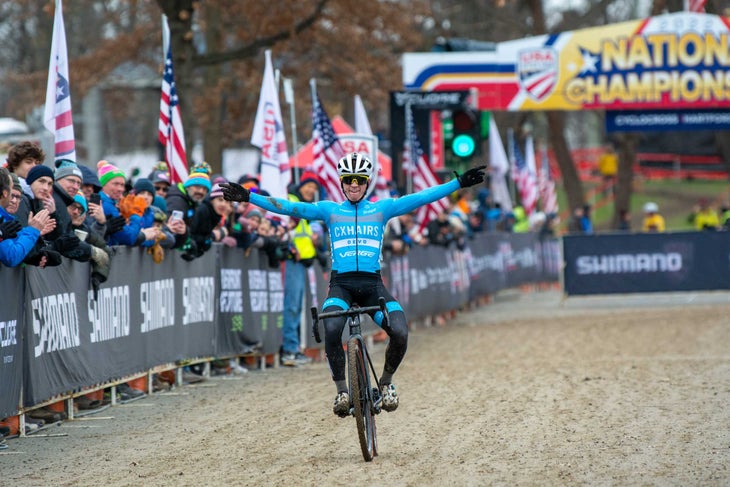 Andrew Strohmeyer (CX Hairs Devo: Trek Bikes) won the men's U23 national title. Jules Van Kempen (Alpha Bicycle Company – Groove Silverthorne) finished second, followed by Strohmeyer's teammate Dillon McNeill.
Andrew August takes junior title
Andrew August (FinKraft Junior Cycling Team) won the junior men title. Magnus White (Boulder Junior Cycling) finished second and David Thompson (FinKraft Junior Cycling Team) rounded out the podium.