An abandoned gravel track up the Col du Galibier traces the original route used by Tour heroes of the early 1900s
Words Mark Bailey Photography Juan Trujillo Andrades
The road to the legendary Col du Galibier has been splintered and shattered into a mosaic of broken rock. As I cycle up this river of rubble, my tyres judder over stones the size of prehistoric eggs and slide through puddles of scree.
Every turn of my pedals is met by the crisp, crackling sound of crunched gravel. High above me, between moss-green meadows and the blazing late summer sky, is the fabled 2,642m summit of the Galibier, which has graced the Tour de France on 67 occasions. But this is not the Galibier as we know it.
I've cycled up the Galibier, which straddles the Hautes-Alpes and Savoie border of southeast France, many times. But today I'm following l'ancienne route, a little-known gravel road on its southern flank that traces the original route of the heroic Tour pioneers of the early 1900s.
Formerly a rustic track crossed by salt smugglers, bandits, soldiers, farmers and vagabonds, this trail was shaped into a rudimentary road in 1879, long before the modern road was built, slightly to the west, in 1938. So from the Galibier's first Tour appearance in 1911 until 1938, this route was how cyclists conquered the col. 
Tour founder Henri Desgrange loved it. For a start, the original track was agonisingly steep. From its beginnings near the 2,058m Col du Lautaret below, the old route packs 555m of ascent into less than 6km at an average of 10.4%. By comparison, the modern road from the south offers a gentler 8.6km climb at 6.8%.
Émile Georget, the first rider over the Galibier in 1911, was one of only three cyclists to complete the climb without dismounting. Poor Julien Gabory finished in bare feet after losing his shoes in the deep ruts.
But the route was also breathtakingly beautiful. As Desgrange purred, 'In front of this giant we can do nothing but take our hats off and bow.'
Tracing this trail of stones up the Galibier is also a journey into deep time. Around 200 million years ago the ancient Pangaea supercontinent began to tear apart. The vast Tethys Ocean was formed and began to expand. Then 65 million years ago the African and European plates collided, burying the ocean and giving birth to the Alps.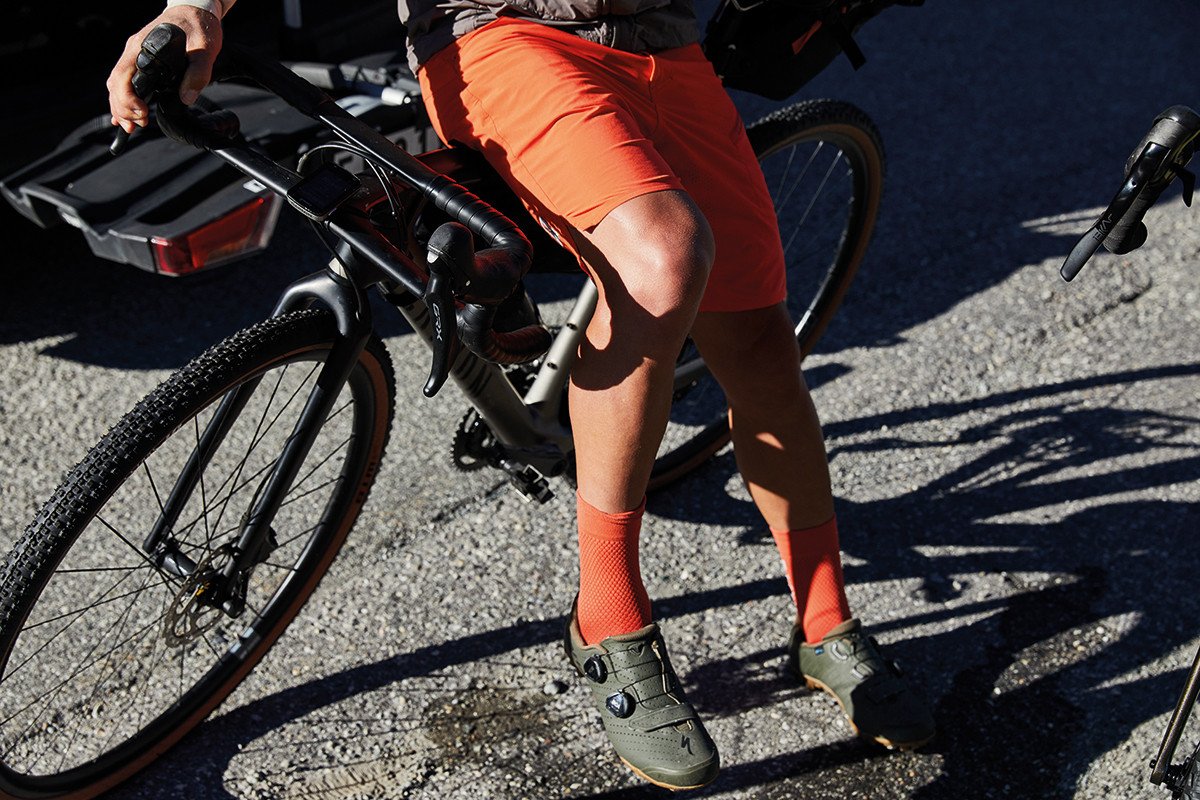 In this tectonic wreckage, colossal slabs of rock were bent like chewing gum. Over subsequent millennia, erosion and glacial activity slowly sculpted the Alpine peaks, and unleashed much of the shattered rock now crunching beneath my wheels and pinging against my spokes.
This geological history is now an integral part of the cycling challenge here. Struggling over the carpet of stones, I'm determined to keep my feet clipped into the pedals, even though the terrain is tricky for a road cyclist like me.
Gravel riding may feel like a modern invention, and there are plenty of traditionalists who will say it is too far removed from road riding, but in many ways it represents a return to the origins of road cycling.
Fading sepia-toned photos on the walls of local bars depict the road riders of yesteryear tackling this stony trail on 15kg bikes, armed with caps, spare tyres and moustaches. For decades this track has been quietly disappearing into the mountainside. Now, in glorious high-definition sunshine, we're rediscovering it once more.
Heading off-piste
Our journey into the past begins in Villar-d'Arêne, a cluster of timber-shuttered buildings by a pine forest in the Romanche Valley between Grenoble and Briançon.
We're sitting in the wood-panelled restaurant of Hotel Les Agneaux, where owner Jean-Phillipe has prepared a breakfast of cold meat, homemade bread, grapes, honey and local blackberry jam.
• Turn your next ride, hike, or run into an adventure with komoot. Get inspired by tapping into shared community knowledge and recommendations, then bring your adventures to life with the easy route planner.
Mapping powered by komoot
We are the only guests here. It is late summer and the hotel will soon close in preparation for the ski season. But we're stealing one final ride from the rapidly fading summer.
After breakfast I go for a short warmup spin, gliding past the limestone church and a war monument where a French tricolore is flapping in the morning breeze. The bus shelter is festooned with posters for trail runs, local cheese, ski tours, bakeries and ice caves – the familiar Alpine blend of fine food and outdoor adventure.
I return to the hotel to meet our guide, Fabien Dupuis of Coaching Performance. Through a combination of his broken English and my hazy A-level French, we chat about routes and kit.
A keen skier and cyclist, Fabien likes rugged adventures: 'Sport is my fuel, the planet my playground.' He shows me the makeshift bed in his Citroën van that enables him to dash off on spontaneous expeditions. He is looking forward to today's ride.
We set off eastwards along the main road, which is drenched in liquid morning sunshine. Villar d'Arêne is 1,650m above sea level so we're already at a breath-thinning altitude.
We ride past plump green hills and pass the village of Les Cours, where we top up our water bottles with fresh mountain water from a stone fountain decorated with baskets of flowers.
A short climb sweeps us deeper into high mountain territory. A dramatic bulge of crumbling cliffs and monochrome peaks erupts around us as though we have flipped the page of a pop-up picture book. Their sharp pinnacles gnaw at the sky, while their stark flanks disappear into the thick pine forest below.
A final bend takes us to the deserted chalets and shops of the Col du Lautaret. The main road to the Galibier beckons to our left, but we ride past and dive downhill through an avalanche tunnel whose pillared walls cast bars of black shadow across the road.
Footsteps of the ancients
Moments later we do something that road cyclists don't usually do. We veer off the road and plough onto a gravel track – the start of l'ancienne route.
These first few moments place my synapses on red alert as my rear wheel starts to skip and slide among the chaotic jumble of rocks and scree. My field of vision narrows from the epic landscape to the thin trail of gravel leading us uphill.
On a tight bend a large stone shifts beneath my wheel and I put my foot down. So much for my plan to stay clipped in to the summit, and I can tell that it won't be the only time I do it today. With just 196m of flat terrain over the ascent, this is an unforgiving climb.
I have to resist my road-riding instinct to stand up on steep slopes and instead keep my butt firmly planted on the saddle to prevent my back wheel moonwalking behind me.
But my caution is soon replaced by a deep sense of calm as the cars and motorbikes of the main road vanish and are replaced with trickling streams, herds of cattle, throbbing silence and a vast, overwhelming emptiness. Here the meadows shine like sheets of green silk, but higher up the terrain glows with the red-brown hue of fox fur – the early signs of autumn.
Feeling pebbles shift beneath my tyres, and glimpsing the sparkling dew on the grass, I feel less as though I am climbing up the Galibier and more like I am climbing into it. This is the immersive beauty of gravel riding.
But the sheer scale of the Galibier – half a kilometre higher than the Tourmalet – is overwhelming. Glancing upwards, I can no longer tell whether the criss-crossing grey lines ahead are tracks, streams or scree. But as Fabien says with pride, 'Gravel riding teaches you to stay in the moment.'
Competing against gravity
This ancient trail has been used by troops, smugglers and adventurers from Roman times to the Napoleonic era, when the slopes were regarded as wild and inhospitable.
An ominous August 1938 report in Time magazine, published a year before the start of World War II, describes a 'war gaming' training exercise between two French regiments, in which the troops acting as 'invading' Italian soldiers found the Galibier to be 'impregnable'.
Even today, the closest permanent settlement to the summit is more than 12km away, and the col is closed over winter when snow reclaims the mountain. It may explain why Desgrange was moved to declare, 'In the history of human affairs, does not this ascent of the Galibier on bicycles constitute the first triumph of mortal intelligence over the laws of gravity?'
I'm locked into my own battle against gravity when the gravel ends and we veer onto slippery mud and grass. But I've learned that on unstable surfaces momentum is your friend, not your enemy, so I speed up slightly and my tyres bite more firmly into the earth.
Suddenly a French military plane buzzes over our heads. Is it flying low or are we really that high? This old road was originally built for military purposes and there are several barracks and air bases nearby.
The Chasseurs Alpins – the French elite mountain infantry – also train here. The sight of any warplane triggers an instinctive sense of anxiety, but confident that our passports are valid and that we have no other cause to be bombed, we continue uphill.
As the altitude soars, the lush green terrain pales into yellow and gold. Giant boulders dot the landscape. We pass over streams criss-crossed by trails of stones. A steep drop into the valley now yawns to our left, so I make a mental note to fall right, not left. I'd rather graze a shin than become a human avalanche.
Fabien points out a ruined barn up ahead where we will briefly cross the main road. Our arrival at the road momentarily shatters our mountain reverie. A car roars past at speed, leaving me wincing.
But Fabien guides us straight over the road and up a steep final gravel trail that weaves through an imposing amphitheatre of towering rock.
Eventually we merge onto the main road again, close to a barrel-shaped monument in honour of Desgrange. But this time I'm relieved to return to the road. After a long ascent on gravel, my quads are burning and this final 1km stretch averages 10%.
The road feels refreshingly smooth and our arrival at the summit – where cyclists pose for photos and motorbikers sip coffee – feels like a return to a familiar world.
Glancing back down the valley, I can trace the almost imperceptible silver lines of the old route we have just ascended. It feels good to have arrived at this famous col via such a secret route.
Tour heroes from Fausto Coppi (1952) to Marco Pantani (1998) have been the first riders over this summit before, but our route would have been familiar to Henri Pélissier (1914, 1923) and Gino Bartali (1937).
Fabien has fun doing daring manoeuvres on the steep gravel tracks at the top of col, while I soak up the panoramic views from the orientation table.
This is the fourth-highest road pass in the French Alps, so I can see the hulking monochrome mass of La Meije (3,983m), the pyramid-shaped Mont Blanc (4,807m) and the chunky Grand Galibier (3,228m). But until they build bikes with crampons attached, this is high enough for me, thank you very much.
Still, chasing the ghosts of Tour legends along this trail has been a memorable adventure. But it has also inevitably been a slow-paced one, so we agree to descend via the main road to enjoy a final rush.
We dash around tight hairpins that are tattooed with graffiti in support of various Tour deities, before the road opens up to some thunderous straights and deliciously long curves.
Tracing the old gravel trail feels like a much more intimate and immersive way to explore this mountain, but the road descent has added some of the unique thrills of road cycling.
Descending via the old route would have come with a few too many risks anyway. Spaniard Francisco Cepeda crashed on a descent of the old road in 1935 and died from a fractured skull. He was the first cyclist to die at the Tour.
In just a few kilometres we will carve around the final bends to Villar-d'Arêne, where Jean-Phillipe will greet us with a platter of cooked meats, local cheeses and fresh bread. But for now we are content to keep spiralling past the sun-drenched meadows, dark forests and snow-encrusted peaks.
As we glide around those glorious bends, I catch a final glimpse of the ghostly gravel track fading gently back into the folds of the landscape – a precious cycling secret just waiting to be rediscovered.
Days of stone and steel
The Galibier's gravel road has over a century of Tour memories
Next year's Tour de France will mark 110 years since the Galibier was first tackled from the southern side in the race, the same side as ridden here by Cyclist.
It wasn't the first year that the Col du Galibier appeared at the Tour – that was two years earlier in 1911, when it was ridden from the north – but 1913 was the first year that the race around France was conducted anticlockwise, meaning that Stage 11 from Grenoble to Geneva went first up the Col du Lauteret, followed by the Galibier, the Télégraphe and the Col des Aravis.
It's an indication of just how strong the riders were that despite heavy bikes, gravel roads and a lack of gears, the average speed over the 325km stage was 27kmh.
That stage was won by Belgium's Marcel Buysse, who led over the Galibier ahead of France's Gustave Garrigou, although the Frenchman would pip the Belgian to the second spot on the GC podium at the end of the race.
The Tour was eventually won by another Belgian, Philippe Thys, although all three riders would come to be overshadowed in history by another Frenchman who ultimately finished in seventh place.
1913 is most famous as the Tour where Eugène Christophe broke his fork on a descent of the Tourmalet and was forced to fix it himself at a blacksmith, adding four hours to his time, but cementing his place in Tour de France folklore.
The rider's ride
Tifosi Cavazzo Ekar Disc, £3,199, chickencyclekit.co.uk
Designed in the UK, this is a rugged, all-action gravel bike that doesn't look out of place on the road, and comes at a price that should entice more roadies onto gravel.
The carbon frame is light and stiff enough for cranking up steep gravel climbs, while the geometry is forgiving enough to maintain a comfortable position without veering into Sunday cruiser territory.
The finishing kit is impressive for the price, with a 13-speed Campagnolo Ekar 1x groupset, Schwalbe CX Comp tyres, a Selle Italia Model X Superflow saddle and Mavic AllRoad wheels. The bike comes with 38mm tyres but can accommodate up to 45mm, and there are mounts everywhere you look to ensure it is primed for long-haul bikepacking trips too.
How we did it
Travel
Cyclist flew with EasyJet from London Luton to Lyon, followed by a two-hour, 170km hire car drive to Villar-d'Arêne. Grenoble is closer but there are far fewer flights.
Accommodation
We stayed at Hotel Les Agneaux (hotel-lesagneaux.com) in Villar-d'Arêne. Owner Jean-Phillipe welcomes riders with chalet-style rooms, a well-stocked bike storage garage and hearty French cuisine such as local veal and regional salad.
Bike hire/repair
Bike hire is available from Juge Sports (jugesports.com) in the village, run by Jean-Phillipe's sister Marie, or Cycles Et Sports (huezbikehire.com) in nearby Bourg d'Oisans.
Guiding
A big chapeau to Fabien Dupuis of Coaching Performance (coaching-performance.fr), an experienced and playful guide who will help roadies to venture off-road with confidence.
Thanks
Our trip was kindly supported by the Hautes Vallées tourism board (destinationhautesvallees.com).